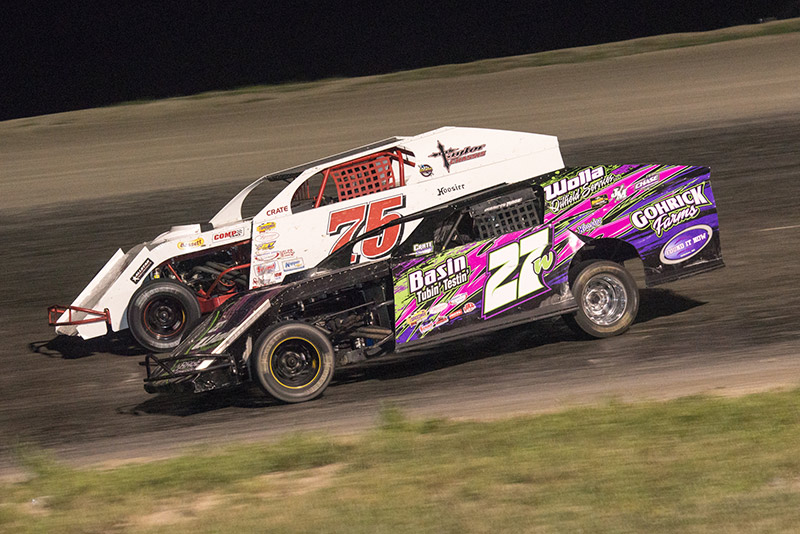 DICKINSON, N.D. (July 8) – The best of the best Xtreme Motor Sports IMCA Modified drivers converged at Southwest Speedway Wednesday night and this time a home state driver prevailed.
Jason Wolla ran second for most of the 30-lap Kupper Chevrolet Dakota Classic Modified Tour main event. He passed Spencer Wilson with seven circuits to go and held point leader Ricky Thornton Jr. and defending series champion Jeff Taylor at bay in a furious fight to the finish.
"This has to be my biggest win ever. The talent in this series is just so good." Wolla said following the relatively close-to-home $2,100 checkers, his tour career first. "This is kind of a home track. All the fans packing the stands made it special for us."
"It takes a good car, a good setup, everything down to the right draw," he added. "All the things we needed to have happen fell into place."
Rounding out the top five were Strand, despite engine issues, and Aaron Turnbull, the 2013 tour champ. The first four tour events have produced different winners from as many states.
Wolla took the initial green from outside row two; Thornton started seventh, Taylor ninth. Wolla's lengthy pursuit of Strand was rewarded after the leader went to a higher line to get around a lapped car. Wolla ducked inside to pass both, then guarded the line against Thornton and Taylor.
"Ricky and Jeff were right there," said Wolla, who had ventured to Iowa to win Frostbuster and Hawkeye Dirt Tour events and was already on the Fast Shafts All-Star Invitational ballot. "Thank­fully I'd drawn ahead of them both."
Defending champion and 10th starting Dalton Flory topped the $800 to win IMCA Sunoco Stock Car series event, ahead of his father Joe and point leader Elijah Zevenbergen.
Different drivers have also won each of the four Stock Car features.
New tour track records were set at Dickinson with 89 Modified and 37 Stock Cars. One hundred and thirteen different Modified drivers and an all-time best 61 different Stock Car drivers have com­peted through the first four series events this season.
Round five for both divisions is Thursday at Dacotah Speedway. The Dakota Tour concludes Fri­day, July 10 at Jamestown Speedway.
Feature Results
Modifieds – 1. Jason Wolla, Ray; 2. Ricky Thornton Jr., Chandler, Ariz.; 3. Jeff Taylor, Cave City, Ark.; 4. Shawn Strand, Man­dan; 5. Aaron Turnbull, Estevan, Sask.; 6. Spencer Wilson, Minot; 7. Hunter Marriott, Brookfield, Mo.; 8. Mark Dahl, Bismarck; 9. Lucas Schott, Chatfield, Minn.; 10. Joey Galloway, Manor, Sask.; 11. Paul Stone, Winton, Calif.; 12. Curt Lund, Redwood Falls, Minn.; 13. Kelly Shryock, Fertile, Iowa; 14. Ryan Ruter, Kanawha, Iowa; 15. Zane DeVilbiss, Farming­ton, N.M.; 16. Jason Beaulieu, Campbell River, B.C.; 17. Mike Jergens, Plover, Iowa; 18. Rusty Kollman, Carrington; 19. Lance Mari, El Centro, Calif.; 20. Jordan Grabouski, Beatrice, Neb.; 21. John Hansen, Brush, Colo.; 22. Jason Grimes, Jame­stown; 23. Mike Hansen, Dickin­son; 24. Shawn Ander­son, Minot; 25. Jerad Thelen, Bismarck; 26. Marlyn Seidler, Underwood.
Heat winners were Wolla, Schott, Turnbull, Wilson, Lund, Dahl, Thornton and Strand.
1st "B" feature (top four) – 1. Taylor; 2. DeVilbiss; 3. Grimes; 4. Seidler. 2nd "B" feature – 1. Mar­riott; 2. Kollman; 3. Mari; 4. Thelen. 3rd "B" feature – 1. Beaulieu; 2. John Hansen; 3. Jergens; 4. Grabouski. 4th "B" feature – 1. Galloway; 2. Stone; 3. Mari; 4. Shryock.
Stock Cars – 1. Dalton Flory, Williston; 2. Joe Flory, Williston; 3. Elijah Zevenbergen, Ocheyedan, Iowa; 4. Steve Kihle, Williston; 5. Jordan Durward, Trenton; 6. Cody Nelson, Kenmare; 7. Tyler Tix, Glenburn; 8. Greg Wichman, Bon­duel, Wis.; 9. Jeff Ellis, Minot; 10. Scott Gartner, Bismarck; 11. Jeffrey Stein, Epping; 12. Brandon Eilts, Grand Island, Neb.; 13. Eric Har­pole, Bismarck; 14. Jeremy Swanson, Westby, Mont.; 15. Kyler Jeffrey, Williston; 16. Blake Cole, Nashua, Iowa; 17. Jake Nelson, Williston; 18. Joren Boyce, Minot; 19. Kevin Mattox, Ray; 20. Austin Daae, Estevan, Sask.; 21. Matt Speckman, Sleepy Eye, Minn.; 22. Brandon Czarapata, Pulaski, Wis.; 23. Scott Yale, Minot; 24. John Courchaine, Pound, Wis.
Heat winners were Cody Nelson, Joe Flory, Czarapata and Kihle. "B" fea­ture winners were Wich­man and Daae.