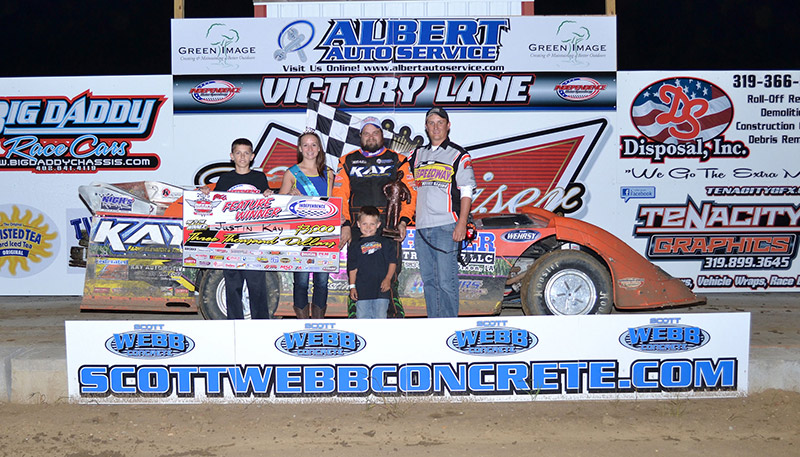 INDEPENDENCE, Iowa (July 8) – Justin Kay came to Independence Motor Speedway with a chip on his shoulder Wednesday night.
He left town with his fourth Deery Brothers Summer Series feature win of the season, a check for $3,000 and sole possession of first place in point standings for the IMCA Late Model tour.
"I was a little disappointed after last night," understated Kay, clearly on a mission after running an oh-so-close second to Brian Harris in the Tuesday Deery feature at West Liberty. "I pushed as hard as I could. When you have Jeff Aikey and Ryan Dolan behind you, you have to do that."
Aikey was the runner-up, two lapped cars and half a straightaway off Kay's torrid pace. Dolan led most of the first half of the 40-lapper before ending in third, while Rick Wendling and Scott Fitzpatrick completed the top five.
Brian Hunter drew the pole start and led the first three laps. Dolan was scored just ahead at the line the next time around.
Meanwhile, Kay had raced from outside row four to second by lap six. He chased Dolan into lapped traffic before midway and led by a car length on lap 21.
A three-car tangle brought out the only caution of the night on lap 22 and proved to be the only thing that could slow down Kay. He pulled away from Aikey and Co. to win handily.
Independence was the site of Kay's first Deery win, in 2013. The defending series champion now owns 13 career tour victories.
"It never gets old winning anywhere. It's neat to be able to do it again at Independence," he said. "We had a great track tonight. I could run top, bottom, middle, wherever I wanted."
Andy Nezworski came into the night tied for the point lead. He qualified through his "B" feature and finished seventh.
Todd Malmstrom was 20th after going above and beyond just to get to the track: Involved in a traffic accident in Moline, Ill., while en route that sent crewman Jim Irwin to the hospital and totaled his tow vehicle, Malmstrom borrowed a pickup from a friend to complete the trip to Indee and, despite bumps and bruises, qualified as the hard charger.
Joe Zrostlik won the $250 Sunoco Race Fuels feature qualifier drawing.
Other feature winners at Indee were J.D. Auringer in the Xtreme Motor Sports IMCA Modifieds, Tony Olson in the Karl Chevrolet Northern SportMods and Quinton Miller in the IMCA Sunoco Hobby Stocks.
The 11th of 18 events on the 2015 Deery schedule is this Sunday, July 12 at Dubuque Speedway.
Pit gates open at 4 p.m., the grandstand opens at 4:30 p.m. and hot laps are at 6:30 p.m., with racing to follow.
Feature results – 1. Justin Kay, Wheatland; 2. Jeff Aikey, Cedar Falls; 3. Ryan Dolan, Lisbon; 4. Rick Wendling, Hazleton; 5. Scott Fitzpatrick, Wheatland; 6. Tyler Bruening, Decorah; 7. Tyler Droste, Waterloo; 8. Richie Gustin, Gilman; 9. Brunson Behning, Davenport; 10. Rob Moss, Iowa City; 11. Joe Zrostlik, Long Grove; 12. Andy Nezworski, Buffalo; 13. Andy Eckrich, Oxford; 14. Jay Johnson, West Burlington; 15. John Emerson, Waterloo; 16. Jon Merfeld, Dubuque; 17. Jeremy Grady, Story City; 18. Bobby Hansen, Center Point; 19. Jon Passick, Waterloo; 20. Todd Malmstrom, Silvis, Ill.; 21. Sean Johnson, Independence; 22. Curt Martin, Independence; 23. Kyle Hinrichs, Swisher; 24. Brian Hunter, Independence.
1st heat (top three) – 1. Dolan; 2. Kay; 3. Behning; 4. Jon Merfeld; 5. Chad Holladay, Muscatine; 6. Scott Welsh, Cedar Rapids; 7. Darrel DeFrance, Marshalltown; 8. Tanner Allen, Springville; 9. Grady.
2nd heat – 1. Aikey; 2. Bruening; 3. Sean Johnson; 4. Passick; 5. Jay Johnson; 6. Hinrichs; 7. Ben Seemann, Waterloo; 8. Malmstrom; 9. Russell Hesse, Waterloo.
3rd heat – 1. Hunter; 2. Hansen; 3. Moss; 4. Martin; 5. Luke Goedert, Guttenberg; 6. Droste; 7. Emerson; 8. Greg Kastli, Waterloo; 9. Jason Rauen, Farley.
4th heat – 1. Wendling; 2. Zrostlik; 3. Fitzpatrick; 4. Gustin; 5. Charlie McKenna, Clear Lake; 6. Nezworski; 7. Eckrich; 8. Luke Merfeld, Dubuque; 9. Robbie Jorgensen, Elkhorn, Neb.
1st "B" feature (top four) – 1. Jay Johnson; 2. Hinrichs; 3. Jon Merfeld; 4. Passick; 5. Holladay; 6. Malmstrom; 7. Seemann; 8. Welsh; 9. Grady; 10. DeFrance; 11. Allen; 12. Hesse.
2nd "B" feature – 1. Gustin; 2. Droste; 3. Martin; 4. Nezworski; 5. Eckrich; 6. Emerson; 7. Goedert; 8. McKenna; 9. Rauen; 10. Kastli; 11. Jorgensen; 12. Luke Merfeld.