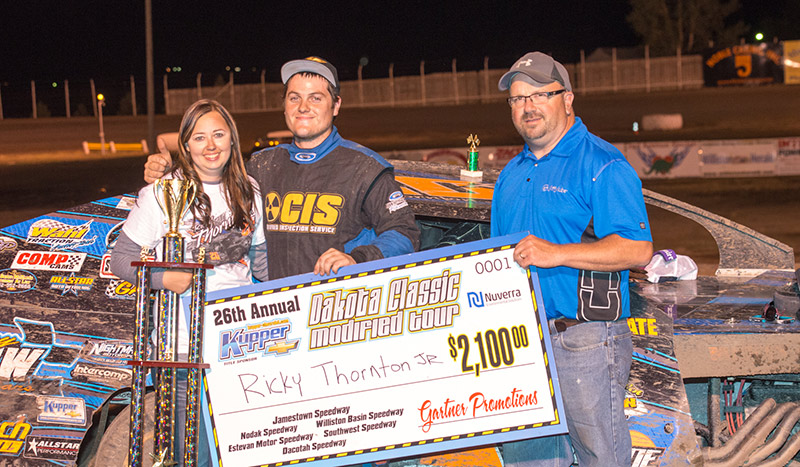 WILLISTON, N.D. (July 7) – A trip to California earlier this season helped put first-time Kupper Chevrolet Dakota Classic Tour contender Ricky Thornton Jr. in Williston Basin Speedway's vic­tory lane.
Thornton made the most of the lower line and caught pole starter Kelly Shryock for the lead with six circuits left in Tuesday's 30-lap Xtreme Motor Sports IMCA Modified main event.
After working his way around a lapped car, he collected the $2,100 checkers and took over the top spot in the tour point standings as the best of the best IMCA Modified drivers converged in North Dakota.
"That was probably the biggest win of my career," Thornton said following his 20th victory of the season. "The competition here is so good."
"Our goal coming in was to make the show every night and maybe make the top 10 in points," he added. "It would be great if we could pull it off and win the tour championship."
The Arizona speedster had started seventh and ran a lower line than most of the rest of the 26-car field. He shot by on the inside when Shryock got just a bit too high.
"I was waiting and hoping that he'd make some mistake and I jumped on it," Thornton said. "This was the first time we'd ever even seen this track but it's similar to Imperial in California. We used the same setup we did there and we were really good all night."
Jason Wolla, Justin O'Brien and Lucas Schott were next across the stripe at the end of a fast-paced feature that played out in front of another full house. Night two tour winner and defending champion Jeff Taylor was sixth and opening night winner Ryan Ruter was eighth.
Thornton was already on the ballot for the Fast Shafts All-Star Invitational.
A track record 87 Modifieds – the previous local series mark of 76 was set in 2010 and equaled last year – and 42 IMCA Sunoco Stock Cars saw action Tuesday evening.
Joe Flory was the $800 Stock Car feature winner. His son and 2014 champion Dalton was se­cond and third went to Matt Speckman. Elijah Zevenbergen took sole possession of the point lead with his seventh place showing.
One hundred and five Modified drivers from 15 states and two Canadian provinces have com­peted at one or more of the first three tour events. Round four is Wednesday at Southwest Speed­way in Dickinson.
Feature Results
Modifieds – 1. Ricky Thornton Jr., Chandler, Ariz.; 2. Kelly Shryock, Fertile, Iowa; 3. Jason Wolla, Ray; 4. Justin O'Brien, West Union, Iowa; 5. Lucas Schott, Chatfield, Minn.; 6. Jeff Taylor, Cave City, Ark.; 7. Mike Hagen, Williston; 8. Ryan Ruter, Kanawha, Iowa; 9. Shawn Strand, Man­dan; 10. Aaron Turnbull, Estevan, Sask.; 11. Mike Hansen, Dickinson; 12. Jason Grimes, Jame­stown; 13. Jordan Grabouski, Beatrice, Neb.; 14. Paul Stone, Winton, Calif.; 15. Hunter Marriott, Brookfield, Mo.; 16. Hank Berry, Sidney, Mont.; 17. John Flory, Williston; 18. Ethan Dotson, Bakers­field, Calif.; 19. Chris Schroeder, Williston; 20. Marlyn Seidler, Underwood; 21. Shawn Ander­son, Minot; 22. Rusty Kollman, Carrington; 23. Ed Conlin, Williston; 24. John Hansen, Brush, Colo.; 25. Justin Medler, Minot; 26. Tim Ward, Chandler, Ariz.
Heat winners were Wolla, Berry, Turnbull, Kollman, Thornton, Hagen, Schott and Shryock.
1st "B" feature (top four – 1. Flory; 2. Ward; 3. Mike Hansen; 4. Stone. 2nd "B" feature – 1. O'Brien; 2. Strand; 3. Anderson; 4. Conlin. 3rd "B" feature – 1. Grimes; 2. Ruter; 3. John Hansen; 4. Seid­ler. 4th "B" feature – 1. Taylor; 2. Medler; 3. Schroeder; 4. Dotson.
Stock Cars – 1. Joe Flory, Williston; 2. Dalton Flory, Williston; 3. Matt Speckman, Sleepy Eye, Minn.; 4. Cody Nelson, Kenmare; 5. Gary Goudy Jr., Stoughton, Sask.; 6. Andrew Altenburg, Tru­man, Minn.; 7. Mike Swallers, Minot; 8. Elijah Zevenbergen, Ocheyedan, Iowa; 9. Greg Wichman, Bon­duel, Wis.; 10. Eric Harpole, Bismarck; 11. Dennis Losing; 12. Jake Nelson, Williston; 13. Bill Jones, Williston; 14. Joren Boyce, Minot; 15. Jordan Durward, Trenton; 16. Glenn Bray, Aztec, N.M.; 17. Cole Blake;18. Jeremy Swanson, Westby, Mont.; 19. Scott Yale, Minot; 20. Chris Ellis, Minot; 21. Nathan Burke, Minot; 22. Josh Defoe, Williston; 23. Brandon Czarapata, Pulaski, Wis.; 24. Justin Striefel, Minot.
Heat winners were Ellis, Goudy, Cody Nelson, Zevenbergen, Joe Flory and Czarapata. "B" fea­ture winners were Wichman, Burke and Boyce.