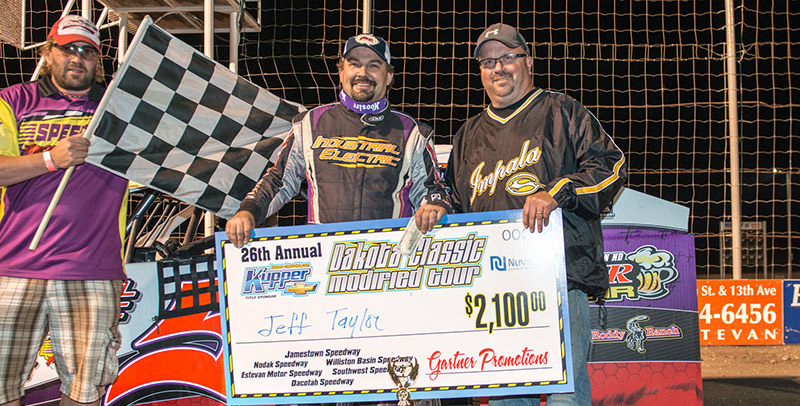 ESTEVAN, Sask. (July 6) – First he raced from 19th to second in his "B" feature to advance to the Kupper Chevrolet Dakota Classic main event at Estevan Motor Speedway.
Then Jeff Taylor started 13th and won Monday's Xtreme Motor Sports IMCA Modified headliner in dramatic fashion with a last-turn pass of Aaron Turnbull.
"It was awesome," the defending tour champion said from victory lane. "I had a good car and was able to get a line nobody else was running."
Turnbull, Spencer Wilson, new point leader Hunter Marriott and Ricky Thornton Jr. completed the top five. Thornton also came from the "B" features and advanced 10 spots.
New series track records were set with 83 Modified and 39 Stock Car entries. As was the case on opening night at Nodak Speedway, drivers from 10 states and Canada filled out the Modified fea­ture field.
The 2013 tour king, Turnbull drew the pole start while Taylor worked his way up from mid-pack. He shot in­side Turnbull coming out of the final turn to take the $2,100 win by not much more than a car length.
"When I got to fourth with 10-12 laps to go, I could see them racing hard in front of me and thought I might have to settle for third," Taylor admitted. "I'd been running kind of in the middle, went to the extreme higher line and decided I wasn't going back."
"We raced each other clean and a lot of different things could have happened on the last lap," he added. "It was definitely exciting."
Already on the ballot for the Fast Shafts All-Star Invitational, Taylor had finished 19th Sunday at Minot while Wilson was 21st.
Elijah Zevenbergen, also a series champion two years ago, topped the IMCA Sunoco Stock Car feature ahead of opening night winner Brandon Czarapata. They're now tied atop the point stand­ings for that division.
The series is at Williston Basin Speedway on Tuesday for the third of its six installments.
Feature Results
Modifieds – 1. Jeff Taylor, Cave City, Ark.; 2. Aaron Turnbull, Estevan; 3. Spencer Wilson, Minot, N.D.; 4. Hunter Marriott, Brookfield, Mo.; 5. Ricky Thornton Jr., Chandler, Ariz.; 6. Masen Big Ea­gle, Manor; 7. Travis Hagen, Williston, N.D.; 8. Jordan Grabouski, Beatrice, Neb.; 9. Justin O'Brien, West Union, Iowa; 10. Curt Lund, Redwood Falls, Minn.; 11. Shawn Strand, Mandan, N.D.; 12. Mike Hansen, Dickinson, N.D.; 13. Mike Jergens, Plover, Iowa; 14. Paul Stone, Winton, Calif.; 15. Kelly Shryock, Fertile, Iowa; 16. Shawn Anderson, Minot, N.D.; 17. Hank Berry, Sidney, Mont.; 18. Jason Czarapata, Pulaski, Wis.; 19. Lucas Schott, Chatfield, Minn.; 20. Adam Larson, Ankeny, Iowa; 21. Kyle Brown, State Center, Iowa; 22. Brian Mullen, Seymour, Wis.; 23. Ethan Dotson, Bakersfield, Calif.; 24. Ryan Mikkelson, Jamestown, N.D.; 25. Marlyn Seidler, Under­wood, N.D.; 26. Jeremy Keller, Mandan, N.D.
Heat winners were Turnbull, Hansen, Big Eagle, O'Brien, Lund, Marriott, Hagen and Wilson.
1st "B" feature (top four) – 1. Jergens; 2. Taylor; 3. Stone; 4. Keller. 2nd "B" feature – 1. Anderson; 2. Shryock; 3. Schott; 4. Larson. 3rd "B" feature – 1. Grabouski; 2. Thornton; 3. Mikkelson; 4. Brown. 4th "B" feature – 1. Strand; 2. Dotson; 3. Mullen; 4. Czarapata.
Stock Cars – 1. Elijah Zevenbergen, Ocheyedan, Iowa; 2. Brandon Czarapata, Pulaski, Wis.; 3. Jake Nelson, Williston, N.D.; 4. Jordan Durward, Trenton, N.D.; 5. Joe Flory, Williston, N.D.; 6. Nathan Burke, Minot, N.D.; 7. Joren Boyce, Minot, N.D.; 8. Austin Daae, Estevan; 9. Adam Klocke, Carroll, Iowa; 10. Matt Speckman, Sleepy Eye, Minn.; 11. Chris Ellis, Minot, N.D.; 12. Scott Yale, Minot, N.D.; 13. Jeremy Swanson, Westby, Mont.; 14. Sterling LaBatte, Weyburn; 15. Dalton Flory, Williston, N.D.; 16. Justin Striefel, Minot, N.D.; 17. Lee Schaff, Estevan; 18. Lindsey Wagner, Weyburn; 19. Cody Nelson, Kenmare, N.D.; 20. Keith Mattox, Ray, N.D.; 21. Andrew Altenburg, Truman, Minn.; 22. Greg Wichman, Bonduel, Wis.; 23. Robert Pickering, Weyburn; 24. Ryan Atkings, Zenon Park.
Heat winners were Striefel, Speckman, Mattox and Altenburg. "B" feature winners were Wichman and Czarapata.