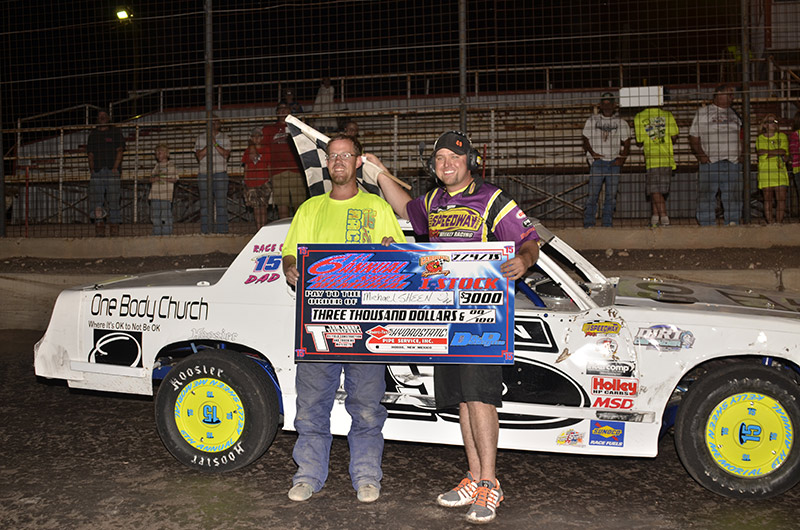 EUNICE, N.M. (July 4) – Michael Sheen traveled to Cardinal Speedway and came home with $3,000 and a new IMCA Sunoco Stock Car career highlight.
He started from the pole and led all 30 laps at Cardinal's sixth Kelly Sheen Memorial, the special held in honor of his father, a long-time Stock Car competitor at Eunice.
"I've been trying to win this race for five years. My dad got me started racing a Stock Car at the age of 15 and my grandfather Don died last year, so I kind of got this win for both of them," Sheen said. "A lot of my family was there Saturday and this meant a lot to all of us."
EQ Cylinder Heads Southern Region points leader Kirk Martin, Tim Pfalzgraf, two-time defending regional champion Matt Guillaume and Steffan Carey rounded out the top five.
"The cautions were making me nervous. Those always give you time to think about everything possible that could happen to make you lose," said Sheen. "I think I've probably led more laps in this event than anybody but something always went wrong. This time, everything worked in our direction."
Neal Flowers and Bradley Poor won topless Xtreme Motor Sports IMCA Modified and Scoggin-Dickey Parts Center Southern SportMod features, respectively. Ryan Wilkerson paced the IMCA Sunoco Hobby Stock main.
Flowers, a previous Sheen Memorial winner, earned $1,200 and a spot on the Fast Shafts All-Star Invitational ballot along with his checkers.
He also led every circuit, following a complete restart when the yellow flew on the initial circuit.
Cory Davis stayed close throughout and crossed the stripe just a car length off the pace. Toby Herring was third, Caleb Stone fourth and Austin Huskey fifth.
Poor repeated his winning ways from last year's Sheen Memorial, despite ending the night with a left front flat and cracked engine block.
He started on the outside of the front row, survived contact with another frontrunner and then took over the front spot on the eighth of 30 laps.
To Poor's $1,000 benefit, the race ended with a long green flag run. His margin of victory was most of a straightaway.
"I haven't won since the Ice Breaker in February. It seems like we've had a lot of things go wrong since then," Poor said, but everything went our way this weekend."
Wilkerson was scored first every time around the track in the Hobby Stock 20-lapper.
"I could run anywhere on the track," said Wilkerson, $750 richer.
Gerald Spalding Jr. was three car lengths back at the finish. John Davis, Halie Brown and Shawn Wright were next across the stripe.
Feature Results
Stock Cars – 1. Michael Sheen; 2. Kirk Martin; 3. Tim Pfalzgraf; 4. Matt Guillaume; 5. Steffan Carey; 6. Brian Spann; 7. David Phillips; 8. Jake White; 9. Justin White; 10. Cary White; 11. Travis Sutherlin; 12. Cory Davis; 13. Shane Priddy; 14. Walter Freeman; 15. Dennis Bissonnette; 16. Justin Thomas; 17. Jordan Lathram; 18. Mark Lord; 19. Jack Miles; 20. Colby Deming.
Modifieds – 1. Neal Flowers; 2. Cory Davis; 3. Toby Herring; 4. Caleb Stone; 5. Austin Huskey; 6. Bob Sikes; 7. Bobby Sikes Jr.; 8. Dean Deming,; 9. Eric Hughes; 10. Roy Don Mason; 11. Blake Holten; 12. Jaime Newton; 13. Kelly Allen; 14. Slade Johnston; 15. Mark Patterson; 16. Vince Ogle; 17. Randy Knott; 18. Kenneth Graves; 19. Jerry Harpole; 20. Don Lang.
Southern SportMods – 1. Bradley Poor; 2. Shane Helton; 3. Tanner Houston; 4. Cory Williams; 5. Brandon Ross; 6. Brian Heard; 7. Katelyn Clarkston; 8. Dustin Robinson; 9. Robby Crabtree; 10. Junior Dosher; 11. Alec Smith; 12. Justin Shaw; 13. Tanner Stansell; 14. Brannon Davis; 15. Justin Lathram; 16. Johnny Parke; 17. Michael Maraschick; 18. Brantley Beatty; 19. Brian Ray Flowers; 20. Roger Armstrong.
Hobby Stocks – 1. Ryan Wilkerson; 2. Gerald Spalding Jr.; 3. John Davis; 4. Halie Brown; 5. Shawn Wright; 6. Larry Yeley; 7. Lee Yeley; 8. Wayne Chadwell; 9. Jerrad Steele; 10. Gerald Spal­ding Sr.; 11. Kade Ogle; 12. Billy Betancourt; 13. Patrick Hill; 14. Clint Day; 15. Jon McGowan; 16. J.R. Patman; 17. Donald Phillips; 18. Anthony Betancourt; 19. George Ross; 20. Ashton Hayes.