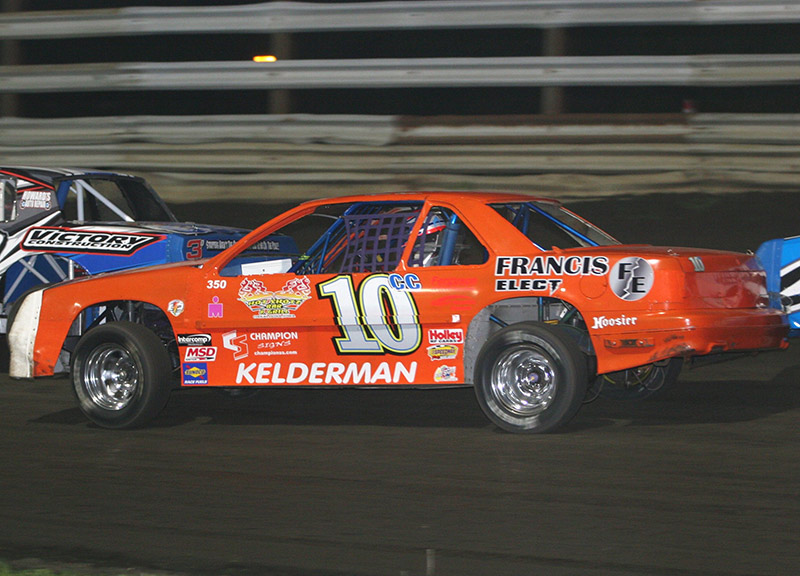 By Jeremy Fox
OSKALOOSA, Iowa (July 2) – Cayden Carter raced to a $2,000 payday on night two of Southern Iowa Speedway's Budweiser Great American Stock Car Shootout.
The Shootout brought many of the top drivers in the IMCA Sunoco Stock Car division to Os­kaloosa and the 30-lap main event didn't disappoint.
Derrick Agee and Damon Murty ran 1-2 in the dash earlier in the evening and started on the front row. Murty took advantage and grabbed the early lead with Agee staying right behind while Mike Hughes, Nathan Wood and Carter battled for position.
It looked as if Murty was going to take the big check home but after the halfway pit stop it was Carter taking the lead away on lap 19 and staying in front to the finish. He took the win over Murty, two-time defending race winner Zack VanderBeek, David Brandies and Agee.
Curtis VanDerWal and Dustin Griffiths were $1,000 feature winners in the Karl Chevrolet Northern SportMods and IMCA Sunoco Hobby Stocks, respectively.
VanDerWal won the pole dash and maintained an iron grip on the lead despite four cautions and the ensuing restarts. The victory was his sixth locally this season.
Jason McDaniel, Tim Plummer, Brett Lowry and Cory Van Zante completed the top five.
Craig Brown and Griffiths led the Hobby Stock field to green. Griffiths grabbed the top spot and held off numerous challenges from Brown in a contest that stopped only for the pit stop at mid­way.
Danny Thrasher got by Craig Brown for second with two laps to go. Nick Ulin and Travis Bunnell rounded out the top five.
Announced on Thursday Night were the three newest members of the Southern Iowa Speedway Hall of Fame, Dean Sylvester, Danny Wallace and Jim Brown. They will be inducted on Wednes­day, July 15 during intermission of the Southern Iowa Fair Races featuring the rescheduled IMCA Hawkeye Dirt Tour event.
July 2 Results
Stock Cars – 1. Cayden Carter, Oskaloosa; 2. Damon Murty, Chelsea; 3. Zack VanderBeek, New Sharon; 4. David Brandies, Wilton; 5. Derrick Agee, Moberly, Mo.; 6. Mike Hughes, Os­kaloosa; 7. Daniel Hilsabeck, Adel; 8. Brad Pinkerton, New Sharon; 9. Johnny Spaw, Cedar Rap­ids; 10. Shane Paris, Muscatine; 11. Todd Reitzler, Grinnell; 12. Cody Agee, Huntsville, Mo.; 13. Todd Phillips, Packwood; 14. Jason See, Albia; 15. Daniel Gordon, Oskaloosa; 16. Nathan Wood, Sigourney; 17. Michael Peterson, Montezuma; 18. Caleb Crenshaw, Fort Worth, Texas; 19. Jerry Pilcher, Bloomfield; 20. Les Blakley, Fairfield; 21. Michael Bilyeu, Indianola; 22. Doug Sylvester, Ottumwa; 23. Casey Greubel, Lacona; 24. Joe Zadina, Corning; 25. Brock Welch, Oskaloosa.
Last-chance qualifier (top five advance) – 1. Pinkerton; 2. Zadina; 3. Peterson; 4. Phillips; 5. Blakley; 6. Bilyeu; 7. Ron Christopher, Forney, Texas; 8. Gordon; 9. Robbie Merkle, Des Moines; 10. Welch; 11. Bob Lynch, Ottumwa; 12. Duawyne Herb, Hiawatha; 13. Austin Evans, Independ­ence); 14. Donnie Pearson, Oskaloosa.
Dash – 1. Derrick Agee; 2. Murty; 3. Hughes; 4. Carter; 5. Wood; 6. Paris; 7. Cody Agee; 8. Hil­sabeck.
1st heat – 1. Reitzler; 2. Pilcher; 3. Spaw; 4. Zadina; 5. Blakley; 6. Bilyeu; 7. Herb; 8. Phillips. 2nd heat – 1. VanderBeek; 2. Sylvester; 3. Greubel; 4. Gordon; 5. Lynch; 6. Peterson; 7. Merkle; 8. Pearson. 3rd heat – 1. Brandies; 2. See; 3. Crenshaw; 4. Pinkerton; 5. Evans; 6. Welch; 7. Christo­pher.
Northern SportMods – 1. Curtis VanDerWal, Oskaloosa; 2. Jason McDaniel, Eldon; 3. Tim Plum­mer, Norway; 4. Brett Lowry, Montezuma; 5. Cory Van Zante, Sully; 6. Brandon Dale, Mem­phis, Mo.; 7. Jared Van Deest, Holland; 8. Scott Vanbuskirk, Hedrick; 9. Charlie Weber, Sigour­ney; 10. Trent Brink, Bussey; 11. Greg Strohman, Webster; 12. Michael Guthrie, Ottumwa; 13. Scott Brau, Brooklyn; 14. Brayton Carter, Oskaloosa; 15. Logan Anderson, Oskaloosa; 16. Danny Brau, Brooklyn; 17. Colton Livezey, New Sharon; 18. Matthew VanGelder, Pella; 19. Kyle Hill, New London; 20. Leroy Groenendyk, Oskaloosa.
Dash – 1. VanDerWal; 2. McDaniel; 3. Anderson; 4. Lowry; 5. Livezey; 6. Van Zante; 7. Hill; 8. Weber.
1st heat – 1. Carter; 2. Dale; 3. Strohman; 4. Plummer; 5. Guthrie; 6. Scott Brau; 7. Groenendyk. 2nd heat – 1. Vanbuskirk; 2. Osweiler; 3. Van Deest; 4. Van Gelder; 5. Danny Brau; 6. Brink.
Hobby Stocks  – 1. Dustin Griffiths, Ottumwa; 2. Danny Thrasher, Agency; 3. Craig Brown, El­don; 4. Nick Ulin, Agency; 5. Travis Bunnell, Hedrick; 6. Bobby Greene, Eddyville; 7. Dale Porter, Bloomfield; 8. Jamie Songer, Ankeny; 9. Adam Bonnett, Martensdale; 10. August Bach, Newton; 11. Brandon Potts, Eldon; 12. Aaron Martin, Ottumwa; 13. Steve Allen, Oskaloosa; 14. Clayton Webster, Ottumwa; 15. Christian Huffman, New Sharon; 16. Ron Downing Jr., Ottumwa; 17. Kevin Fee, Knoxville.
Dash – 1. Brown; 2. Griffiths; 3. Thrasher; 4. Ulin; 5. Songer; 6. Porter; 7. Bill Bonnett; 8. Potts; 9. Adam Bonnett