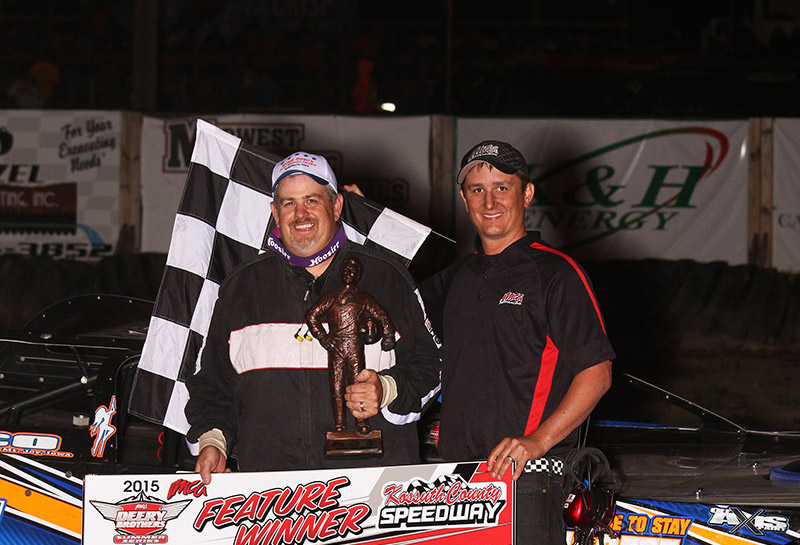 ALGONA, Iowa (July 2) – His Thursday night feature win at Kossuth County Speedway did more than put $3,000 in Andy Nezworski's bank account.
His start to finish run at the front of the IMCA Late Model pack put him back on top of point standings for the Deery Brothers Summer Series.
The 40-lapper ran caution free and Nezworski had more than a straightaway on runner-up Jeff Aikey when the checkers flew in from of a big Kossuth County crowd.
Todd Malmstrom, Scott Fitzpatrick and Ryan Dolan completed the top five.
"It took a while to get through lapped traffic, but we got through OK," said Nezworski, who loaded up and headed for home rather than stay for the post-race fireworks display. "It was a good night for us and we needed it to be. It was a long trip up here."
Nezworski had finished no worse than seventh through the first seven IMCA Late Model tour events of the season. His series career second victory, and first since April 29 of 2008, gave him a one point edge over Justin Kay in the 2015 title chase.
Kay, the defending Deery champion, was sixth at Algona.
Winner of the $250 Sunoco Race Fuels feature qualifier drawing was Jeremy Grady.
A pair of $3,000 to win shows are on the schedule next Tuesday, July 7 at West Liberty Raceway and Wednesday, July 8 at Independence Motor Speedway.
Feature results – 1. Andy Nezworski, Buffalo; 2. Jeff Aikey, Cedar Falls; 3. Todd Malmstrom, Silvis, Ill.; 4. Scott Fitzpatrick, Wheatland; 5. Ryan Dolan, Lisbon; 6. Justin Kay, Wheatland; 7. Joe Zrostlik, Long Grove; 8. Jason Hahne, Webster City; 9. Tyler Droste, Waterloo; 10. Tyler Bruening, Decorah; 11. Ryan Griffith, Webster City; 12. Jeremy Grady, Story City; 13. Darrel DeFrance, Marshalltown; 14. Bobby Hansen, Center Point; 15. Charlie McKenna, Clear Lake; 16. Curt Schroeder, Newton; 17. John Emerson, Waterloo; 18. Curt Martin, Independence; 19. Gabe Umbarger, Garner; 20. Bill Crimmins, Fort Dodge.
Heat winners were Dolan, Fitzpatrick and Hahne.