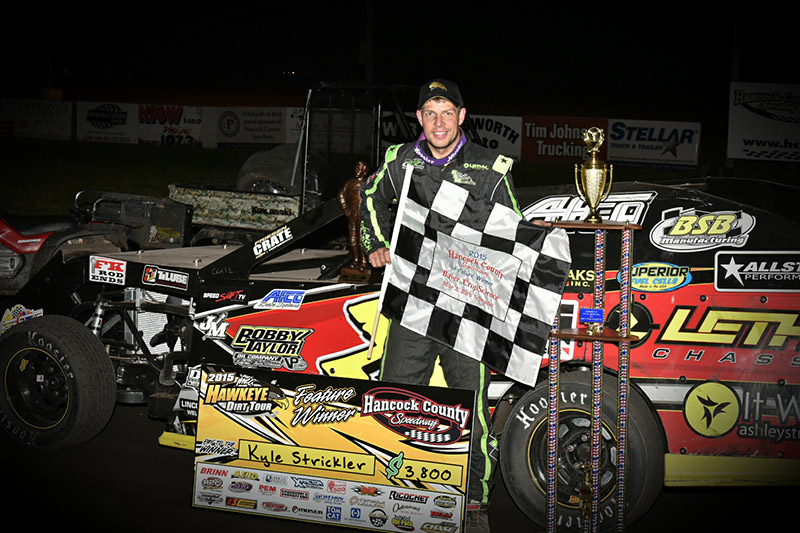 BRITT, Iowa (June 30) – Hancock County Speedway saluted veterans with a pre-Independence Day special event and the fans in the full grandstands saluted Kyle Strickler when the Xtreme Mo­tor Sports IMCA Modified feature was complete.
Strickler led the last 23 of 30 laps in Tuesday's IMCA Hawkeye Dirt Tour main event. The win paid $3,300 plus a $500 bonus for leading the race at halfway.
Kyle Brown ran in front the first seven circuits and finished a distant second, but still moved into the top spot in the series point standings.
Arizona traveler Ricky Thornton Jr. qualified from his "B" feature and ended third in the main event. Ronn Lauritzen and Jimmy Gustin completed the top five.
Forty-nine drivers, the most for a Dirt Tour event this season, from six states vied at Britt.
Brown drew the outside pole start and set the fast pace before Strickler slipped by on the higher line and was scored first when the eighth lap was scored.
The only caution of the contest came on lap 13 as Strickler was getting into traffic.
He pulled away on the ensuing restart, getting four lapped cars and most of a straightaway ahead of Brown before the checkers flew.
Already on the ballot for the Fast Shafts All-Star Invitational, Strickler is the fourth different winner in as many series events so far this season.
The victory was Strickler's Dirt Tour career second; he'd also won at Britt in 2013.
Jeremy Mills and Mike Jergens started on the back row and made the most progress toward the front, Mills 14 places to 11th and Jergens 13 positions to 13th. Defending series champion Mike Van Genderen brought the point lead to town and finished 15th.
Back-to-back shows are next on the Hawkeye Dirt Tour schedule, July 15 at Southern Iowa Speed­way in Oskaloosa and July 16 at Knoxville Raceway.
The Knoxville show is the Harris Clash and also the final qualifying event for the 2015 Fast Shafts All-Star Invitational ballot.
Other winners at Britt's Salute To Veterans special were Randy Brands in the IMCA Sunoco Stock Cars, Nick Meyer in the Karl Chevrolet Northern SportMods, Andrew Borchardt in the IMCA Sunoco Hobby Stocks and Jacob Kofoot in the Mach-1 Sport Compacts.
Meyer's share of the purse included a $500 perfect attendance bonus.
Hawkeye Dirt Tour results – 1. Kyle Strickler, Mooresville, N.C.; 2. Kyle Brown, State Center; 3. Ricky Thornton Jr., Chandler, Ariz.; 4. Ronn Lauritzen, Jesup; 5. Jimmy Gustin, Marshalltown; 6. Richie Gustin, Gilman; 7. Jesse Hoeft, Forest City; 8. Kelly Shryock, Fertile; 9. Jeff Larson, Lake­field, Minn.; 10. Tim Ward, Gilbert, Ariz.; 11. Jeremy Mills, Garner; 12. Brandon Beckendorf, Dan­ube, Minn.; 13. Mike Jergens, Plover; 14. Andrew Schroeder, Keswick; 15. Mike Van Genderen, Newton; 16. Keith Schmitz, Hanlontown; 17. Ethan Dotson, Bakersfield, Calif.; 18. Ryan Maitland, Wa­terloo; 19. Josh Ruby, Lakota; 20. Austin Wolf, Algona; 21. Aaron Benson, Clear Lake; 22. Alex Hanson, Northwood; 23. Todd Shute, Des Moines; 24. Nick Roberts, Des Moines; 25. David Brown, Kellogg; 26. Justin Sackett, Pierson.
1st heat (top two) – 1. Shryock; 2. Jimmy Gustin; 3. Hanson; 4. Ward; 5. David Brown; 6. Ben­son; 7. Wolf; 8. Todd Stinehart, Waseca, Minn.; 9. Van Genderen; 10. Jay Marks, Bakersfield, Calif.
2nd heat – 1. Shute; 2. Schroeder; 3. Sackett; 4. Paul Stone, Winton, Calif.; 5. Kevin Stoa, Clear Lake; 6. Dotson; 7. Hoeft; 8. Jeff Ignaszewski, Wells, Minn.; 9. Nate Zimmerman, Janesville, Minn.; 10. Jeff Waterman, Quincy, Ill.
3rd heat – 1. Richie Gustin; 2. Lauritzen; 3. Jeff Larson; 4. Stacey Mills, Webb; 5. Corey Dripps, Waterloo; 6. Colt Mather, Webster; 7. Tad Reutzel, Burt; 8. Rob Hughes, Humboldt; 9. Derek Green, Granada, Minn.; 10. Jim Mathieson, Sioux City.
4th heat – 1. Ruby; 2. Schmitz; 3. Mark Elliott, Webster City; 4. Mark Noble, Blooming Prairie, Minn.; 5. Maitland; 6. Adam Larson, Ankeny; 7. Dustin Smith, Lake City; 8. Ryan Ruter, Kanawha; 9. Roberts; 10. Jeremy Mills.
5th heat – 1. Kyle Brown; 2. Strickler; 3. Thornton; 4. Clayton Christensen, Spencer; 5. Becken­dorf; 6. Clint Hatlestad, Glencoe, Minn.; 7. Ben Kraus, Garner; 8. Troy Swearingen, Thompson; 9. Jergens.
1st "B" feature (top four) – 1. Hoeft; 2. Benson; 3. Hanson; 4. Roberts; 5. Dripps; 6. Elliott; 7. Adam Larson; 8. Christensen; 9. Van Genderen; 10. Waterman; 11. Stone; 12. Hughes; 13. Kraus.
2nd "B" feature – 1. Thornton; 2. Sackett; 3. David Brown; 4. Dotson; 5. Ruter; 6. Jergens; 7. Reut­zel; 8. Hatlestad; 9. Maitland; 10. Mathieson; 11. Zimmerman; 12. Stacey Mills; 13. Stinehart.
3rd "B" feature – 1. Jeff Larson; 2. Ward; 3. Beckendorf; 4. Wolf; 5. Smith; 6. Noble; 7. Marks; 8. Green; 9. Swearingen; 10. Stoa; 11. Ignaszewski; 12. Mather.