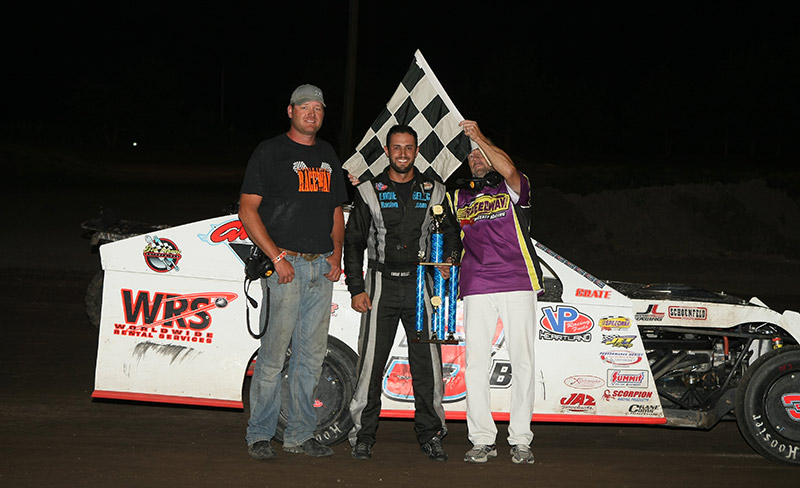 By Kelly Ninas
NORTH PLATTE, Neb. (June 22) – Eddie Belec led the lap that counted the most in winning Monday evening's Wild West Challenge headline event at Lincoln County Raceway.
Belec started on the pole and chased Jay Steffens for most of the 20-lap Xtreme Motor Sports IMCA Modified main event.
He slid under Steffens out of the final corner and captured both the $1,000 checkers and Fast Shafts All-Star Invitational ballot berth.
Steffens, John Hansen, Jeremy Frenier and Anthony Roth completed the top five in the NebraskaLand Days show.
Jason Rogers and Shawn Harker took home $750 checks for IMCA Sunoco Stock Car and Karl Chevrolet Northern SportMod victories, respectively. Jake Olmstead was the $500 IMCA Sunoco Hobby Stock winner and Ramsey Meyer's Mach-1 Sport Compact win paid $400.
Rogers was promoted to the top spot after the apparent winner was disqualified in post-race tech. The rest of the Stock Car top five included Lloyd Meeske, Kyle Werkmeister, Casey Werkmeister and Kyle Clough.
Harker started on the outside of the first row and led every lap of the Northern SportMod feature. Clay Money drove around the top side of the oval and pressured Harker, only to be forced to settle for runner-up accolades.
Rounding out the top three were Chad Dolan, Josh Leonard and Terry Dressel.
Olmstead started from the fourth row and worked his way into the lead in the late laps of the Hobby Stock feature. He was chased across the stripe by Kyle Bond, Brady Weinman, Austion Davis and Zach Olmstead.
Meyer took the Sport Compact lead on lap seven and won ahead of Richard Crow, David Dembowski, Jeremy Baker and Randy Murphy.
Feature Results
Modifieds – 1. Eddie Belec; 2. Jay Steffens; 3. John Hansen; 4. Jeremy Frenier; 5. Anthony Roth; 6. Mike Densberger; 7. Ronnie Wallace; 8. Garrett Sporhase; 9. Cole Hodges; 10. Charley Brown; 11. Tom Svoboda; 12. Greg Sharpe; 13. Colton Osborn; 14. Jesse Taylor; 15. Dave Pedersen; 16. Jeremy Herbst; 17. David Murray Jr.; 18. Jason Anderson.
Stock Cars – 1. Jason Rogers; 2. Lloyd Meeske; 3. Kyle Werkmeister; 4. Casey Werkmeister; 5. Kyle Clough; 6. Doug Adamy; 7. Bob Chalupa; 8. Kurt Trusty; 9. Bob Hoing; 10. Russ Small Jr.; 11. Darin Racek; 12. Leslie Brogdon; 13. Sara Klein; 14. Cale Osborn; 15. Mike Dancer; 16. Jeff Whiting.
Northern SportMods – 1. Shawn Harker; 2. Clay Money; 3. Chad Dolan; 4. Josh Leonard; 5. Terry Dressel; 6. Ron Tex Jr.; 7. Troy Douglas; 8. Tony Schultz; 9. Robbie Kosmacek; 10. Justin Gibbens; 11. Steve Aitken; 12. Ryan Moser; 13. Adam Kackmeister; 14. Mike Saathoff; 15. Jamey Kennicutt; 16. Henry Henderson; 17. Gary Long; 18. Dustin Daniels; 19. Austin Svoboda; 20. Kerry Jones.
Hobby Stocks – 1. Jacob Olmstead; 2. Kyle Bond; 3. Brady Weinman; 4. Austin Davis; 5. Zach Olmstead; 6. Tiffany Bittner; 7. Colt Gibbs; 8. Scott Gibson; 9. Chuck Ledbetter; 10. Tanner Clough; 11. Tanner Jones; 12. Brady Bencken; 13. Jake Wolsleben; 14. Jobe Castor Jr.; 15. Ben Arvdal; 16. Jacob Hagan; 17. Joseph Thiem Jr.; 18. Cody Williams; 19. Robert Leonard.
Sport Compacts – 1. Ramsey Meyer; 2. Richard Crow; 3. David Dembowski; 4. Jeremy Baker; 5. Randy Murphy; 6. Andrew Baumgardner; 7. Erik Nelson; 8. Devin Bjorklund; 9. Hunter Hoat­son; 10. Jordan Biere; 11. Andrew McClellen; 12. Alex Fletcher; 13. Blake Fletcher; 14. Hope Boggs.