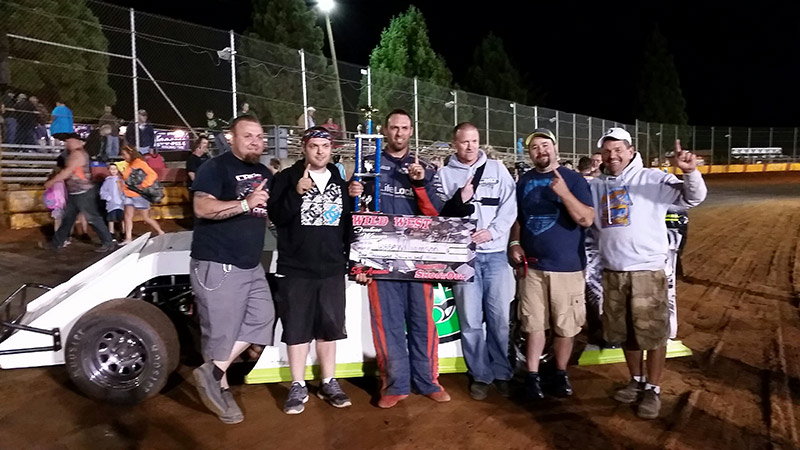 By Ben Deatherage
BANKS, Ore. (June 17) – Jesse Williamson's drive to a career third Wild West Modified Shootout crown continued with his third feature win of the 2015 tour Wednesday at Sunset Speedway Park.
B.J. Wild was the man to beat for much of the first half of the $1,000 to win Xtreme Motor Sports IMCA Modified race. Wild was under constant pressure from Williamson but each time it seemed the challenger had the position secured the yellow would come out resulting in Wild retaining the lead.
On lap 21, defending champion Alex Stanford negotiated his way into the lead and took right off.  Stanford was catching lapped traffic before getting into the wall after contact was made with a lapped car on lap 37.
Stanford was towed off the track and Williamson moved to the front for the restart. With a handful of laps to go, Williamson stayed in front the rest of the way for his third main event of the 2015 Shootout and second career Shootout win at SSP.
Wild ended the evening in second followed Monte Bischoff, Jerry Schram and Nick Trenchard.
Thirty-seven cars were on hand for the midweek program representing seven states and Canada.
Wild West Modified Shootout drivers take Thursday off before getting back to it at Willamette Speed­way on Friday, June 19 and Saturday, June 20. Racing starts at 6 p.m.
Feature results – 1. Jesse Williamson; 2. B.J. Wild; 3. Monte Bischoff; 4. Jerry Schram; 5. Nick Trenchard; 6. Jeff Lovell; 7. Mark Wauge; 8. Bubba Foster; 9. Joey Price; 10. Ryan Gaylord; 11. Alex Stanford; 12. Lawrence O'Connor; 13. Rob Ireland; 14. Doug Lockwood; 15. Bricen James; 16. Craig Cassell; 17. John Campos; 18. Travis Peery; 19. Jake Vanortwick; 20. Collen Wine­barger; 21. Shawn Natenstedt.