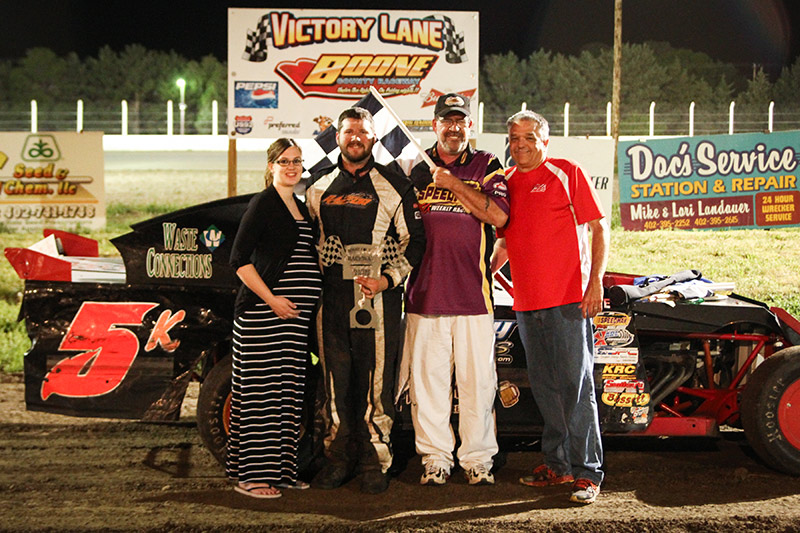 NORFOLK, Neb. – The meticulous notes Kyle Prauner keeps about all his races will include a special footnote for his June 5th outing at Boone County Raceway.
Prauner won for the 100th time in his Karl Chevrolet Northern SportMod career Friday at Albion, becoming just the third driver in the 10-plus year history of the division to reach that mark.
"Winning 100 times wasn't something I set out to do when I started racing a SportMod. Success comes with hard work, dedication and passion by a lot of people," Prauner said. "I never thought we'd get to 50 wins to be honest, but we've had good cars and a lot of good help."
Friday's checkers were his fifth of the season.
From Norfolk, Prauner was the national runner-up with 28 wins in 2012 and 27 in 2013. He was third nationally while winning a fifth straight Allstar Performance Nebraska State crown last season.
"One hundred wins is a little more icing on the cake. It's hard to compare to other accomplishments," said Prauner, also a 12-time SportMod track champion. "It hit me on the way home that it was pretty neat. Tyler Frye and Jesse Sobbing are the only other drivers to have done it in this division and they're pretty good company."
Prauner followed his father Jerry, mother Jan and sister Brandy onto the track. He cut his teeth in the local street stock class starting in 2003, then enjoyed some success in a sanctioned Modified – seven feature wins, plus track and state titles – before having to make some difficult economic decisions.
"My dad and I had a long talk during a 2-1/2 drive home after a tough night at Doniphan," he recalled. "We converted the Modified I had at the time to a Northern SportMod for about $300 and bought a used crate motor."
"There's nothing fancy about this division," said Prauner, who has enjoyed his most recent successes aboard a Razor Chassis. "But it's affordable. You can run hard, it's fun and you don't have to spend a lot of money."
Prauner, who got his 101st career SportMod win the next night at his hometown Off Road Speedway, is doing double duty this season in an IMCA Sunoco Stock Car. He and wife Nikki are expecting their first child in July, so he'll take a break from the racing and the note-taking.
"I traded a camshaft for the laptop that I've used to keep notes and scale sheets. I write down everything," Prauner said. "I've got notes going back to 2010, every night, every track. I don't leave home without that laptop. It's my lifeline."
Boone County was also the site of Dylan Smith's 100th career Xtreme Motor Sports IMCA Modified feature win, on May 8.