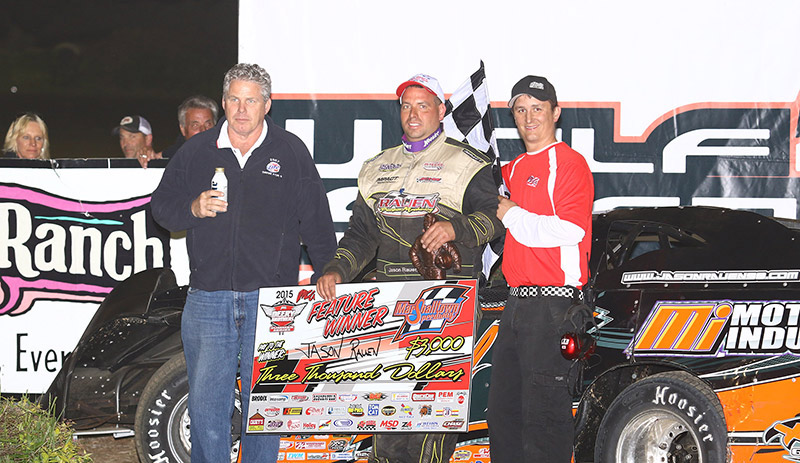 MARSHALLTOWN, Iowa (June 2) – Two drivers looking for career first Deery Brothers Summer Series feature wins squared off Tuesday night at Marshalltown Speedway and it was Jason Rauen going home with the trophy and a check for $3,500.
Rauen reeled in Tyler Droste on the 42nd lap of the Miller Lite 50 tour event for IMCA Late Models, then pulled ahead to win by four car lengths.
Jeff Aikey, Scott Fitzpatrick and Justin Kay completed the top five.
"It feels pretty good to get this win. It's been a long time coming," Rauen said. "We've led a lot of races and had some crazy stuff happen."
"Some of the best drivers around compete in this series. Any one of the top 10, 15 guys can win on any night," he added. "You've got to have a good car and a little luck."
Fitzpatrick drew the pole and led the first circuit before giving way to Droste, who'd started outside the front row and used the top line to take away the front spot.
What proved to be the only caution of the night came when four cars got together on the front stretch on lap four. Droste quickly resumed command, getting three lapped cars between his back bumper and Rauen as the two got into traffic.
That traffic forced Droste to join Rauen lower on the track while Aikey moved into third ahead of Fitzpatrick.
Rauen saw Aikey climbing on the leader board before finally getting his chance to drive past Droste for the lead and eventually the win, his first in 34 Deery Series main event starts. Droste matched his career-best finish in second; he'd also been the runner-up in the Farley show this April.
"Everything worked my way," Rauen said. "It was a good race for me and it was a good race for the fans. We traded a little paint but that's racing."
Aikey, the defending race winner, earned a $500 bonus as the top finishing driver who competed at Marshalltown between 1985 and 1990, plus an additional $500 for winning the evening's Australian pursuit event.
Point leader Andy Nezworski ended in seventh. Hard charger honors went to Todd Cooney, who moved up a dozen positions after starting 21st in the field of 24.
Todd Malmstrom was the $250 Sunoco Race Fuels feature qualifier drawing winner.
Curtis Van Der Wal held off Sam Wieben for the $1,000 Karl Chevrolet Northern SportMod feature win.
The seventh of 18 events on the Deery Series schedule is next Tuesday, June 9 at Jackson County Speedway.
Xtreme Motor Sports IMCA Modifieds following the Hawkeye Dirt Tour will also be on the midweek card at Maquoketa that evening.
Feature results – 1. Jason Rauen, Farley; 2. Tyler Droste, Waterloo; 3. Jeff Aikey, Cedar Falls; 4. Scott Fitzpatrick, Wheatland; 5. Justin Kay, Wheatland; 6. Andy Eckrich, Oxford; 7. Andy Nezworski, Buffalo; 8. Richie Gustin, Gilman; 9. Todd Cooney, Des Moines; 10. Ray Guss Jr., Milan, Ill.; 11. Joe Zrostlik, Long Grove; 12. Ryan Dolan, Lisbon; 13. Joel Callahan, Dubuque; 14. Tyler Bruening, Decorah; 15. Jeremy Grady, Story City; 16. Darrel DeFrance, Marshalltown; 17. John Emerson, Waterloo; 18. Brian Harris, Davenport; 19. Kyle Hinrichs, Swisher; 20. Todd Malmstrom, Silvis, Ill.; 21. Charlie McKenna, Clear Lake; 22. Curt Martin, Independence; 23. Luke Goedert, Guttenberg; 24. Kevin Kile, West Liberty.
1st heat (top three) – 1. Hinrichs; 2. Kay; 3. McKenna; 4. Guss; 5. Jason Hahne, Webster City; 6. Zrostlik; 7. Bruening; 8. Cooney.
2nd heat – 1. Harris; 2. Malmstrom; 3. Fitzpatrick; 4. Dolan; 5. Kile; 6. Callahan; 7. DeFrance; 8. Greg Kastli, Waterloo.
3rd heat – 1. Droste; 2. Aikey; 3. Nezworski; 4. Goedert; 5. Emerson; 6. Sam Halstead, New London; 7. Grady; 8. Denny Eckrich, Tiffin.
4th heat – 1. Gustin; 2. Rauen; 3. Andy Eckrich; 4. Martin; 5. Ron Boyse, Kalona; 6. Rick Wendling, Hazleton; 7. Bobby Hansen, Center Point.
1st "B" feature (top four) – 1. Guss; 2. Zrostlik; 3. Emerson; 4. Goedert; 5. Cooney; 6. Grady; 7. Denny Eckrich; 8. Hahne; 9. Halstead; 10. Bruening.
2nd "B" feature – 1. Callahan; 2. Dolan; 3. Martin; 4. Kile; 5. DeFrance; 6. Boyse; 7. Wendling; 8. Hansen; 9. Kastli.
Passing points – Cooney. Provisionals – Bruening, Grady and DeFrance.