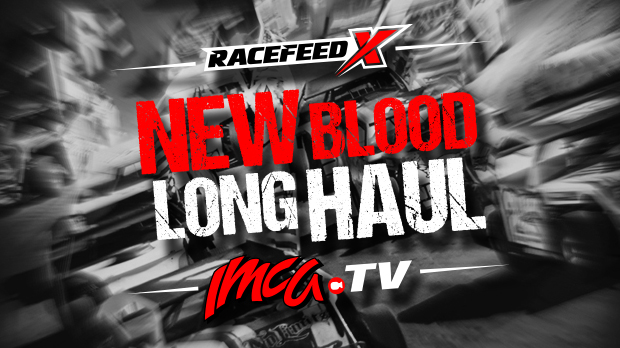 Silver Bay, MN (JUNE 1, 2015) – After a very successful sponsorship campaign with the "New Blood, Long Tow" at the 2014 Kupper Chevrolet Dakota Mod Tour ,officials at RACEFEEDX (formerly XSAN) and IMCA.TV have upped the ante by offering another spot for the 2015 tow money campaign.
The 2015 RACEFEEDX "New Blood, Long Tow" presented by IMCA.TV will fund six new drivers that have never competed on the Kupper Chevrolet Dakota Classic Modified Tour and grant each driver $500 in tow money to offset the cost of traveling to follow the series of races in North Dakota and Canada.
Interested drivers can apply for this promotion by visiting the new website of the Kupper Chevrolet Dakota Classic Modified Tour at: http://dakotamodtour.com/2015-new-blood-long-haul/ A full list of requirements for eligibility is listed, including the following: driver must live at least 500 miles from Mandan, North Dakota (home offices of the Tour), driver has never competed in the Tour, drivers who promote competing sponsors to RACEFEEDX and IMCA.TV are ineligible for the program, and other details available at the entry link.
All selections for the program will be made by Tour Director John Gartner and will be completed by July 1, 2015, at the latest.
"This is a huge promotion put on by RACEFEEDX and IMCA.TV," stated Gartner. "It was an incredible success last year and we look to grow on it by adding another competitor. Our fans on the Tour (and watching at home) love to see new drivers from different geographic parts of the continent compete against our local and regional drivers along with those that come every year from significant distances. Our drivers also like to race against new, or veteran, talent who have never entered the series."
In addition to the "New Blood, Long Tow," RACEFEEDX and IMCA.TV have added $500 to the purse on every night of the event. The increased payout will be announced at a later time.
Fans that cannot make it to the tracks to see the Kupper Chevrolet Dakota Classic Modified Tour have two excellent options to view the races LIVE or ON DEMAND through coverage from RACEFEEDX and IMCA.TV
Recently signing a long term contract to be announced at a later date, RACEFEEDX (formerly XSAN), will cover the Tour live for the third consecutive year. Fans will have the option to watch every lap of the week in Regular or High Quality. RFX will broadcast the week as a "Showcase Race" featuring multiple cameras, interviews, segments, instant replay, and hours of non-stop racing entertainment. Pricing and subscription info will be available soon at: www.racefeedx.com
IMCA.TV, the recently launched Video On Demand service and Official Network of IMCA, will cover every lap in Video On Demand. No more then 48 hours after each race all footage is available on the service for fans to watch at anytime, anywhere, 24/7/365 on the website, mobile devices, tablets, or the Roku for as low as $9.99 for the Month or $79.99 for an entire Year. IMCA.TV includes all of the big IMCA events, touring series, and years of archives for your viewing pleasure.
Keep your browser locked on www.dakotamodtour.com for more breaking info as we race towards the opener at Nodak Speedway on July 5, 2015, or Follow the Tour on Facebook, Twitter, and Instagram @dakotamodtour with the official hashtag #modtour15