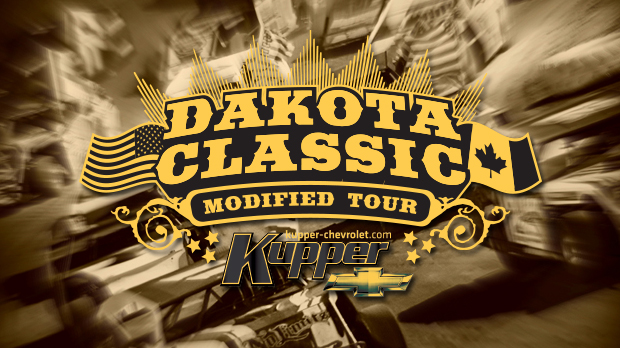 Minot, ND (June 1) – Online registration begins today (Monday) for IMCA Modified and Stock Car drivers following the 26th annual Kupper Chevrolet Dakota Classic Tour.
"We set or equaled car count records for the Modifieds every night of the series last year and with increased payouts are confident of big numbers again this season," Tour Director John Gartner said. "Drivers who want to speed up the entry process can go to the www.dakotamodtour.com website and complete the online form.
"That way, their paperwork will already be done when they get to Nodak Speedway for opening night," he continued. "All they have to do is pay pit pass fees."
Following the Sunday, July 5 opener at Minot, the series is at Estevan Motor Speedway on July 6, at Williston Basin Speedway on July 7, at Southwest Speedway on July 8, at Dacotah Speedway on July 9 and at Jamestown Speedway on July 10.
Feature winner pay has been upped to $2,100 for each of the Fast Shafts All-Star Invitational bal­lot qualifying main events for Modifieds, while Stock Cars run for $800 to win. Series title sponsor Kupper Chevrolet of Mandan will provide point funds of $2,000 for the Modifieds and $1,000 for the Stock Cars.
A record 92 Modifieds saw action last year at Dacotah Speedway. The 2014 series also set new marks with nightly averages of 81 Modifieds and 120 different drivers who competed from 16 states and Canada.
Stock Cars also shared in the record-setting, with best-ever entries of 34 and then 36 the first two nights. Twenty drivers, the most in tour history for the Stock Cars, ran all six nights.
"I've heard from a lot of drivers, tour veterans and newcomers alike who are planning to follow the upcoming series," Gartner noted. "I anticipate great car counts each night and, as in past years, recommend that drivers make overnight accommodations as soon as possible."
Pit gates open at noon, the grandstand opens at 5 p.m. and racing starts at 6 p.m. at Minot. Es­tevan opens the gates at 3 p.m. and the grandstand at 5 p.m. Racing is at 7 p.m.
At Williston, pit gates open at 3 p.m., the grandstand opens at 5:30 p.m. and the first green flag flies at 7 p.m. Gates open at 1 p.m. and the grandstand opens at 4:30 p.m. at Dickinson. Racing follows 6:45 p.m. hot laps.
Mandan opens the gates at 3 p.m. and the grandstand at 6 p.m. Racing gets underway at 7 p.m. At Jamestown, pit gates open at 2 p.m., the grandstand opens at 5 p.m. and racing begins at 7:30 p.m.
A generous number of contingency awards will be given by IMCA and local sponsors. In addition, RACEFEEDX and IMCA.TV will award $500 bonus checks to new drivers in the "New Blood, Long Haul" promotion. More information will be released soon regarding this promotion.
More information about the tour is available from Gartner at 701-202-6075. Keep your browser locked on www.dakotamodtour.com for more breaking info as we race towards the opener at Nodak Speedway on July 5, 2015 or Follow the Tour on Facebook, Twitter, and Instagram @dakotamodtour with the official hashtag #modtour15.