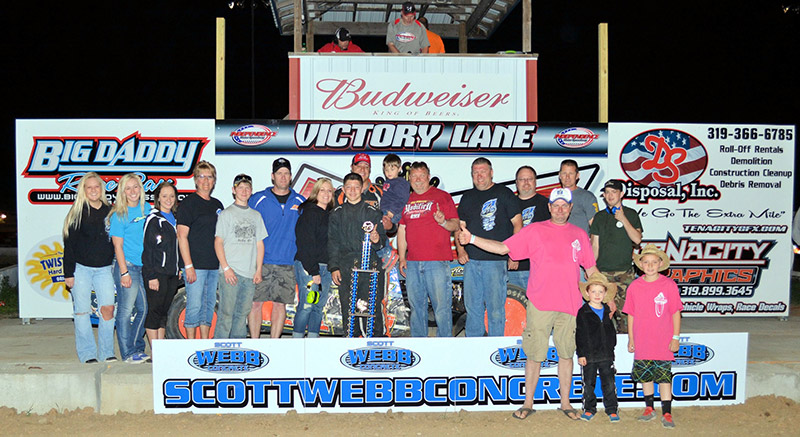 DUNKERTON, Iowa (May 23) – While he'd preferred to have done so sooner, Troy Cordes couldn't have picked a better track to win his career 100th IMCA Modified feature at.
Cordes ended an uncharacteristic three-week absence from victory lane with a more typical run to the checkers from the 10th starting spot in Saturday's IMCA Xtreme Motor Sports Modified field at Independence Motor Speedway.
Indee is the same track where the Dunkerton driver first won in an IMCA Sunoco Hobby Stock in 1994 and in a sanctioned Modified in 1996.
"I was glad I was able to get my 100th at Independence because that's where I won for the first time. We raced back then because we just liked doing it and we still do," said Cordes. "Everyone had been asking me when I was going to get my 100th. I wasn't even sure how long it had been since the last time we won."
"We've been struggling some and the rainouts haven't helped," he continued, "but the car was phenomenal and we finally got it done."
He won a personal best 17 features in 2014 along with track titles at Independence and Benton County Speedway.
Those track crowns were the career fifth at Vinton and fourth at Independence for Cordes, also champion of the Kupper Chevrolet Dakota Classic Tour in 2006 and a 12-time qualifier for the IMCA Speedway Motors Super Nationals fueled by Casey's main event.
"All of those accomplishments have been pretty cool. It's neat to have been able to do any of them. Super Nationals is just a totally different kind of animal," he said. "What I want to do now is go rack up some more wins, hit some specials and maybe go back on the Dakota Tour again this year. We'll play it week to week."
Cordes doubled his money picking the right envelope during the Saturday Albert Auto Night promo­tion. That was another Independence highlight in a season that earlier saw his 13-year-old son Tristan win for the first time in the micro mods.
"That night was probably better than anything I've done, especially to see his smile after he won," Cordes said.
The 42nd driver in IMCA Modified history to reach 100 career wins, Cordes is also the third IMCA driver to get the milestone victory at Independence.
Curt Martin won his 100th Late Model feature in 2004. Dan Trimble collected his career 100th Stock Car checkers at Independence the following season.