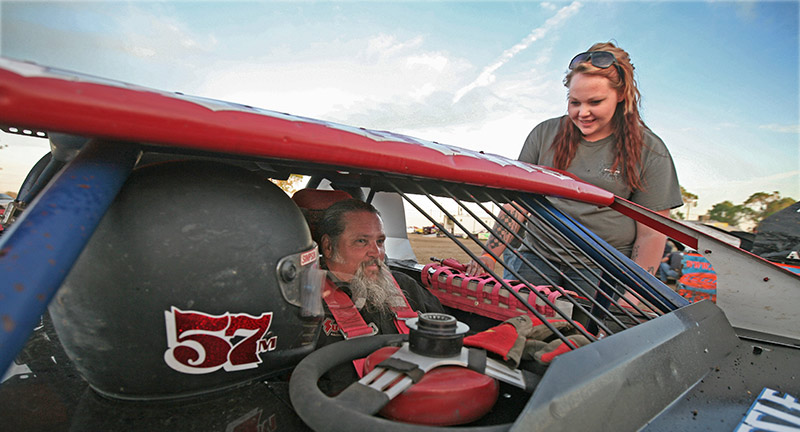 Photo and story courtesy of the Merced Sun-Star
MARIPOSA, Calif. – Mariposa father and daughter Mark and Marissa Odgers share a special bond that has them teaming up to race Karl Chevrolet Northern SportMods at Merced Speedway and Chowchilla Speedway.
Soft spoken, bearded Mark Odgers is the mental image you would have of a 'mountain man.' Years of driving a truck on winding mountain passes to make deliveries in Yosemite National Park certainly had its challenges but for Odgers, hauling a race car down hill into The Valley is a more rewarding drive.
"Long drives and good times – that's what racing is all about," Odgers reflected. "I race for fun, not for points to win a championship. It's enjoyable. It's thrilling."
Mark Odgers and his wife Darcie, who also raced at Merced Speedway nearly two decades ago, instilled the love for stock car racing in their three children. The love for racing began with Odgers' father, the late Dick Odgers, who was a Merced Speedway regular.
Mark and Darcie's son Andrew raced for a while in 2005 and Marissa, the youngest member of the family, soon took to the sport with all-in enthusiasm. She entered a car in the Mach-1 Sport Compact division at Merced Speedway in 2008, learning to work on her car in the pits with her dad, who became the Valley Sportsman champion.
"My mom inspired me," Marissa Odgers explains. "She was a strong competitor in the hobby stock division. Mom and dad would alternate racing or watching me while watching the other drive from the grandstands."
In her sophomore season at the track, Marissa Odgers accomplished a feat most high school students would never dream of before getting their driving license. She drove her way to the IMCA Sport Compact state and track championships at age 15.
Now, Marissa Odgers is driving her second SportMod. Mark Odgers is driving Marissa's old SportMod. They never drive on the same night, though – one of them has to be the pit crew for the other.
"We have one truck to tow one car with," Mark Odgers explained. "We alternate our race nights."
Marissa Odgers works in a powder coating factory, where steel receives a tough and colorful finish to prevent corrosion and become aesthetically pleasing.
"Every weekend, we both look forward to loading up the car and getting ready to go," Mark Odgers said. "Marissa is now the force behind our racing."
In her sixth season as a SportMod driver, Marissa Odgers will continue to drive in the division rather than moving up to the Modified division. She prefers driving at Chowchilla Speedway to Merced Speedway. Dad Mark prefers Merced Speedway. It all works for them.
"I prefer the bigger, more open track in Chowchilla. It has more room to really drive the car," Marissa said. "At Merced, it is tough to hold your line – the track is small and there are a lot of drivers who cut in and out."
Saturday night at Merced, Marissa will be watching Mark handle the small track.
"I will watch him on Saturday night and it will help me be a better driver – he's been in a race car for a long time," she said. "On Sunday, he watches me and it helps me even more, because he points out things I can do to improve."