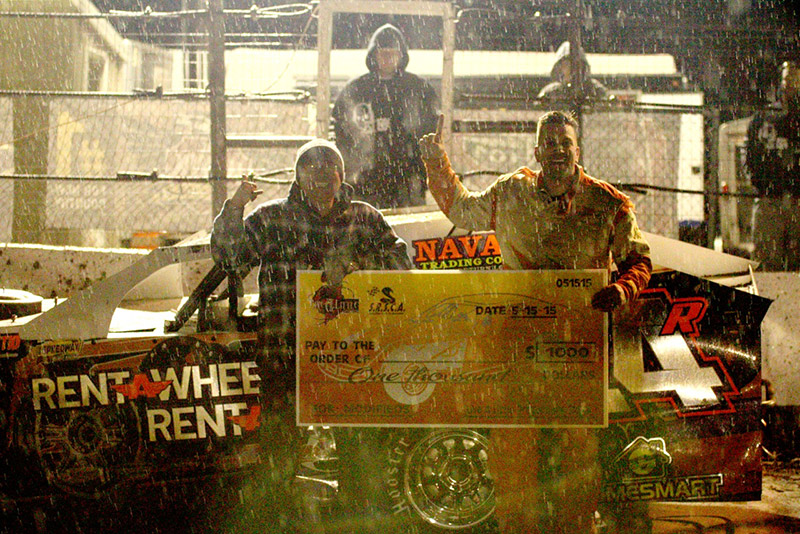 IDAHO FALLS, Idaho (May 15) – Before Friday night, Regan Tafoya had never won an IMCA Xtreme Motor Sports Modified feature in the State of Idaho, and he'd never won a feature in a torrential downpour.
Now he's done both.
Tafoya led the all but the first circuit in the Dirt Wars main event at Idaho Falls Raceway shortened from 30 to 20 laps due to deteriorating visibility and track conditions. The $1,000 victory put him on the ballot for this September's Fast Shafts All-Star Invitational.
"I always thought Idaho Falls owed me one," said Tafoya, after taking the checkers ahead of Jake Donnelly and Joey Price. "We went up there in 2003 to race for regional points and my steering wheel fell off while I was in the lead with three laps to go. I was able to go there and get redemption for a win I should have had in 2003."
Tafoya started on the pole but watched Don Baisch zoom ahead on the first lap Friday. He was back in front when the second lap was scored and managed to stay there despite the series of yellows that prevented him from building up any sizable lead.
Travis Metz tried inside several times before hitting a slick spot in the track and falling off the pace. Donnelly kept up pursuit but ran out of laps.
Rounding out the top five finishers were Brian Wordelman and Emery Wells.
The victory was the fourth this season for Tafoya, who also counts career-first wins in Nevada and Utah so far in 2015.
Jesse Baldwin was the $750 IMCA SportMod feature winner. Chuck Delp was second and Kenny Vollmer took third.
The Saturday night program during Idaho Falls' season-opening weekend was canceled.
Feature Results
Modifieds – 1. Regan Tafoya; 2. Jake Donnelly; 3. Joey Price; 4. Brian Wordelman; 5. Emery Wells; 6. Jason Donnelly; 7. Travis Metz; 8. Don Baisch; 9. Reed Payne; 10. Chris Clark; 11. Charlie Johnson; 12. Mike Yost; 13. Casey Delp; 14. K.C. Perez; 15. Bert Beech; 16. Tony Steward; 17. Blake Lyle; 18. Lonnie Timmons; 19. Corey Kortnum; 20. Ron Moser; 21. Rowene Kesler.
SportMods – 1. Jesse Baldwin; 2. Chuck Delp; 3. Kenny Vollmer; 4. Allen Riley; 5. Dale Smith; 6. J.R.Flores; 7. Brock Aeschbacher; 8. Kendra Vollmer; 9. B.J. Haslam; 10. Colton Jackman; 11. Rich Mueller.