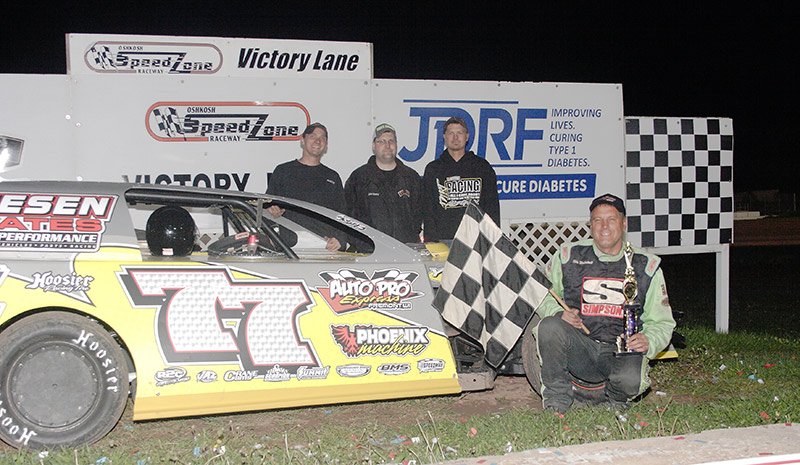 By Dave Panske
OSHKOSH, Wis. (May 15) – Bragging rights belonged to Mike Wedelstadt when the first round of the King of the Ring Series for Automotive Supply Company IMCA Modifieds brought 53 entries to Oshkosh SpeedZone Raceway Friday night.
Twenty-four cars made up the main event grid and Wedelstadt and Brad Lautenbach started on the front row.
The front pair pulled away at the start and for the first five laps ran side-by-side for the number one spot.  Wedelstadt was finally able to wrestle the point away and started to open his own lead.
The battle behind was for third with Brian Mullen, Todd Dart, Eric Arneson, Johnny Whitman, Ed­die Muenster and Sean Jerovetz in a cluster behind.
A lone caution flew for a stalled car on lap 11, and Wedelstadt resumed his lead after the restart with Lautenbach, Mullen, Dart, Arneson, Whitman, Muenster and Jerovetz now right behind.
Wedelstadt pulled away over the final laps to record his first local feature win of the year.  Mullen caught Lautenbach with three laps left to take the runner-up finish. Arneson captured fourth, with Dart and Jerovetz rounding out the top six.
The series continues on July 24 and concludes Aug. 28.