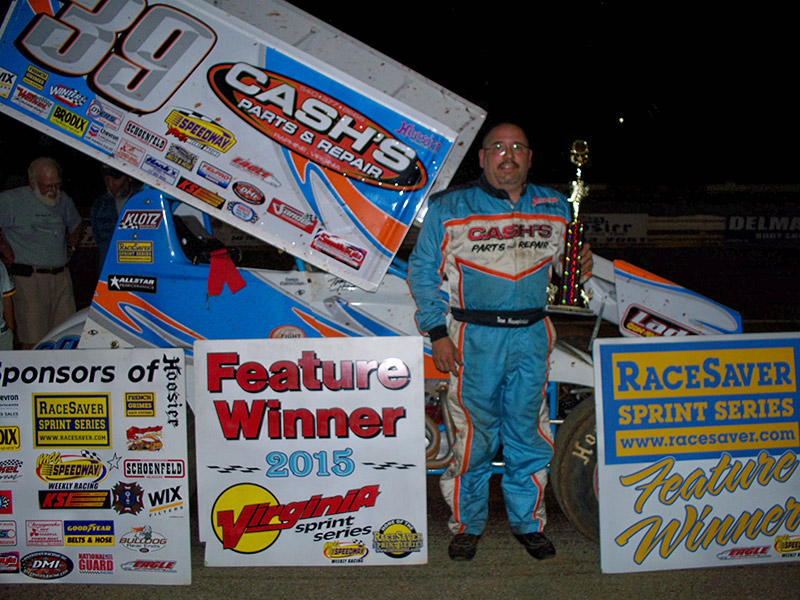 By Jim Haines
WAYNESBORO, Va. (May 16) – Tom Humphries had just enough time to get in and out of the winner's circle before the rains came Saturday night at Eastside Speedway.
The first repeat winner in the 2015 Virginia Sprint Series, Humphries took the checkers about five minutes before thunderstorms brought an end to the evening.
After rain delayed the race program, Chris Ware and Bill Rice took off and led early as the IMCA Eagle Motorsports RaceSaver Sprint Car field shuffled positions in the fast-paced feature.
Ware led running the middle line as Humphries made his way to second, then went low and into the top spot on lap 10.
Jerald Harris challenged and then took second from Ware before setting his sights on Humphries.
Glenn Worrell and French Grimes were coming through the field as the laps clicked by. With five to go, Harris was closing on Humphries as Worrell and Grimes were catching up.
Laps ran out, however, before Humphries could be caught as he scored his second victory of the young season.
Harris, Worrell, Grimes and Tony Harris completed the top five.
The next race will be Friday, May 29 at Dixieland Speedway in Elizabeth City, N.C.
Feature results – 1. Tom Humphries; 2. Jerald Harris; 3. Glenn Worrell; 4. French Grimes; 5. Tony Harris; 6. Chris Ware; 7. Troy Severin; 8. Brian Lawson; 9. Kevin Fletcher; 10. Charlie Ware; 11. Anthony Linkenhoker; 12. Bill Rice; 13. Mike Keeton; 14. Glenn Poore; 15. Eliah Omwake.