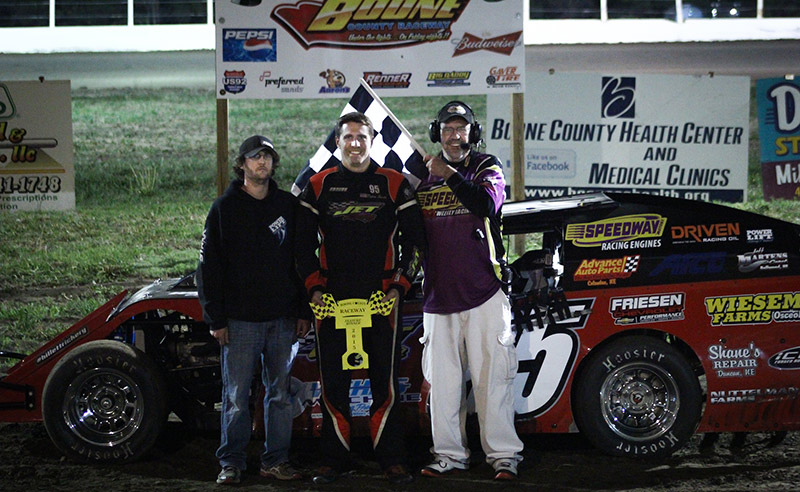 OSCEOLA, Neb. (May 8) – A driver who's enjoyed his share of success and then some added another accomplishment to his IMCA resume Friday night.
Dylan Smith won his 100th career IMCA Modified feature on May 8 at Boone County Raceway, his lat­est in a long line of achievements that also includes national and IMCA Speedway Motors Su­per Nationals fueled by Casey's championships.
"There was definitely a little pressure. Jake Anson definitely didn't let me win," Smith said. "I've won a track championship at Albion and we have a lot of friends here. It was nice to be able to celebrate with them afterwards."
From Osceola, Smith followed older brother Damian into the division, a favorite with both his par­ents and grandparents, and won for the first time in 2006.
He raced to a personal single-season best 28 checkers along with regional and national crowns in 2009.
Smith collected eight track championships and the Canyon Speedway Park Winter Series title, plus four straight Allstar Performance Nebraska State crowns before winning the Saturday night main event at Super Nationals in 2013.
"When I started racing, winning national points, Super Nationals or 100 features weren't even things I thought about," Smith said. "Super Nationals was definitely the biggest race I've ever won. The 2009 State Fair race was another big one because it was the last year the race was held in Lincoln. I'm definitely proud of that one, too."
Other highlights included his 2012 win at RPM Speedway's Modified Mania, in a field that in­cluded Ken Schrader and Clint Bowyer, and a clean sweep of four Winter Nationals events at Co­copah Speedway in February of 2014.
He's the 41st driver in division history to reach the 100 career win mark and the seventh from Nebraska to do so.
"I grew up watching Johnny Saathoff and Kevin Larkins. Think how many wins they'd have if they hadn't raced against each other," said Smith, who also joined fellow Cornhusker State speedsters Ronnie Wallace, David Trauernicht, Jon Thompson and Jordan Grabouski in the elite club. "It's a good group to be in."