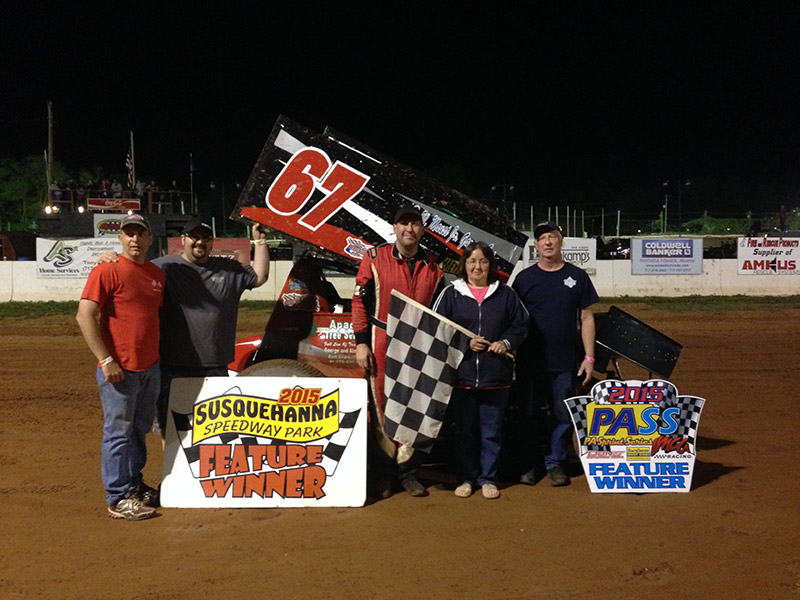 NEWBERRYTOWN, Pa. (May 9) – It was an exciting race on Saturday night with extra special significance on the eve of Mother's Day.
Ken Duke picked up the Pennsylvania Sprint Series win at Susquehanna Speedway Park for what to date is most significant victory in what is sure to be many future checkered flag runs.
"That was the kid who used to race cars in the dirt in front of the grandstands," proud father Ken Duke Sr. said after the race. Duke's mother was also on hand as usual for a special Mother's day trip to victory lane.
Duke started fourth in the IMCA Eagle Motorsports RaceSaver Sprint Car tour feature and survived a lap one collision when Colby Dice spun in turn two.
Steve Storrie jumped into the lead and seemed to be cruising to his second victory of the season when he got into the back of a lapped car, spinning both cars with just three circuits to go.
Duke had worked his way to second by patiently working his way past Brant Cook who was putting on his own impressive show holding the runner-up position.
Meanwhile, Zach Newlin made a charge from 17th, running the high groove and working his way through traffic throughout the race. Newlin was able to make the pass Cook to take second place with Cook third, then Darren Miller and Stephanie Stevens completing the top five.
Feature results – 1. Ken Duke; 2. Zach Newlin; 3. Brandt Cook; 4. Darren Miller; 5. Stephanie Stevens; 6. Donnie Hendershot; 7. Erin Statler; 8. Tyler Lebo; 9. Randy Kaylor; 10. Tylor Cochran; 11. John Martin II; 12. Alex Potosky; 13. Cody Hockenberry; 14. Dave Graber; 15. Jay Krout; 16. Steve Storrie; 17. Judi Bates; 18. Colby Dice; 19. John Bordlemay.