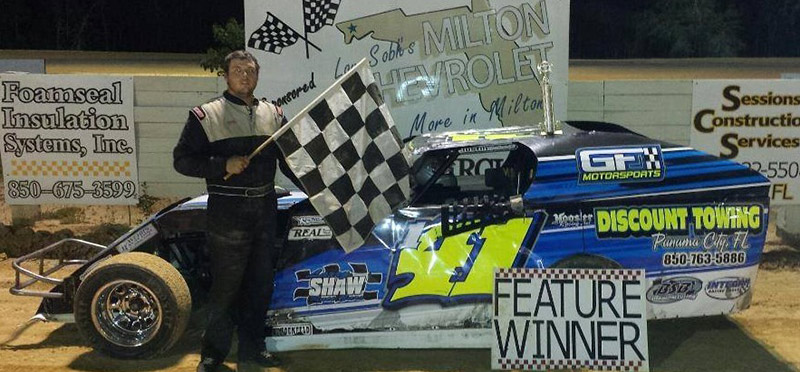 BLACKMAN, Fla. (May 2) – Justin Galbreath raced from sixth starting to collect his second straight Bay Area Emerald Coast Tour triumph Saturday at Northwest Florida Speedway.
Galbreath took the IMCA Xtreme Motor Sports Modified checkers ahead of Jason Barnhill, who had worked his way back through the field after contact with another car on a late restart left him with a flat tire.
Ryan Mosley was third in his Modified debut. Jason Lockwood and Dewayne Burchell rounded out the top five.
Next up for Bay Area Tour Modifieds is the Saturday, May 9 event at Flomaton, Ala., Speedway.
Feature results – 1. Justin Galbreath; 2. Jason Barnhill; 3. Ryan Mosley; 4. Jason Lockwood; 5. Dewayne Burchell; 6. Jimmy McDaniel; 7. Joey Bartlett; 8. Jessie Barnhill; 9. Trey Cawthon.
30