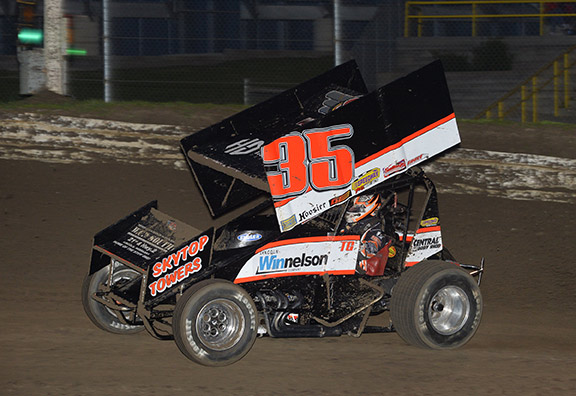 By Greg Soukup
EAGLE, Neb. (April 24) – The main event distance was just right as far as Trevor Grossenbacher was concerned Friday night at Eagle Raceway.
The Sprint Series of Nebraska opener ran green to checkered with Grossenbacher going up in a huge cloud of steam as his radiator hose blew coming out of turn four on the final lap.
He limped to the Rumble in The Bullring win with Jake Bubak second, Clint Benson third and Adam Gullion fourth.
"I love winning in any kind of car and I plan on being here quite a bit this year. I'll also be running in the Eagle Nationals on May 30, too," Grossenbacher said following his career-first IMCA Eagle Motorsports RaceSaver Sprint Car victory. "It's always best to start on the front row and I had to take advantage of it."
Grossenbacher had grabbed the lead on lap two as Benson moved into fourth. Bubak passed Brandon Horton on lap four; Benson moved around Horton on the sixth circuit.
Gullion took over fourth on lap 14.