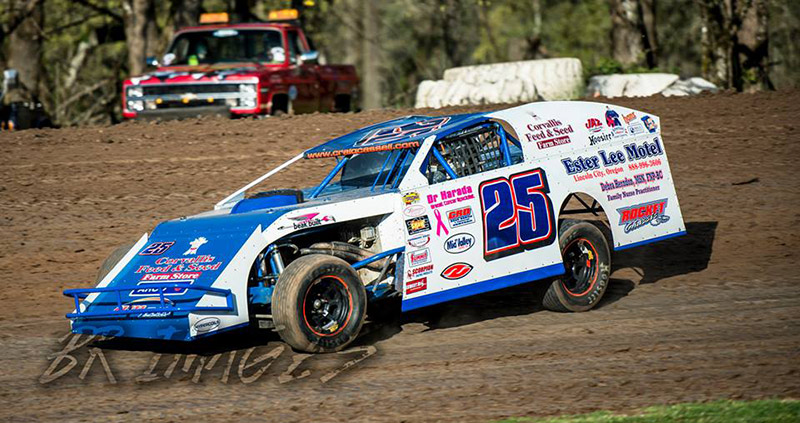 By Ben Deatherage
ALBANY, Ore. – Craig Cassell of Albany enters this season as the defending Allstar Performance Oregon State champion. In 2015 he will try his very best to defend that IMCA Xtreme Motor Sports Modified crown.
In two starts this season he managed a 15th place finish at Cottage Grove on April 4 but was very im­pressive last weekend at Sunset Speedway Park, ending the evening second in the feature.
"Last weekend we were a little off but we learned some stuff with this car," commented Cassell. "We were good toward the end so I'm not going to complain."
"We had to make a lot of small changes to the car this year, so the balance of the car is still a little off of where it needs to be," he added.
Cassell will visit Willamette Speedway in Lebanon this Saturday, April 25 in hopes of collecting his first triumph of the season.  It is a venue where he has graced victory lane on five occasions while finishing runner-up in the points table the last two consecutive campaigns.  It looks like this year he'll be visiting Sunset Speedway Park in Banks a little bit more often but the "Two-Five Ex­press" will be at Willamette a fair amount of times this year.
"One of our goals is to defend our title but my main goal is to race every week and run every race in Oregon and win races and just let the points take care of themselves," he explained.
Something else to note for Cassell are two sponsors hopping on board this season, Corvallis Seed & Feed and American Hero Carpet Cleaning.
He now chauffeurs the Ester Lee Motel of Lincoln City, Corvallis Seed & Feed, Dr. Mary Harada Breast Cancer Specialist, Debra Herndon Family Nurse Practitioner, Mid Valley Farms, Trevor Glaser Motorsports, American Hero Carpet Cleaning, Arco AM/PM of Stayton, CRD Race Bodies and Fabrication, Beakbuilt Race Cars, Driving Force Graphics, Frank's Fabrication & Auto of Browns­ville number 25 Rocket by Ruhlman entry.
He also has acquired crewman Shawn French. Both crewed on Bob Jeffrey's late model team several years ago, and with help in the pits it will eliminate Cassell working on the car all by him­self.
"It's cool to have new sponsors on the car helping the team out financially as well as Shawn help­ing in the pits," he said.