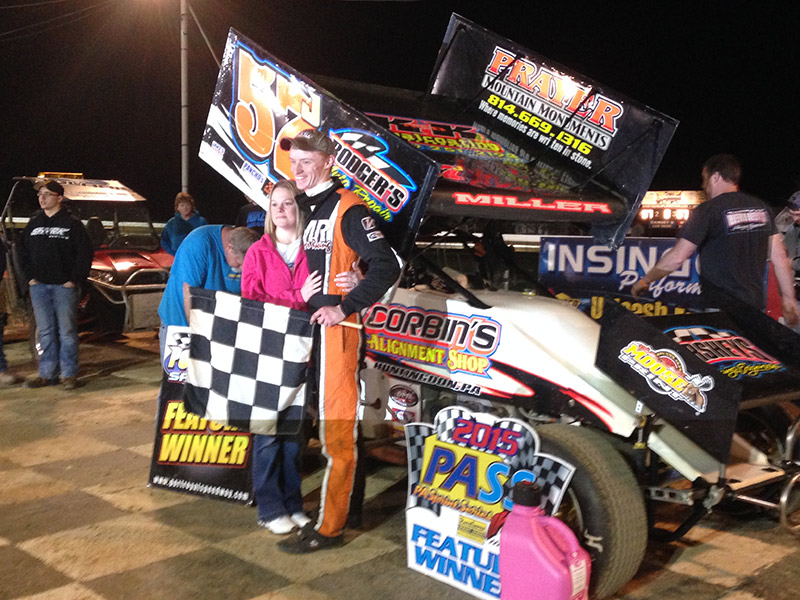 PORT ROYAL, Pa. (April 18) – Saturday at Port Royal Speedway, defending oval series cham­pion Jeff Miller captured the feature for his first Pennsylvania Sprint Series win of the year.
Miller allowed Ken Duke to lead only the first lap of the 18-lap IMCA Eagle Motorsports Rac­eSaver Sprint Car main event before taking over after starting second.
Miller's pace was slowed twice over the distance but to no avail for his challengers.
Scott Ellerman crossed the line second followed by Duke, Zach Newlin and Nathan Gramley.
Feature results – 1. Jeff Miller; 2. Scott Ellerman; 3. Ken Duke; 4. Zach Newlin; 5. Nathan Gram­ley; 6. Jason Bergstresser; 7. Bill Jones Jr.; 8. Erin Statler; 9. James Pryde; 10. Jake Waters; 11. Joe Zap; 12. Jaremi Hanson; 13. Drew Ritchie; 14. Marcus Defreitas; 15. Jonathan Jones; 16. Tyler Cochran; 17. Dave Guss Jr.; 18. Ron Aurand; 19. John Bordlemay; 20. Tyler Reeser; 21. Jim Kennedy; 22. Cale Reigle; 23. Reed Thompson.