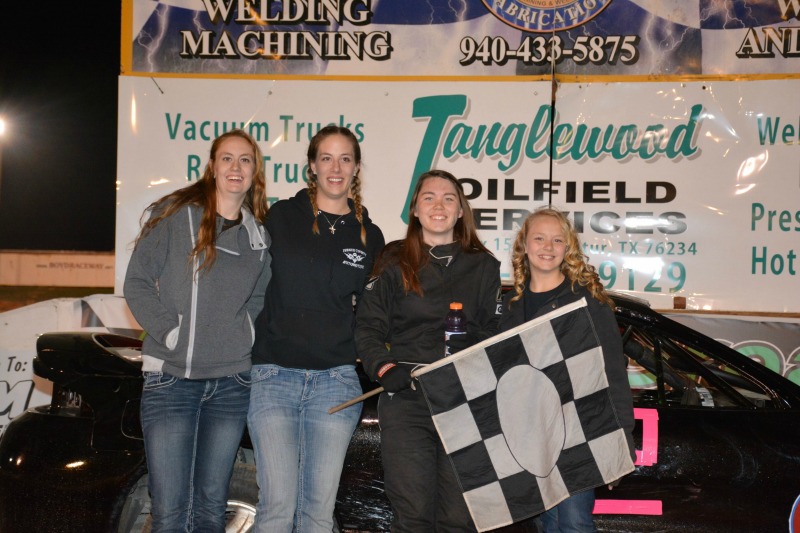 WEATHERFORD, Texas – Folks were telling Julia Childs she had a fast car before the season started.
She proved them right by winning the Mach-1 Sport Compact opener at Boyd Raceway on March 13. After a rainout, the Weatherford High School sophomore won March 27 and April 3 starts at the same speedplant.
"It was pretty neat. I was on a roll," said Childs, who finished third despite a broken tie rod her next night out. "I was hoping I could make it four wins in a row. That didn't happen but three straight wins was a big accomplishment."
A top five finisher in a dozen of her 21 starts last year as a rookie, Childs was runner-up to car builder and crewman Brant Bachman in the Boyd point standings. Getting that career first feature win was goal number one for 2015 and she didn't take long to achieve it, leading every lap and taking the checkers three car lengths ahead of her closest challenger.
"I got really nervous when I saw that there were only a couple laps left and started slowing down," admitted Childs. "When the race was over I was screaming in my helmet. Everybody came down and they started taking pictures."
The daughter of IMCA Sunoco Stock Car driver Michael Childs – he's nicknamed the Wild Child so she's the Wild Child's Child – Julia has been going to the track since she was two years old.
"I told my dad when I was little that I wanted to race," she said. "I was pretty proud when I won the first night. Dad has been waiting to see me win for a long time."
It has not gone unnoticed that Childs takes after her father in preferring to run the lower line.
"I stay away from the wall. For some reason, I don't have much luck up high so I've learned not to go there," she explained. "I run low."
Along with her dad and Bachman, Childs gets pit crew help from David Van Guilder and Robert Deery. She's sponsored by Damon Hammond and Wild Child Race Cars of Burleson.
A member of the choir and automotive technology program at WHS, Childs had to forego FFA horse judging to race this spring. She'll resume that activity next school year.
"I want to run for the track championship this season," Childs said, "then hopefully move up to another class in 2016."