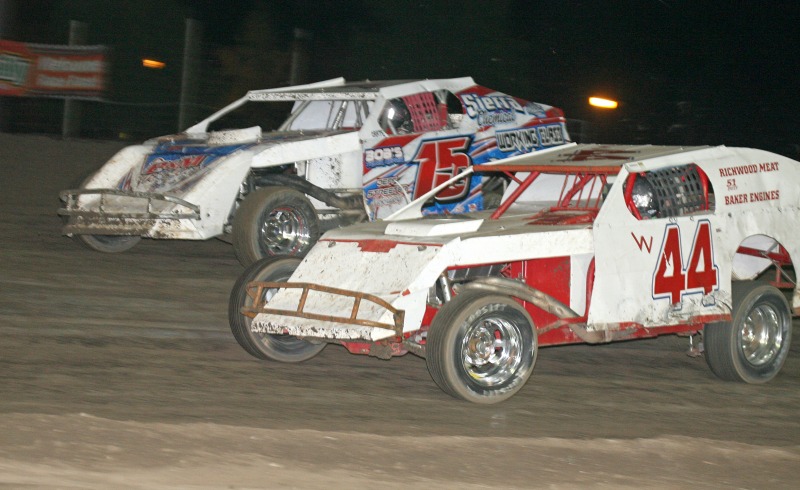 MERCED, Calif. – Paul Stone would rather drive someone else's car than sit and watch the races at Merced Speedway on Saturday night.
Because building his new IMCA Modified is taking longer than expected, Stone found another seat to sit in. He'll be driving a car owned by Jack Mounce of Merced for the second time this season.
"It's like when you're on the road and you are sleeping in a bed that isn't yours. It never feels quite as good as the one you have at home," Stone said. "An unfamiliar car adds an extra challenge to driving."
Stone, who is known nationally in the ranks of IMCA, will make Mounce's car more like his own as the season progresses. Though the new car was all assembled in his garage early last week, it was unassembled by the week's end.
Stone is a perfectionist. He disassembled the car to have the parts powder-coated. The colorful coating will add extra protection to the car's chassis.
"I don't think the new car will be seen that much in Merced," Stone said. "It will be based in the Midwest."
Stone plans to trailer the car to the hotbed of IMCA racing. He'll be representing California this summer in major events – like Iowa's Harris Clash, the Kupper Chevrolet Dakota Classic Tour and a $10,000 to win race in Wisconsin.
As for Mounce's car, Stone proved the older car was still competitive when he was behind the wheel two weeks ago. He chased down winner Les Friend of Galt by time the checkered flag fell.
"I was going crazy not being able to drive," Stone laughed. "I could only take sitting on the couch so long."
Stone came from the back of the pack to get behind Friend with five laps to go. That's when the power steering failed on the car, and Stone was forced to strong arm the steering wheel all the way to the finish line.
"I was worn out by the last lap, " Stone explained. "I used every bit of strength I had left to try to make a clean pass going to the checkered flag."
Stone had the fans cheering louder than the sounds of the cars.
Friend is planning for another go-round with Stone this Saturday night.
"I'll try to keep the streak going," said Friend, who won his first IMCA race ever on his second night out at Merced Speedway.
Stone will race for the checkers.
"We are going to make Jack Mounce's car work for us," he said. "It will soon be like home to me."