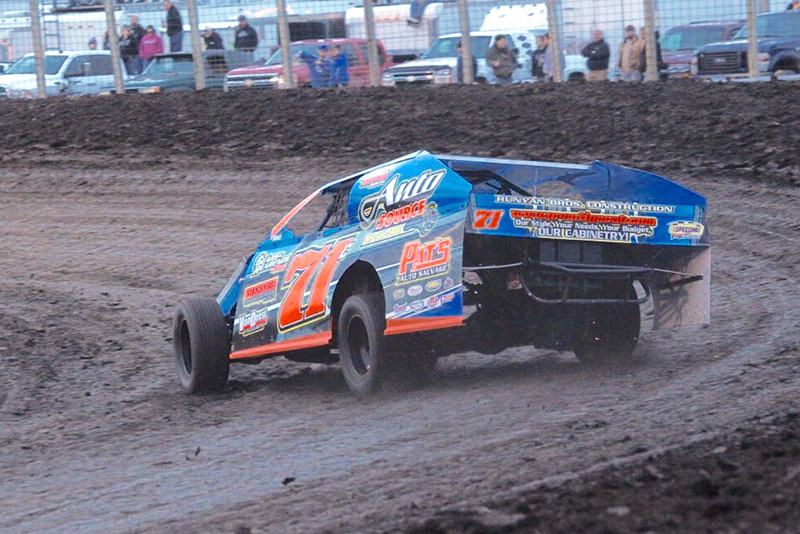 VINTON, Iowa (April 2) – The finish to Thursday's Frostbuster feature for IMCA Xtreme Motor Sports Modifieds at Benton County Speedway was so close Troy Cordes didn't know for sure he was the winner until he heard it over his one-way radio.
Cordes led most of the 25-lapper after passing Todd Shute following an early restart. He couldn't find a way around two cars at the back of the field, however, and both Shute and Hunter Marriott caught up in a hurry.
Shute was scored just ahead on lap 22 but Cordes was back in front the next time around. He'd take the checkers not much more than the width of his bumper ahead of Shute, with Marriott right behind.
"It got a little hairy," Cordes said following the $1,000 victory, which came in front of a large and appreciative crowd. "I've won races this close before and I've lost them this close before. It goes both ways. This is the better way."
Jason Wolla, winner of the Wednesday Frostbuster at Southern Iowa Speedway, and Tyler Droste completed the top five.
A dozen states and Canada were represented by the 123 IMCA entries, including 48 Modifieds and 40 Karl Chevrolet Northern SportMods, at Vinton.
Cordes, now the winner of 98 career sanctioned Modified features, was already on the ballot for the Fast Shafts All-Star Invitational. NASCAR visitor Ken Schrader did not qualify for the main event.
Damon Murty won his second Frostbuster feature for IMCA Sunoco Stock Cars in as many nights. Sam Wieben topped the Northern SportMods and Benji Irvine ruled the IMCA Sunoco Hobby Stocks.
Nathan Wood was fast up front but two cautions before midway kept the Stock Cars close in their 20-lapper. Murty took the lead on lap 12; Brett Koehler passed Wood for second three laps later but had nothing for Murty, who took the win by half a straightaway.
Three early cautions slowed the Northern SportMod main. Wieben led the last 17 of 18 laps, beating Wednesday Frostbuster winner Lucas Lamberies to the stripe by a couple car lengths. Tony Olson rounded out the top three.
Irvine led every circuit in the Hobby Stock contest but a caution with three to go erased his big lead. Austin Luellen was second, three car lengths off the pace, and Nathan Ballard was third.
All four divisions are at Marshalltown Speedway for the third Frostbuster on Friday, April 3. The final Frostbuster is Saturday, April 4 at Boone Speedway.
Feature Results
Modifieds – 1. Troy Cordes, Dunkerton; 2. Todd Shute, Des Moines; 3. Hunter Marriott, Brookfield, Mo.; 4. Jason Wolla, Ray, N.D.; 5. Tyler Droste, Waterloo; 6. Cole Ferguson, Dexter; 7. Josh Most, Red Oak; 8. Mitch Morris, Long Grove; 9. Ronn Lauritzen, Jesup; 10. Travis Hagen, Williston, N.D.; 11. Justin Medler, Minot, N.D.; 12. Scott Hogan, Vinton; 13. Mike Mullen, Seymour, Wis.; 14. Brian Mullen, Seymour, Wis.; 15. Josh Gilman, Earlham; 16. Jon Snyder, Ames; 17. Eddie LeMay, Milwaukee, Wis.; 18. Tony Wedelstadt, Fremont, Wis.; 19. Joe Docekal, Dysart; 20. J.D. Auringer, Waterloo; 21. Joel Rust, Grundy Center; 22. Vern Jackson, Waterloo; 23. Brad Theys, Kewaunee, Wis.; 24. Richie Gustin, Gilman.
Stock Cars – 1. Damon Murty, Chelsea; 2. Brett Koehler, Two Rivers, Wis.; 3. Nathan Wood, Sigourney; 4. Brendon LaBatte, Weyburn, Sask.; 5. Rick Mahlberg, Denmark, Wis.; 6. Norman Chesmore, Rowley; 7. Justin Temeyer, Independence; 8. Austin Evens, Independence; 9. Erick Knutsen, Cedar Rapids; 10. Jim Lynch, Kahoka, Mo.; 11. Tim Fobian, Dike; 12. Scooter Dulin, Cedar Rapids; 13. Russell Damme Jr., Waterloo; 14. Jason Purvis, Boone; 15. Jay Schmidt, Tama; 16. Jerry Miles, Bernard; 17. Beau Deschamp, West Hope, N.D.; 18. Scott Pippert, Elberon; 19. Mike Pierrard, Green Bay, Wis.
Northern SportMods – 1. Sam Wieben, Dysart; 2. Lucas Lamberies, Clintonville, Wis.; 3. Tony Olson, Cedar Rapids; 4. Jenae Gustin, Marshalltown; 5. Clint Luellen, Minburn; 6. Jon Schultz, Waunakee, Wis.; 7. Hunter Parsons, Green Bay, Wis.; 8. Tracy Wassenberg, Shawano, Wis.; 9. Colby Heishman, Brooklyn; 10. Ryan Besaw, Omro, Wis.; 11. Jeff Steenbergen, Watertown, Wis.; 12. Shawn Ritter, Keystone; 13. Tyler Soppe, Sherrill; 14. Kurtis Pihl, Salina, Kan.; 15. Dawn Krall, Evansdale; 16. Ryan Wolla, Tioga, N.D.; 17. Kip Siems, Cedar Falls; 18. Jayme Duinink, Pella; 19. Curt Hilmer, Dysart; 20. Danny Dvorak, Vinton; 21. Kevin Bethke, Neenah, Wis.; 22. Nathan Chukuske, Sherburn, Minn.; 23. Rich Pavlicek, Casselton, N.D.; 24. Zach McKinnon, Wausau, Wis.
Hobby Stocks – 1. Benji Irvine, Oelwein; 2. Austin Luellen, Minburn; 3. Nathan Ballard, Marengo; 4. Eric Stanton, Carlisle; 5. Justin Wacha, Vinton; 6. Jeremy Auten, Clarinda; 7. Justin Lichty, Waterloo; 8. Jamie Songer, Ankeny; 9. Tyson Overton, Carlisle; 10. Jacob Floyd, Cedar Rapids; 11. Dave Schmidt, Casco, Wis.; 12. Adam Petrzelka, Norway; 13. Kyle Dulin, Brandon; 14. Greg Sweerin, Evansdale; 15. Zach Swanson, Waterloo; 16. Shannon Anderson, Des Moines.