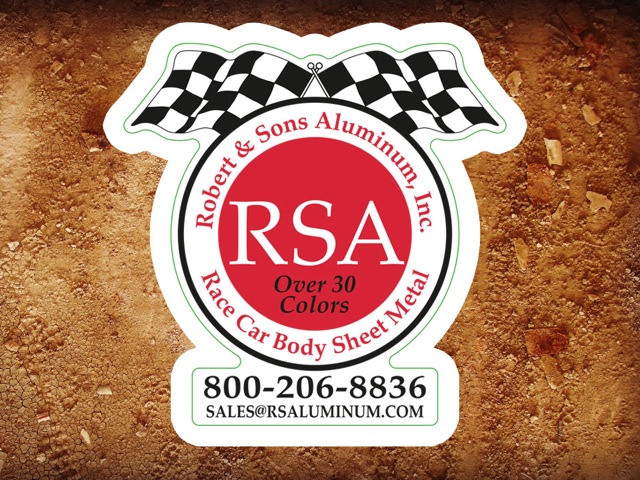 NEWNAN, Ga. – New awards for Deery Brothers Summer Series drivers are in store this season from Robert & Sons Aluminum.
A third-generation family business located in Newnan, Ga., southwest of Atlanta, Robert & Sons gives 10 sheets of aluminum to both the champion and rookie of the year for the 29th annual IMCA Late Model tour.
"We want to help support our current customers while getting our name out more with dirt track chassis builders," explained company Vice President Steve Hinely. "We've had racing customers for most of the 25 years we've been in business. Now we want more people in the industry to know who Robert and Sons are."
Founded in Atlanta, Robert and Sons moved 30 miles southwest to Newnan in 2002. That loca­tion was key in providing needed space to add more production equipment and still be able to provide quick transit times for shipments.
In addition to race car application, Robert and Sons distributes aluminum for commercial uses that range from trailers to signage and storefronts throughout the US, Canada, and Latin America.
"We also sponsor a car at our local Senoia Raceway. This new sponsorship program is another way we can help our sport," Hinely said. "Being a family-owned business, we're geared toward customer service."
Roberts and Sons product certificates will be presented during the national IMCA awards banquet in November.
Both the Late Model champion and a randomly selected Ironman eligible driver also receive 10 sheets of aluminum at the IMCA Speedway Motors Super Nationals fueled by Casey's.
More information is available by calling 800 206-8836, on Facebook and at the www.rsaluminum.com website.
"This new program fills a need for our Late Model drivers and introduces a new supplier to our racing market," said IMCA Marketing Director Kevin Yoder. "I've enjoyed getting to know the friendly folks at Robert & Sons Aluminum and I know our racers will enjoy the experience of work­ing with them as well."