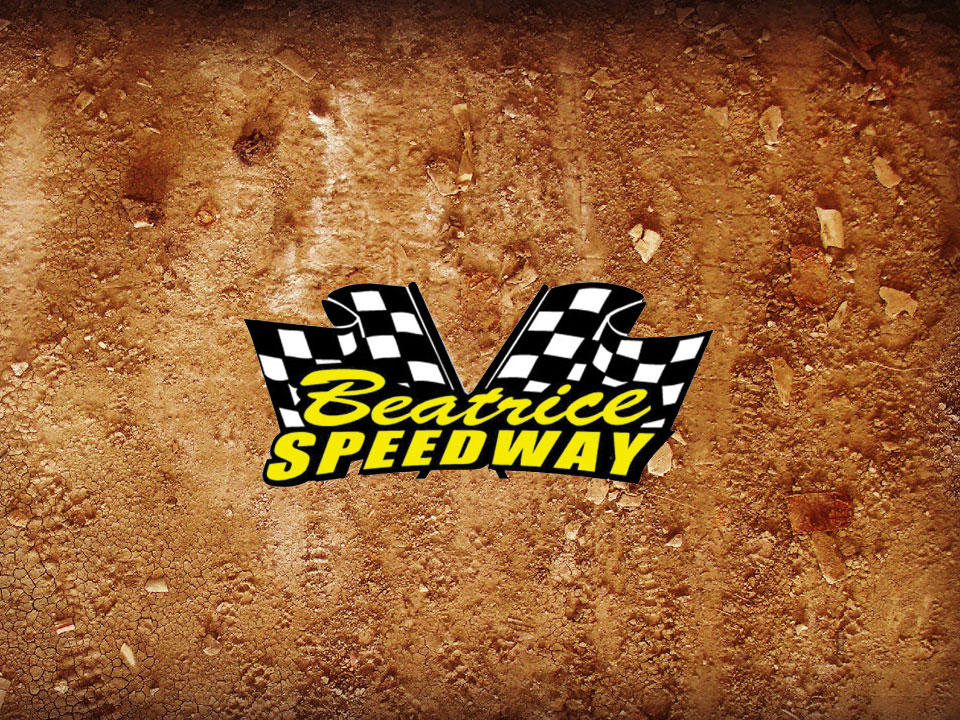 BEATRICE, Neb. (March 13) – More than 180 drivers are already pre-entered for Spring Nation­als, which starts tonight (Friday) at Beatrice Speedway.
IMCA Xtreme Motor Sports Modifieds race for $2,000 to win this evening and on Saturday, March 14. Berths on the ballot for the Fast Shafts All-Star Invitational are also at stake.
IMCA Sunoco Stock Cars and Karl Chevrolet Northern SportMods race for $500 to win and IMCA Sunoco Hobby Stocks for $400 to win each night. Mach-1 Sport Compacts run for $200 to win on Saturday.
Modified pre-entries are now in hand from Jacob Adler, Holyoke, Colo.; Chad Andersen, Fort Cal­houn; Ed­die Belec, Lakewood, Colo.; Josh Blumer, Marysville, Kan.; Bland Bohannon, Williston, N.D.; Matt Bonine, Onawa, Iowa; Corey Burch, Junction, City, Kan.; Clayton Christensen, Spen­cer, Iowa; Shane DeMey, Denison, Iowa; Mike Densberger, Lincoln; Patrick Donavon, Sterling; Cole Ferguson, Dexter, Iowa; Josh Gilman, Earlham, Iowa; Jordan Grabouski, Beatrice; Michael Greseth, Harwood, N.D.; Travis Hagen, Williston, N.D.; Travis Hatcher, Honey Creek, Iowa; Bill Heinkel II, Perry, Iowa; Jeff Hunter, Henderson, Colo.; Andy Johnson, Highmore, S.D.; Aaron Krohn, Slayton, Minn.; Jeffrey Larson, Lakefield, Minn.; Ronn Lauritzen, Jesup, Iowa; Jeremy Leit­ing, Valparaiso, Neb.; Erik Mahlik, Green Bay, Wis.; Les McLenehan, Estevan, Sask.; Justin Medler, Minot, N.D.; Brian Mul­len, Seymour, Wis.; Kyle Oberding, Seneca, Kan.; Aaron Pella, Lincoln; Mike Petersilie, Hoisington, Kan.; Jesse Richter, West Bend, Kan.; Anthony Roth, Colum­bus; Johnny Saathoff, Beatrice; Jason Schneiders, Sioux City, Iowa; Keagan Scott, Odebolt, Iowa; Dave Shipley, Argusville, N.D.; Dustin Smits, Friesland, Wis.; Chad Ten Napel, Sioux City, Iowa; Mike Van Genderen, Newton, Iowa; Rob VanMil, Barnesville, Minn.; Billy Vogel, West Fargo, N.D.; Luke Wanninger, Minburn, Iowa; Daniel Woodle, Pierson, Iowa; Jordan Zillmer, Cleve­land, N.D.; and Bob Zoubek, Dorchester.
Northern SportMod drivers pre-registered are Jason Andrews, Estherville, Iowa; Kirk Beatty, Sioux City, Iowa; Derek Benes, Crete; Dusty Blake, Belvidere; Lance Borgman, Beatrice; Todd Boulware, Jefferson, S.D.; Austin Carter, Jamestown, Kan.; Benjamin Chukuske, Sherburn, Minn.; Nathan Chukuske, Sherburn, Minn.; Brandon Clough, Wallace; Shawn Cooney, Des Moines, Iowa; Brenden Damon, Great Bend, Kan.; Jayme Duinink, Pella, Iowa; Tyler Frye, Bel­videre, Kan.; Ryan Gilland, Beatrice; Joey Haase, Norfolk; Matt Haase, Norfolk; Colby Heishman, Brooklyn, Iowa; Lee Horky, Fairbury; Brian Konze, LeMars, Iowa; Jake Krone, Beloit, Kan.; Jere­miah LaDue, Trenton, N.D.; Benji Legg, Beatrice; Mary Lenz, Elmwood; Johnathan Logue, Boone, Iowa; Matt Looft, Swea City, Iowa; Dusty Masolini, Cedarburg, Wis.; Cameron Meyer, Pierce; Nick Meyer, Whittemore, Iowa; Taylor Musselman, Norwalk, Iowa; Jeremy Noonan, Lin­coln; Trevor Noonan, Lincoln; Gun­nar Pike, South Bend; Kyle Prauner, Norfolk; Jerid Ratzke, Wil­liams, Iowa; Darin Roepke, LeMars, Iowa; Rick Rohr, Pickrell; Gary Saathoff, Beatrice; Jared Sasser, Cuba, Kan.; Joe Schidler, Lincoln; Arie Schou­ten, Blair; Ben Schultze, Algona, Iowa; Del­bert Smith, Wichita, Kan.; Brandon Spanjer, Beatrice; James Stewart, Aparahoe; Andrew Whitmore, Beatrice; and Sam Wieben, Dysart, Iowa.
Stock Car pre-entries have been received from Chris Adams, McIntire, Iowa; Andrew Altenburg, Truman, Minn.; Brent Alver­son, Oskaloosa, Kan.; Lance Borgman, Beatrice; Randy Brands, Boyden, Iowa; Brandon Conkwright, Wamego, Kan.; Jon Courchaine, Pound, Wis.; Kyle Freder­ick, Oconto Falls, Wis.; Ryan Fullenkamp, Bloomfield, Iowa; Gary Goudy Jr., Sloughton, Sask.; Derek Green, Granada, Minn.; Geoff Jermark, Beloit, Kan.; Andrew Knode, Adel, Iowa; Brendon LaBatte, Weyburn, Sask.; Dustin Larson, Worthington, Minn.; Jim Larson, Rushmore, Minn.; Mi­chael McClure, Bloomfield, Iowa; Lloyd Meeske, Champion; Damon Murty, Chelsea, Iowa; Chris Palsrok, Sibley, Iowa; Tyler Phelps, Beatrice; Chris Pruitt, Stuart, Iowa; Jason Purvis, Boone, Iowa; Eric Rempel, Palmyra; Dustin Schmidt, Fairbury; Jay Schmidt, Tama, Iowa; Trevor Schmidt, Hays, Kan.; Jason See, Albia, Iowa; Leon Sidney, Sioux City, Iowa; Bob Staiert, Carroll, Iowa; Shane Stutzman, Milford; Kurt Trusty, Wallace; Kyle Vanover, Beatrice; Leif Weyer, Centralia, Kan.; Casey Woken, Norton, Kan.; and Elijah Zevenbergen, Ocheyedan, Iowa.
Early entries for the Hobby Stocks are from Zach Ankrum, Sioux City, Iowa; Adam Armstrong, Be­atrice; Roy Armstrong, Beatrice; Drew Barglof, Sioux Rapids, Iowa; Shelby Barnard, Beatrice; Bill Bonnett, Knoxville, Iowa; Justin Busboom, Lincoln; Tyler Davis, Fairbury; Cody Dignan, Burling­ton, N.D.; Neil Forsberg, Slayton, Minn.; Rusty Gyles, St. Charles, Iowa; James Hadorn, Beatrice; Matt Hanson, Slayton, Minn.; Jacob Harms, Beatrice; Taylor Huss, Fairbury; Derek Husted, Sioux City, Iowa; Bryant Johnson, Graettinger, Iowa; Chris Klein, Wilber; Austin Luellen, Minburn, Iowa; Mike McAtee, Beatrice; Marvin Penry, Council Bluffs, Iowa; Jeremy Purdy, Bed­ford; Josh Reyn­olds, Greenfield, Iowa; Dalton Ronnenbaum, Onaga, Kan.; Jayde Saathoff, Be­atrice; Malik Sampson, Worthington, Minn.; Shay Simoneau, Damer, Kan.; Shawn Slezak, Milligan; Tyrel Smith, Goodland, Kan.; Jamie Songer, Ankeny, Iowa; Brendon Stigge, Fairbury; Jesse VanLaning­ham, Beatrice; and Jeremy Wegner, Graettinger, Iowa.
Sport Compact drivers confirmed for Beatrice are Alex Bratt, Beatrice; Joe Bunkofske, Armstrong, Iowa; Nate Coopman, Mankato, Minn.; Larry Cronin, Lincoln; Jay DeVries, Spencer, Iowa; Kaytee Devries, Spencer Iowa; Brooke Fluckiger, Columbus; John Gill, Marshalltown, Iowa; Joelle Gustin, Onawa, Iowa; Drew Johnson, Sioux City, Iowa; Cole Krichau, Lincoln; Ramsey Meyer, Pierce; A.J. Myott, Spencer, Iowa; Michelle Nicholson, Omaha; Neal Reynolds, Onawa, Iowa; Dillon Richards, Beatrice; Elmer Rolfes, Merrill, Iowa; Lisa Rolfes, Merrill, Iowa; Sly Shively, Be­atrice; and Todd Tacheny, Mankato, Minn.
Modified pre-tech starts at noon and pit gates open at 4:30 p.m. this afternoon, with hot laps at 6 p.m. and racing at 7 p.m. On Saturday, gates open at 2:30 p.m., hot laps are at 5 p.m. and racing is at 6 p.m.
Pit passes are $25 each night. Grandstand admission is $14 for adults and $5 for kids 10 and under.
IMCA Speedway Motors Weekly Racing National, re­gional and Allstar Performance State points will be given each night for the Modifieds, Stock Cars and Hobby Stocks. National and state points will be awarded to North­ern SportMod and Sport Compact competitors.
RACEceivers are required in all divisions and both Spring Nationals programs will be broadcast live on Speed Shift TV. The track website is www.beatricespeedway.com.