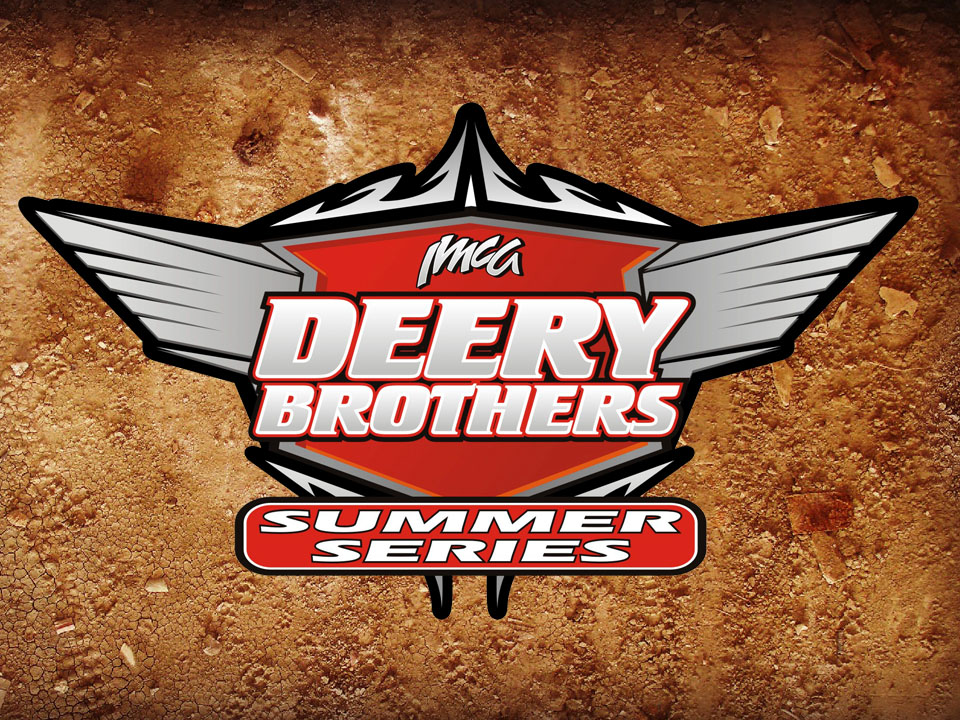 DENISON, Iowa (Jan. 23) – The 2015 Deery Brothers Summer Series will take its first green flag at Crawford County Speedway.
After inclement weather washed out numerous attempts to bring the series back to Denison last spring, the upcoming IMCA Late Model tour travels to Crawford County for open­ing night action on Saturday, April 4.
In all, the 29th annual series currently has 16 dates. The first 15 of those events pay $3,000 to win and a mini­mum of $300 to start. Additional tour dates are still pending.
"It's nice to have our highest paying race as the series finale at the Yan­kee Dirt Track Classic at Farley Speedway," Tour Director Kevin Yoder said. "That feature pays $7,500 to win so it should make for an exciting conclusion to the series."
The one previous Deery race at Denison was held in 1994. Kossuth County Speedway in Algona has also hosted just one tour event, in 2008, and brings the series back for a July 2 show.
"If we get all our races in, this year's schedule is geographically balanced within our Late Model area," Yoder noted. "That should give more drivers in central and western Iowa the chance to follow the series."
Four events are on the initial series schedule before the start of the weekly IMCA Late Model point season: April 4 at Denison, April 11 at West Liberty Raceway, April 17 at Farley and April 18 at Hamilton County Speedway in Webster City.
The series is at Quad City Speedway in East Moline, Ill., on May 3 and at Boone Speedway for the traditional Memorial Day show on May 25.
Marshalltown Speedway hosts the June 2 race. After visiting Algona, the series is at West Liberty Race­way July 7, Independence Motor Speedway on July 8, Dubuque Speedway on July 12 and back at Quad City on July 22.
Liberty 100 shows are qualifying on Sept. 4 and two $3,000 to win features on Sept. 5. The Sept. 7 Labor Day feature during the IMCA Speed­way Motors Super Nationals fueled by Casey's brings the tour back to Boone with that even­ing's winner earning a bonus based on their number of sanctioned weekly starts during the season and a possible $4,500 payday.
Farley's Sept. 18 and 19 Yankee Dirt Track Classic brings the series to a close.
Non-qualifier pay at each of the first 15 races is $100. Sunoco Race Fuel feature qualifier draw­ings for $250 in cash will be held each night and drivers with perfect attendance earn shares of $2,000 in cash after the series season is complete.
Casey's General Store is also back on board as title sponsor of the redraw and will give $100 gift cards to all drivers with perfect attendance throughout the series.
"There are no changes in race night procedures and most sponsorship programs are back in place," Yoder said. "We have a very good series again in 2015. We always sharpen the pencil and look for ways to make it better every year."
The Deery Brothers Automotive Group returns as title sponsor of the series. The champion will earn $5,000, with point fund shares to the top 10 and pro-rated for drivers not competing at all events. Drivers finishing outside the top 10 in points but with perfect attendance are guaranteed $500.
Defending champion is Justin Kay of Wheatland. Darrel DeFrance of Marshalltown has perfect attend­ance through the series' first 434 events.