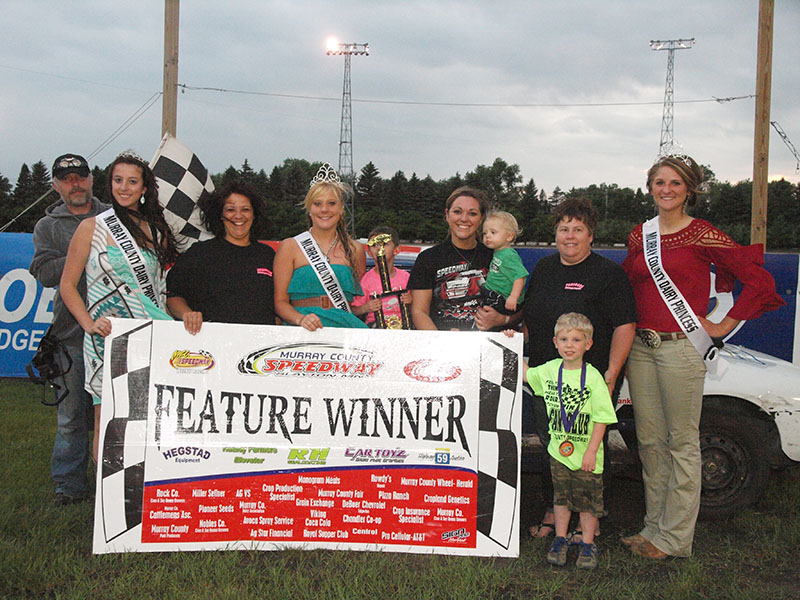 SLAYTON, Minn. – After teaching her competition a thing or two, Stephanie Forsberg is going to concentrate on the classroom.
Forsberg raced to her third consecutive Mach-1 Sport Compact track championship at hometown Murray County Speedway in 2014. She was a nine-time winner at Slayton, capturing her final vic­tory of the season and career 26th checkers on the day after her 20th birthday.
"I just like this class and the people I race with," said Forsberg, who had started racing in a non-sanctioned 4-cylinder hornet class at the tender age of 13. "I took some lumps and nearly totaled my first car before we sold it."
She was 15 when she came home and announced that not only was she ready to get back on the track, she'd already bought a car. Forsberg returned with a pink ride in honor of her grand­mother Maddy, who'd been diagnosed with breast cancer.
"I always had a passion for racing. I grew up around the track and I missed it," she said.
Forsberg enjoyed a career-type season in 2013 with a dozen feature wins, in addition to Murray County and Redwood Speedway track and Allstar Performance Minnesota state honors.
Visits to Arlington Raceway, Fairmont Raceway, Jackson Speedway and Redwood in Minnesota, Algona Raceway and I-35 Speedway in Iowa and Raceway Park in South Dakota were also in­cluded in her 43 starts in 2014.
Forsberg's season highlight came when one-year-old cousin Gavin Wynia attended his first race at Slayton and got to join the rest of the family for victory lane pictures after she won the main event that evening.
"I owe a lot of credit to my dad (and fellow Sport Compact driver) Neil. His support has been above and beyond," she said. "There were days when I'd have to be at work at 6 a.m. and when I'd get home at 2 p.m. he'd have both cars washed and ready for that night."
Her 2014 ride – white, with black lettering and a pink ribbon for breast cancer awareness – has been sold as Forsberg, a sophomore majoring in elementary education at Minnesota State Univer­sity in Mankato, will focus on her classroom endeavors in the near future.
"I may be back part-time in a Hobby Stock. There was such a learning curve in the Sport Com­pacts, I can only imagine what it will be like in the Hobby Stocks," Forsberg said. "I'm not going to quit racing. I couldn't do that."
Her parents Neil and Wendy Forsberg, boyfriend and two-time national champion Nate Coopman and his father Jerry, T.J. Gertsema and Terry Geisen helped turn wrenches on Forsberg's car.
Her sponsors included Sturdevant's Auto Parts, Broadway Bowl, Slayton Chiropractic, Sean Sol­heim Photography, Kevin Nelson Storage, Rick Widboom Motorsports, Mike Carlson Fabricating, Tim's Plumbing and Heating and John and Heather Engelkes, all of Slayton; Classy & Sassy Cloth­ing Store in Worthington; Last Chance Auto Parts in Fulda; and Ryan Cellan Motorsports of Wallingford.