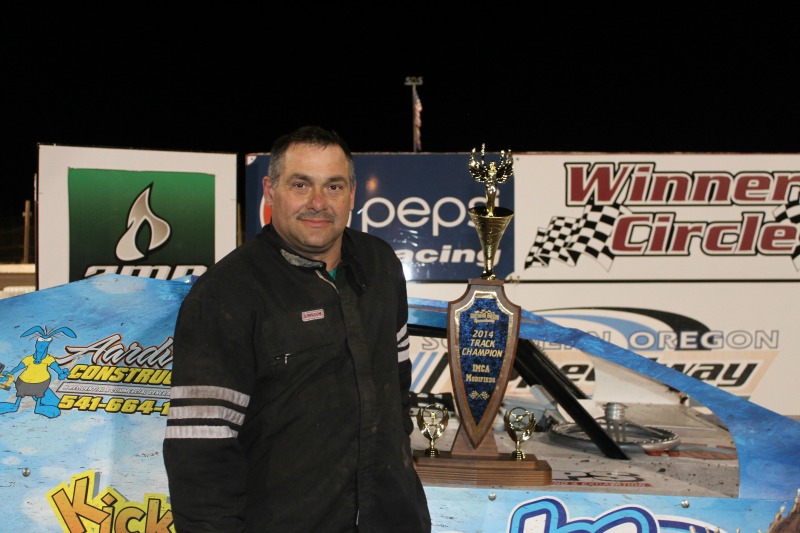 CENTRAL POINT, Ore. – A driver who hadn't even thought of a number for his car before he started to race was number one in IMCA Xtreme Motor Sports Modified point standings at two tracks in 2014.
Albert Gill reigned at Siskiyou Motor Speedway in California and at Southern Oregon Speedway. His two feature wins at Southern Oregon, on May 3 and June 21, were the first and second of his IMCA career.
"It was very gratifying to finally put the car in the winner's circle. I'd won some big pro stock races over the years but to put my Modified to the checkered flag first was very gratifying," Gill said. "I didn't have any intention of trying to win two track championships, especially at two Saturday tracks."
"It was crazy how it worked out. The weather and the track schedules helped make it possible," he added. "I was in the lead at both tracks when they canceled the last night at Siskiyou to use the fairgrounds as a camp to fight a forest fire."
Gill logged 20 starts on the season, opening with a fifth place showing during Silver Dollar Speed­way's Nor-Cal Series Weekend in March.
He was sixth and then ninth in Ocean Speedway's Pat Pettit Memorial Shootout twinbill in Octo­ber, and earned $303 for turning the fastest lap.
"The check was presented by Bobby Hogge III of Hogge Racing," Gill said. "That meant a lot to me. He's pretty good."
A Philadelphia, Pa., native, Gill moved to the Pacific Northwest in 1978. A friend took him to his first race at the old Medford Raceway and he was hooked. Gill made up his mind to become a driver himself and three years later made it on the track.
"I got a little side tracked for a few years. I spent $500 for my first car, a Chevrolet Nova, and didn't even think about what number I wanted before I went in to buy it," he admitted. "They asked what division I was in, I asked what numbers were available and if I could have 34 because that's how old I was at the time."
After campaigning a pro stock at White City from 2000-2006, Gill got his first Modified. A Las Ve­gas Motor Speedway Duel In The Desert regular, he saw his IMCA racing opportunities expand with the return of weekly sanctions in Oregon in 2013.
"I'm still a low-budget racer. I'm blessed to be able to do this at all. Winning two track champion­ships last year was very exciting," said Gill, who looks to defend his Southern Oregon crown. "I'd like to travel to California and Washington and maybe follow the Speedweek Tour."
Sponsors of the no. 89¢ Rayburn ride include Colvin Oil (Circle K) of Grants Pass; Aardvark Construction of Medford; Ashland Medford Plumbing; Kickback Loyalty Card; Nando's Landscape and Hypnotic Customs, both of Medford; All Creatures Animal Hospital and Rayburn Race Cars, both of Eagle Point; Mountain View Paving of Talent; and Rodgers Race Engines and Pete and Sandy Gruenberger, from Central Point.
In addition to wife Sarah and son Hayden, Gill's crew includes Robert Ford, Jer Deubert, Pete Gruenberger and Brian Dierdorf.
Youngest son Albert Jr. attended his first go-kart race in December and is a future crew member.