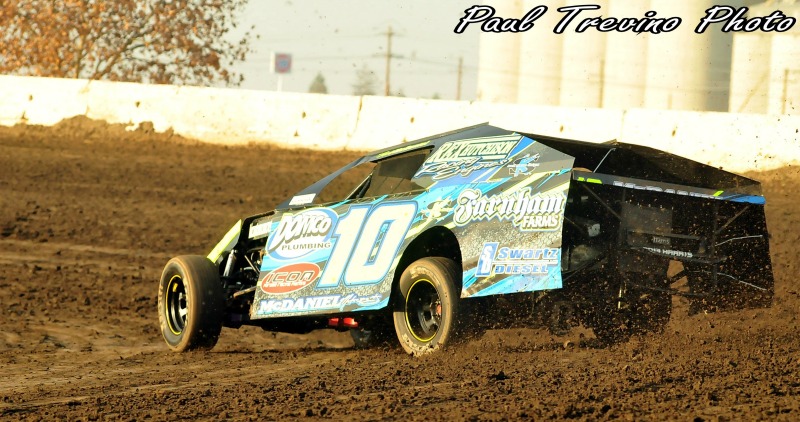 CHOWCHILLA, Calif. (Jan. 4) – Ryan McDaniel hit his marks lap after lap as he stayed a step ahead of Cody Laney to win the final IMCA Xtreme Motor Sports Modified feature of the West Coast Nationals Weekend Sunday evening at Chowchilla Speedway.
"As fast as it was up there on the top of the track, I wasn't about to venture anywhere else," McDaniel said in victory lane. "It was a racy track, but there was no way he (Laney) was going to get me from the bottom."
McDaniel, already on the ballot for this September's Fast Shafts All-Star Invitational, earned $2,000 for his efforts.
Laney stayed at the bottom of the track, thwarting third place finisher Paul Stone's bid for second. Stone was the top local driver in the event.
"He showed me a nose, but I kept ahead," the 19-year-old Laney said of Stone. "I just couldn't catch McDaniel. I knew I had to try something, but nothing seemed to work."
Stone tried his best to crack the top two.
"I pushed a hole right through the floorboard," he laughed.
Fred Ryland made his second trip to the winner's circle in as many nights by topping the Karl Chevrolet Northern SportMod half of the event.
Ryland was untouchable at both Merced and Chowchilla. Nemesis Nick Spainhoward of tried in vain to catch Ryland.
"Our car was just perfect," Ryland said in victory lane. "The crew set it up just right."
Now the national points leader, Ryland was asked of his plans following the $1,500 to win main event.
"The national title now needs to be considered," he said of his 2015 schedule. "I just have to explain that to my wife."
Feature Results
Modifieds – 1. Ryan McDaniel; 2. Cody Laney; 3. Paul Stone; 4. William Gould; 5. Bricen James; 6. Alex Wilson; 7. Steve Noland; 8. Collen Winebarger; 9. Stephen Hopf; 10. Bryan Clark; 11. Shawn DeForest; 12. Chris Clark; 13. Corey Kortum; 14. Kyle Bryan; 15. Billy Wilker; 16. Tom Berry Jr.; 17. Ethan Dotson; 18. Kellen Chadwick; 19. Kyle Wilson; 20. Troy Foulger.
Northern SportMods – 1. Fred Ryland; 2. Nick Spainhoward; 3. Wayne Dotson; 4. Keith Brown; 5. Tim Elias; 6. Richard Mueller; 7. Josh Hensley; 8. Josh Gish; 9. Rick Diaz; 10. Anthony Gulianni; 11. Jamie McNutt; 12. Lloyd Cline.