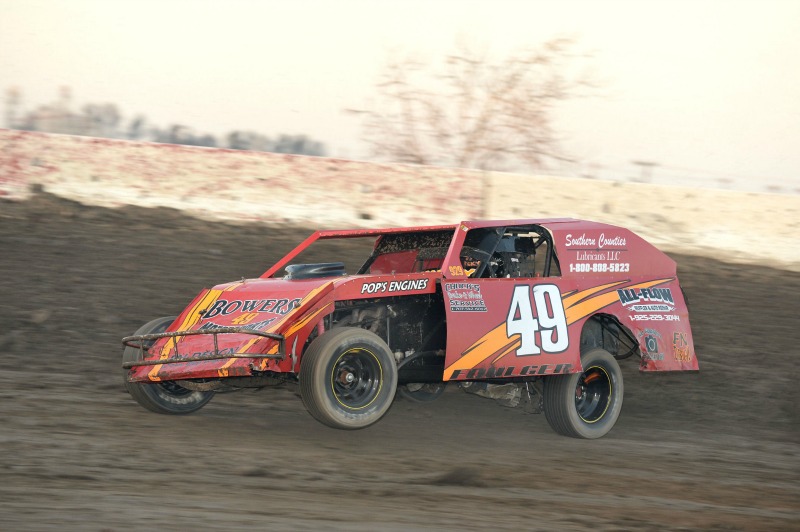 ANTIOCH, Calif. (Jan. 2) – Four-time track champion Troy Foulger and Jeremy Hoff were victorious in the first half of the IMCA West Coast Nationals Friday night at Antioch Speedway.
Foulger outdueled Kellen Chadwick after a dogfight for the ages in the IMCA Xtreme Motor Sports Modified main event. Hoff fought off challenges from Wayne Dotson, then from Fred Ryland and Bubba Nelson to capture the biggest win of his young career in the Karl Chevrolet Northern SportMod feature.
Foulger's victory paid $2,500; he was already on the ballot for this year's Fast Shafts All-Star Invitational. Hoff's checkers were good for $1,750.
Both features were 30 laps.
A huge victory lane celebration followed Foulger's popular win. He caught Chadwick, beating him on the last restart, and took the high groove to victory lane. Chadwick lost second to Nick DeCarlo on the last lap.
"I watched Kellen for a few laps and figured how to take his line away," said Foulger, who proved his nickname Tricky is no misnomer. "I ran the top and stayed above the ruts. This old girl (his car) is really running good."
Foulger's car owners, the Bowers family, were brought to tears by the victory. Beverly Kniss, owner of Delta Transmission, chose young fans from the grandstand to present the large gold cups she donated for the winners.
Ryan McDaniel and Collen Winebarger completed the top five.
When Hoff rolled up to the track with his dad Scotty, he saw what he wanted.
"The trophies were sitting there at the sign-in booth and I said I want one," Hoff said. "My dad said you are going to have to work hard."
Hoff credited his dad, who normally races in his car, for taking the night off to help him and his girlfriend, Alisha Mares, who turned wrenches as crew chief for the car. A new sponsor, Hemm Racing, set the car up for the event.
Fred Ryland, Bruce Nelson, Keith Brown Jr. and Richard Mueller were second through fifth, respectively.
Feature Results
Modifieds – 1. Troy Foulger; 2. Nick DeCarlo; 3. Kellen Chadwick; 4. Ryan McDaniel; 5. Collen Winebarger; 6. Alex Wilson; 7. Scott Busby; 8. Shawn DeForest; 9. Chester Kniss; 10. Jeremy Richey; 11. Bobby Motts; 12. Michael Paul Jr.; 13. Jim DiGiovanni; 14. Les Friend; 15. Kyle Wilson; 16. Joe Carr; 17. Ethan Dotson; 20. Tom Berry Jr.
Heat winners were Alex Wilson, Winebarger, Richey and Foulger. Carr won the "B" feature.
Northern SportMods – 1. Jeremy Hoff; 2. Fred Ryland; 3. Bruce Nelson; 4. Keith Brown Jr.; 5. Richard Mueller; 6. Megan Ponciano; 7. Al Johnson; 8. Jimmy Ford; 9. Wayne Dotson; 10. Ryan Larimer; 11. Nick Spainhoward; 12. Alan Furuta; 13. Jason Ferguson; 14. Michael Shearer; 15. Matt Mayo; 16. Alan Pace; 17. Chris Ray.
Heat winners were Hoff and Spainhoward.