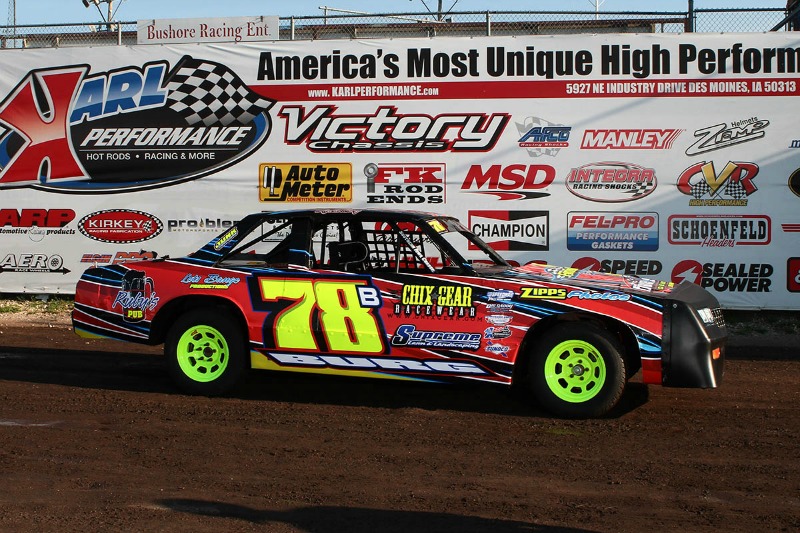 ADEL, Iowa – His Sybesma Graphics IMCA Facebook Fan Favorite vote total from August has made Andrew Burg a two-time winner.
The IMCA Sunoco Hobby Stock driver from Adel, Iowa, was the winner in the fendered half of voting that month. He'd end the year with the highest number of votes of any fendered or non-fendered winner and receives a 2015 competitor's license from Sybesma.
"We're working on next year's car now. I can't complain about anything this season," Burg said. "We won once at Boone, won once at Stuart and won the last-chance qualifier at Super Nationals, then started 25th and finished ninth in the main event."
He'll race Fridays at Marshalltown, Saturdays at Boone and Sundays at Stuart in 2015.
To help pay the racing bills, Burg officiates at as many as four boys and girls basketball doublehead­ers a week during his "off-season."
He'll whistle somewhere between 60 and 70 games in 2014-2015, his eighth season on the court. Burg also umpires softball as his schedule permits in the summer and is part of a football officiat­ing crew in the fall.
"My January is going to be very busy," he said. "I tell people I've got to make money in the off-season to pay for my racing habit in the summer."
Burg shared a shop with national champion Shannon Anderson, John Watson and Jamie Songer. His crew included son Keith, Jimmy Keenan, Watson and Songer.
Sponsors for the 2014 campaign included Supreme Lawn & Landscaping, Chix Gear Racewear, CG Customs and Tony Moro Power Coating and Blasting, all of Des Moines; Zipp's Photos and Zipp's Pizza, both of Adair; Finishline Auto Body & Paint of Grimes; Ruby's Pub of Stuart; Haw­keye Auto Salvage of DeSoto; Krazy Kal's of Atlantic; and Five1seven Designs of Laguna Park, Texas.