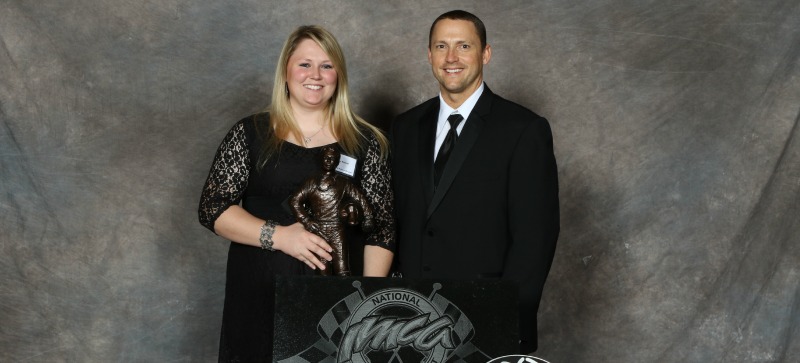 NORFOLK, Neb. – A season of firsts was accompanied by a fourth-time accomplishment for Tif­fany Bittner.
The first female driver to win two IMCA Sunoco Hobby Stock track titles in the same season, Bittner also raced to her career-first Allstar Performance Nebraska State championship crown while collecting a fourth straight Design 500 Lady Eagle trophy.
The Lady Eagle prize is awarded to the female driver with the highest point total earned at IMCA sanctioned events during the regular season. Nearly 200 drivers in eight divisions contended for that honor in 2014.
"Winning the Lady Eagle isn't getting any easier. We about gave up before we decided to hit some late-season specials," admitted Bittner, a Norfolk native and eight-year veteran of the Hobby Stock class. "This was definitely the hardest one of the four to win because of work and because we had so many rainouts."
Champion at both Boone County Raceway in Albion and U.S. 30 Speedway at Columbus, Bittner collected six feature victories and another 30 top five finishes in 62 starts. Sixty of those races came in Nebraska as she led all drivers in state points.
Bittner was 11th in both the national and Big Daddy Race Cars Northern Region standings.
"I would have enjoyed being in the top 10 in the national standings. It was just one of those years when it was harder to pull off first and seconds," she said, "but I'm satisfied. We still got two track championships, the state championship and the Lady Eagle, so I consider this my best season."
Bittner qualified for the main event at the IMCA Speedway Motors Super Nationals fueled by Ca­sey's for the second straight year. She also logged nine starts in the Karl Chevrolet Northern SportMod division at Boone County, getting her first-ever win in that class on July 18.
Bittner's crew includes parents Dale and Jayne, boyfriend Travis Kernick and friend Jeremy Hoskinson.
After graduating in May with a Bachelor's Degree in business management and agri-business from Wayne State College, Bittner moved to Hampton and accepted a job with the Aurora Cooperative.
"My dad didn't miss a race again this year. He makes everything happen and I can't thank him enough for making it possible," she said. "I live almost two hours from the shop in Norfolk so on Thursdays and Fridays I met them at the track after work. I helped get the car ready on Saturdays and Sundays."
Her sponsors are Big Daddy Racecars, Renner Wraps, Renner Autobody, Trendz, Farm Bureau Insurance, Liberty Aviation, TB & Company and Gaines & Associates P.C., all of Norfolk; Hometown Auto of Hadar; Lanny's Trannys of Petersburg; Aurora Cooperative of Aurora; Jono's Racing Engines of Schuyler; Graber Trucking of Ewing; Schindler Flying of Neligh; Preister Ag Supply of Monroe; George's Aerial Spray of Sutton; Arrow Aviation of Broken Bow; and Farm Air of Astoria, Ill.