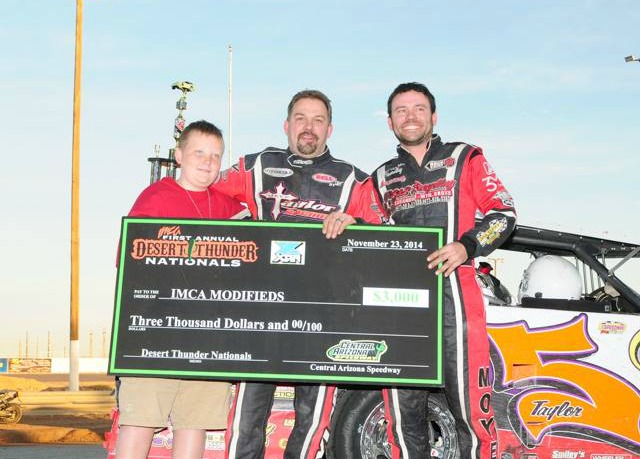 CASA GRANDE, Ariz. (Nov. 22-23) – The top check at Central Arizona Speedway's inaugural Desert Thunder Nationals went home with a driver already familiar with victory lane at Casa Grande.
Jeff Taylor led every time around the track in Sunday's $3,000 to win IMCA Xtreme Motor Sports Modified main event. The 30-lapper ended green, white, checkered after a late caution and Taylor pulled away from Ricky Thornton Jr. to win by six car lengths.
"We got into a little lapped traffic about halfway but that didn't give us any trouble," said Taylor, driving the Industrial Electric and Allgayer Inc.-sponsored ride. "We had a pretty good car."
Thornton challenged after one restart but wasn't able to maintain the pace. Cody Graham and Tyler Mecl were next across the stripe as home state drivers ran 2-3-4.
Graham had started 15th. Hunter Marriott raced from 22nd on the initial grid to round out the top five.
Jesse Sobbing collected the $1,000 IMCA Modified checkers on opening night at Casa Grande. Thornton was second and Marriott was promoted to third after Taylor was disqualified for an illegal muffler.
Wade Moyer, Taylor's crew chief, moved up 12 places to finish fourth in his boss's back-up car. George Fronsman was a plus eight to fifth and Chaz Baca Jr. a plus 14 to sixth.
More than 40 drivers from nine states and Canada competed at the Desert Thunder Nationals.
Feature Results
Saturday – 1. Jesse Sobbing, Glenwood, Iowa; 2. Ricky Thornton Jr., Chandler; 3. Hunter Marriott, Brookfield, Mo.; 4. Wade Moyer, Victoria, Texas; 5. George Fronsman, Surprise; 6. Chaz Baca Jr., Mesa , Ariz.; 7. John Morris Jr., Queen Creek; 8. Cody Graham, Mesa; 9. Denny Arcas, Gilbert; 10. Shawn Strand, Mandan, N.D.; 11. Christy Georges, El Paso, Texas; 12. Don Earven, Globe; 13. Dustin Andersen, Omaha, Neb.; 14. Spencer Wilson, Minot, N.D.; 15. Jason Beaulieu, Campbell River, B.C.; 16. Mike Martin, Gilbert; 17. Tyler Mecl, Queen Creek; 18. Alex Stanford, Chowchilla, Calif.; 19. Kenny Hawkins, Globe; 20. Mike Strobl, Surprise; 21. William Gould, Calera, Okla.; 22. Lance Mari, Imperial, Calif.; 23. Chad Andersen, Fort Calhoun, Neb.; 24. Garrett Funk, Phoenix; 25. Jeff Taylor, Cave City, Ark.
Sunday – 1. Taylor; 2. Thornton; 3. Graham; 4. Mecl; 5. Marriott; 6. Jason Noll, Peoria; 7. Stanford; 8. Moyer; 9. Nick Bruce, Queen Creek; 10. Beaulieu; 11. Funk; 12. Jesse Patterson, Tucson; 13. Arcas; 14. David Caldwell, Mesa; 15. Dan Lee, High River, Alb.; 16. Wilson; 17. Earven; 18. Cody Miller, Gilbert; 19. Eric Center, Mesa; 20. Sobbing; 21. Martin; 22. Hawkins; 23. Gould; 24. Mari; 25. Georges.