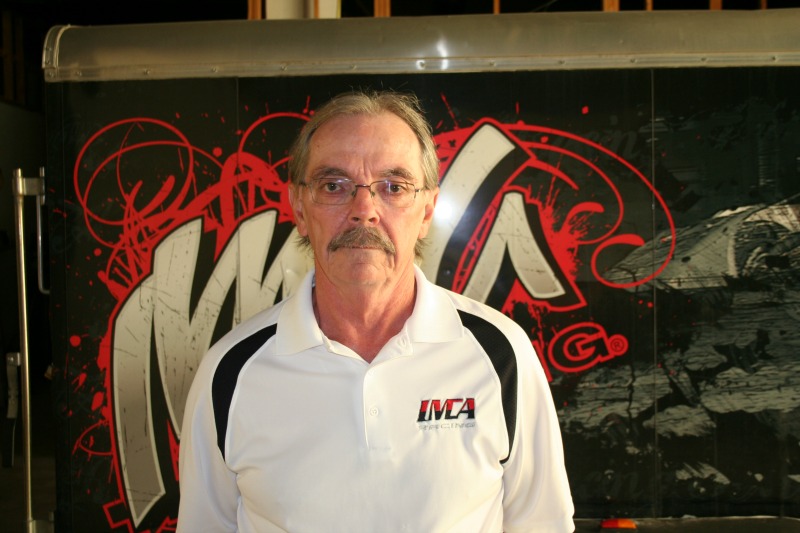 VINTON, Iowa – IMCA's longest tenured employee will end one career and start another on Nov. 26.
Executive Secretary Rick Haefner will retire after more than 25 years with the sanctioning body. He'll trade scheduling, record-keeping and correspondence chores for time with grandchildren, a honey do list, travel and plenty of golfing and fishing.
"I'll miss the people here and a lot of the people I've worked with in my 25-plus years at IMCA," he said. "Meeting and making friends with so many different people from across the United States is what I've enjoyed most about working here."
IMCA had just four other full-time employees when Haefner punched in for his first day of work on March 3, 1989. He was in charge of points and membership, in a position created because of the amount of time his co-workers spent on the road and out of the office.
There were 85 sanctions – 59 of them for Modifieds – at tracks in 15 states when Haefner started at IMCA.
"The computers we were using then were rudimentary at best. Back then, if you needed to know something you usually had to look it up on paper in a file," he said. 'Everything can be done so much more quickly now because of computers, the internet and email, but it's still very complex because of how many more tracks and how many more drivers there are now."
Seven thousand-plus drivers contended for the 406 track championships bestowed by IMCA this season.
"We always hoped IMCA would grow like it has," noted Haefner. "Those numbers have been years in the making."
He helped with tech inspection at his first Super Nationals – the IMCA staff was still operating out of a single motor home then – and after a stint as publicity director and newsletter editor, Haefner took over as executive secretary in September of 1991.
"That's when I started traveling more, especially to newly-sanctioned tracks. I've visited 100 or so different tracks," said Haefner, also director of IMCA's Winner Series for Stock Cars from 1994-2001. "I also attended driver and promoter meetings, trade shows and banquets."
The addition of home office staff and the hiring of regional directors resulted in Haefner staying closer to home. While handling much of the day-to-day IMCA correspondence, he's been a regular contact for promoters and other track officials and had resumed updating the IMCA website this summer.
While his former co-workers make final plans for the national awards banquet, Haefner and his wife Shelly will spend their first Thanksgiving weekend with children and grandchildren since 1988.
"We appreciate everything Rick has done for this company," said IMCA President Kathy Root. "He's been a valued employee and more importantly a good friend to many in the automotive racing industry."