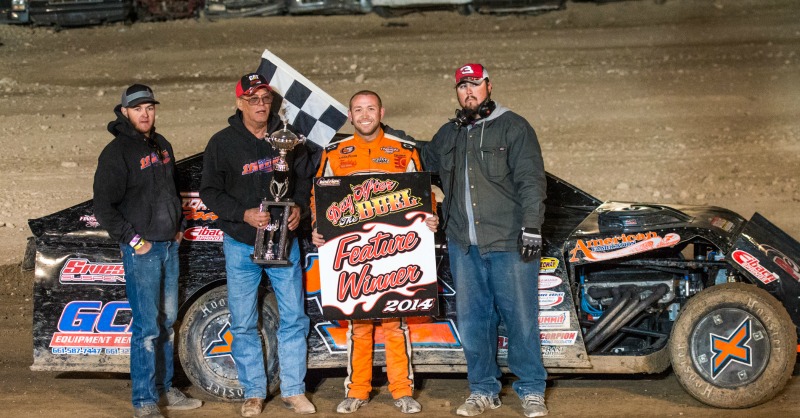 PAHRUMP, Nev. (Nov. 16) – Although he crossed the finish line backwards, Kyle Heckman captured the $1,500 first place prize money at the Day After The Duel IMCA Xtreme Motor Sports Modified event at Pahrump Valley Speedway Sunday evening.
By virtue of winning his heat race and a straight-up starting order, Heckman led every lap of the 30-lap affair, winning over teammate R.C. Whitwell. Both drove Victory Circle chassis cars owned by Bill Henderson.
William Gould overcame an early flat to return with a vengeance to take the third spot.
Heckman jumped out to an early lead over pole sitter and defending race winner Randy Thornell.
Scott Lenz ran third before the 10th starting Whitwell moved into third by lap five. Despite several yellow flags for spinning drivers that slowed the event, Heckman was up to the challenge on every restart.
Coming out of turn four heading for the win, he tangled with a lapped car and spun across the finish line backwards, barely ahead of second place Whitwell and Gould.
Cody Laney and Lenz rounded out the top five in the 20-car field. Heckman was already on the 2015 Fast Shafts All-Star Invitational ballot, having won Pahrump's Sam Stringer Memorial in July.
Karl Chevrolet Northern Sport Mods also competed and had a 20-lap feature of their own. Wayne Dotson and Brett Lowry took the heat race wins and shared the front row for the green flag.
The drivers made all of one lap before local racer Eric Shenberger spun for a yellow and hard-charging Levi Kiefer pitted. Lowry had taken the lead from Dotson on lap one and maintained his top spot before Wayne Dotson spun out, moving son Ethan Dotson into second.
The final 10 laps were all green as Lowry took the win over Ethan Dotson, Eric Folstad, Canadian Merl Fitzpatrick and Shenberger.
Feature Results
Modifieds – 1. Kyle Heckman; 2. R.C. Whitwell; 3. William Gould; 4. Cody Laney; 5. Scott Lenz; 6. Randy Thornell; 7. Matt Mitchell; 8. Dan Snowden; 9. Bill Egleston; 10. Stewart Hayward; 11. Donald Gott; 12. Beau Gott; 13. Tony Kinkade Jr.; 14. Joey Franklin; 15. Joe Wabsis; 16. Rob Sanders; 17. Charlie Pike; 18. Jeff Talley; 19. Keith Gott; 20. Dan Lee.
Northern SportMods – 1. Brett Lowry; 2. Ethan Dotson; 3. Eric Folstad; 4. Merl Fitzpatrick; 5. Shenberger; 6. Andrew Bertsch; 7. Wayne Dotson; 8. Dan Hatfield; 9. Levi Kiefer.