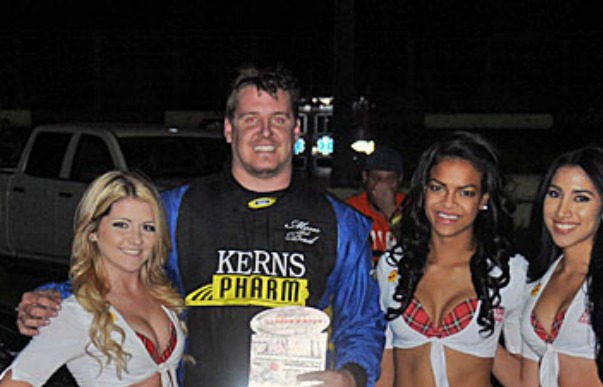 By Lonnie Wheatley
PEORIA, Ariz. (Nov. 7-8) – Mike Jergens measured his opening night victory by inches while Hunter Marriott raced from eighth starting to win the second IMCA Xtreme Motor Sports Modified feature of the weekend at Canyon Speedway Park.
Both Mr. Excitement Tribute to Terry Belcher features paid $1,000 to win.
Jergens escaped a wild opening lap skirmish to nip Mike Strobl at the line on Friday with Jason Noll in third as the lead trio raced off the final corner in three-wide fashion in a dramatic duel for the win.
With Jergens starting fourth and Strobl racing through the pack from 20th, fifth-starter Noll ad­vanced from fourth into the lead in the two-lap span from round five to seven after George Fronsman paced the early rounds.
Jergens battled past Noll for the point on the 18th lap with Strobl edging ahead the next time around. The trio of Jergens, Strobl and Noll swapped positions repeatedly over the final rounds before the frantic dash for the stipe off the final corner with "Jergens prevailing.
While Jergens edged Strobl at the line by inches and Noll by just a few feet, Trent Gaust crossed the stripe fourth with Tyler Mecl racing from 17th to round out the top five.
Marriott emerged from a wild four-car duel to take command on the 19th round en route to victory lane in Saturday's 25-lapper.
While Marriott started outside the fifth row, pole starter Noll gunned into the early lead and paced the initial eight rounds before the slightest of turn four bobbles opened the door for Strobl and Fronsman.
With Strobl working down low and Fronsman on the top side, the duo raced side-by-side for the lead over the next ten laps with Noll and Marriott nipping at their heels in the battle for the lead.
Marriott found the opening he needed on the 19th round then led the final circuits to take the win ahead of Noll, with Jergens making a late move into the show position. Strobl was fourth with Fronsman in fifth.
Jergens is new to the 2015 Fast Shafts All-Star Invitational ballot. Marriott was already vote eligi­ble.
Feature Results
Nov. 7 – 1. Mike Jergens; 2. Mike Strobl; 3. Jason Noll; 4. Trent Gaust; 5. Tyler Mecl; 6. Hunter Marriott; 7. Shawn Zelenka; 8. Kenny Gill; 9. Steve Stultz; 10. Brian Roode; 11. Lance Salo; 12. Ross Statham; 13. Dan Lee; 14. Terry Belcher Sr.; 15. Eric Center, 16. Mark Stewart; 17. Ronald Webster; 18. Phil Baile; 19. Chris Clark; 20. George Fronsman; 21. Terry Haven; 22. Nate War­ren.
Heat winners were Stewart, Zelenka and Marriott.
Nov. 8 – 1. Marriott; 2. Noll; 3. Jergens; 4. Strobl; 5. Fronsman; 6. Stewart; 7. Gaust; 8. Stultz; 9. Gill; 10. Center; 11. Baile; 12. Clark; 13. Statham; 14. Lee; 15. Belcher; 16. Salo; 17. Roode; 18. Mecl.
Heat winners were Strobl and Fronsman.