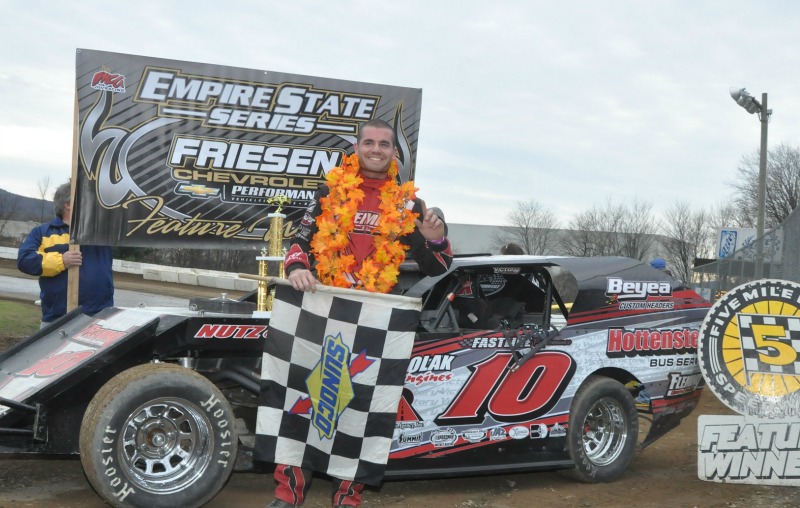 KIRKWOOD, N.Y. (Nov. 8) – Chris Fleming and James Cornell both had reasons to celebrate following Saturday's Friesen Chevrolet Empire State Series feature at Five Mile Point Speedway.
Fleming topped the final feature for touring IMCA Xtreme Motor Sports Modifieds of the season, earning $600 for his efforts during the National Quarter Mile Dirt Track Champion­ship Weekend show.
His first-ever win at Kirkwood, third tour checkers of the season and fifth overall came in the 100th IMCA Empire State Series event. The checkers were also the 30th this year for Fleming, the two-time defending Dirt Works Eastern Region champion.
Cornell, meanwhile, ran second and secured the series championship. He's the ninth different driver to win the title in the tour's 13-year history.
K.C. Cole drew the pole. Fleming started fifth after overcoming mechanical issues in his heat and took the lead on lap five.
Cornell pulled alongside near midway in the 25-lapper before Fleming pulled ahead and moved up a line. He won by a couple car lengths in a green, white, checkered finish.
"We broke the pull bar mount on the rear end housing and had to weld that back together after our heat. I didn't think we'd be able to win the feature," Fleming admitted. "But I was surprised how good the car was right from the drop of the green."
He was less than enthused about the late-race yellow.
"I was already nervous but I hit my marks and brought it home," Fleming said. "I've got heat race wins and a bunch of seconds and a bunch of thirds at Five Mile Point. It was pretty neat to get my first win there."
Gary Roberts, Cole and Keith Lamphere completed the top five.
The 2014 series finale had been postponed from Nov. 1.
Feature results – 1. Chris Fleming; 2. James Cornell; 3. Gary Roberts; 4. K.C. Cole; 5. Keith Lamphere; 6. Gary Smith; 7. Ken Buck; 8. Matt Cole; 9. Dan Burman; 10. Kurt Decker; 11. Bob Maynard; 12. Tony Harris; 13. Tyler Stoddard.
Friesen Chevrolet Empire State Series top 20 point standings – 1. James Cornell, Port Crane, 349; 2. Gary Roberts, Afton, 328 (one win and one second-place finish); 3. Gary Smith, Harpursville, 328 (one win and one third-place finish); 4. Chris Fleming, Union Springs, 319; 5. Matt Cole, Binghamton, 314; 6. Keith Jack Lamphere, Monroeton, Pa., 291; 7. Tyler Stoddard, Binghamton, 254; 8. Michael Stoddard, Binghamton, 240; 9. Kurt Decker, Nineveh, 180; 10. Jared Spalding, Troy, Pa., 179; 11. Ken Buck, Canton, Pa., 171; 12. Will Ward, Cobleskill, 170; 13. Billy Ward, Cobleskill, 167; 14. Bumps Scutt, Cortland, 157; 15. K.C. Cole, Conklin, 150; 16. Craig Ward, Owego, 129; 17. Brad Smith, Columbia Cross Roads, Pa., 127; 18. Dan Burman, Bing­hamton, 119; 19. Michael Butler, Richmondville, 86; 20. Rich Keller, Clay, 79.