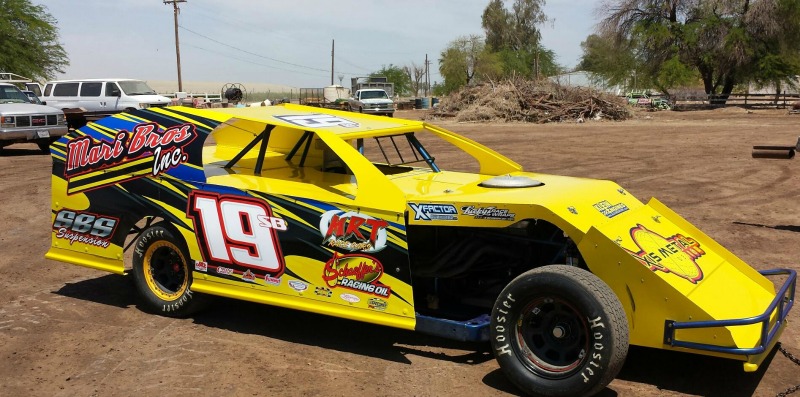 By Ryan Clark
IMPERIAL, Calif. – What Lance Mari considered a mediocre year would be a successful one by the standards of many drivers.
The Imperial, Calif., veteran earned three wins en route to a third place finish in the final standings at Cocopah Speedway, a mere 13 points short of earning his second straight track championship.
He was also the winner of October's Sybesma Graphics IMCA Facebook Fan Favorite Contest for non-fendered divisions. The honor earns him a mini-mod door courtesy of Sybesma.
"We built a new car," said Mari, "and when it's on, it's real good. When it's not, it's a struggle. I think we're at the end of the struggles with it."
Mari, who runs MRT Race Cars, has built his own cars since the mid-2000s.
"The newer designed car seems like it wants to work, it's just a matter of putting it all together," he explained.
Along with the weekly battles at Cocopah, Mari did his fair share of traveling by following the Winter Challenge Series in Arizona and Kupper Chevrolet Dakota Classic Modified Tour in North Dakota and Saskatchewan.
"We ran the Dakota Tour for the second year," Mari said of his travels.
He also hit the Hogan Memorial at Benton County Speedway in Vinton, Iowa after the Dakota Tour.
"We didn't run very well in Vinton and just called the trip early. We wanted to go to the Harris Clash, but plans didn't work out," he explained.
Mari, who runs a fabrication business and pump business, typically limits his travels toward the end of the season, but made the trip to Boone Speedway for the IMCA Speedway Motors Super Nationals fueled by Casey's for the first time in his career.
"Jason Noll runs one of our cars and he was in the Fast Shafts All-Star Invitational so we decided to go, too," Mari said of his trip to Super Nationals.
Although his first trip to Boone didn't result in the success he was hoping, Mari hopes to make a return trip in the future.
"I think we'll be back, it just depends on work," he said.
Despite what he said was a mediocre season for himself, Mari was proud of the accomplishments of his team's drivers.
"We don't turn out a lot of cars like some manufacturers do, but our drivers earned over 22 wins in MRT Race Cars," he stated.
Mari's crew consists of parents Aaron and Lynette Mari, wife Sandie, children Sonny and Summer, plus Chris Toth.
Sponsors include MRT Race Cars, Axis Metal Design and SBS Suspensions, all of Imperial; Mari Brothers Farms of Merino, Colo.; Lucky 7 Wraps & Graphics of Sacramento, Klien Engines of Phoenix, Ariz., and Schaeffer's Racing Oil of St. Louis, Mo.