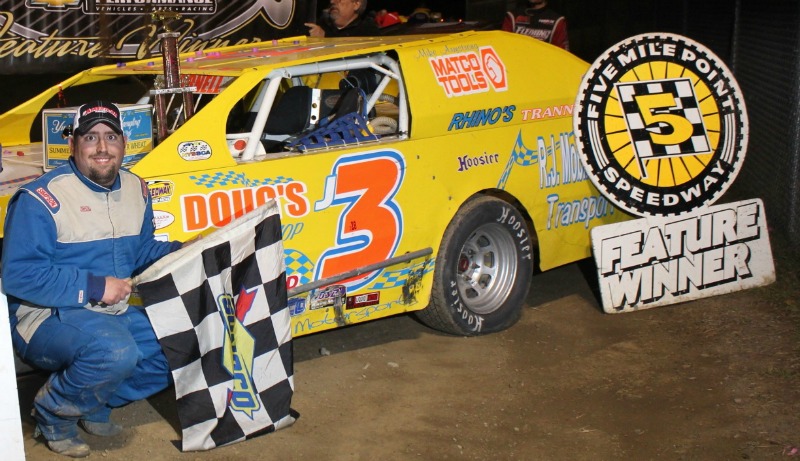 KIRKWOOD, N.Y. (Oct. 10) – The seventh installment of the 2014 Friesen Chevrolet Empire State Series played out a lot like the first.
James Cornell qualified for the IMCA Xtreme Motor Sports Modified tour main event at Five Mile Point Speedway despite starting last in his heat, drew a front row starting spot for the feature and then led every lap.
"The fact that I grew up racing here helps a lot," acknowledged Cornell, who'd won the April 13 feature and returned to Kirkwood with the series point lead. "I started racing here in the pro stocks, then the sportsman and now the IMCA Modifieds. This was my 90th career win and more than half of them have been at Five Mile Point."
The victory paid $500 and came ahead of Chris Fleming, Matt Cole, Keith Lamphere and Tyler Stoddard.
Fleming, twice a tour winner this season and the two-time defending Dirt Works Eastern Region champion, challenged but couldn't stay in contention following a restart late in the 20-lapper.
"Chris had a really good year again this season and I knew he was back there," said Cornell, who ran the middle line and was kept out of lapped traffic by cautions. "But I knew if I kept my momentum up I'd be all right. It felt like the car was getting better."
Cornell has finished in the top five in six of the seven series events held thus far. The exception was a 12th place run at Yates County Speedway, site of the next tour race on Oct. 24.
The Empire State Series returns to Five Mile Point for its 100th event, and the 2014 finale, on Nov. 1.
Feature results – 1. James Cornell; 2. Chris Fleming; 3. Matt Cole; 4. Keith Lamphere; 5. Tyler Stoddard; 6. Gary Roberts; 7. K.C. Cole; 8. Kurt Decker; 9. Ken Buck; 10. Gary Smith; 11. Jason Benjamin; 12. Tony Harris; 13. Dan Burman; 14. Mike Stoddard; 15. Bob Maynard; 16. Bobby Collins; 17. Lee Foland; 18. Chris Leitner; 19. Craig Ward; 20. Brian Mills; 21. Tom Eiklor; 22. Brad Smith.