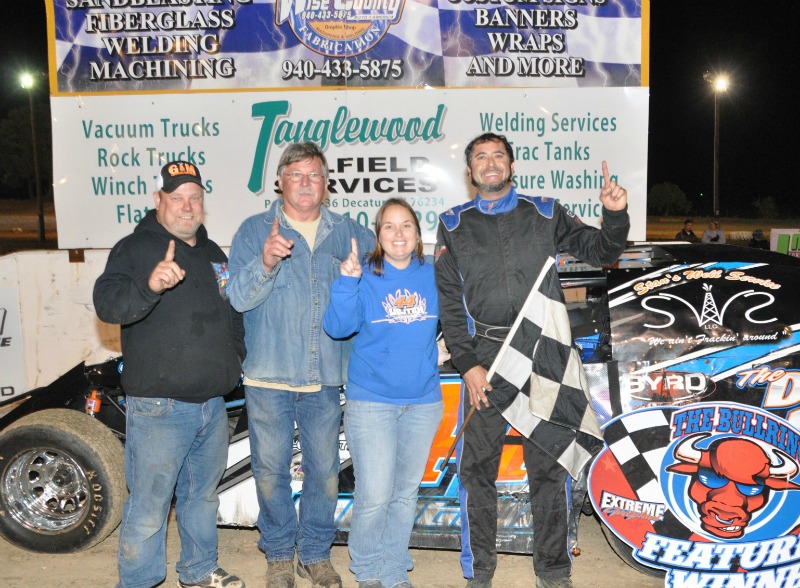 BOYD, Texas (Oct. 11) – Three feet or so made the difference between Fred Wojtek's biggest-paying IMCA IMCA Xtreme Motor Sports Modified feature win and second place.
Wojtek beat Charie Harmon to the checkers by that distance Saturday at Boyd Raceway's Grand Nationals. The $2,000 victory put Wojtek on the ballot for next year's Fast Shafts All-Star Invitational.
"I had a couple guys pull up next to me," he said. "It was a close one there at the end with Charlie."
Wojtek had started the 25-lapper from outside the front row. Kevin Sustaire took over the lead near midway but exited with mechanical problems with 10 circuits left.
That put Wojtek back in first and he stayed there despite Harmon's best efforts. Justin Radcliff, Mark Patterson and Jason Hunter completed the top five.
Matt Guillaume and Doug Easterling each earned $1,500 for their IMCA Sunoco Stock Car and Scoggin-Dickey Parts Center Southern SportMod victories, respectively.
Ronnie Ellis took the IMCA Sunoco Hobby Stock checkers and a $1,200 top prize. Brant Bachman bested the $250 to win Mach-1 Sport Compact main event.
From his outside row five starting spot, Guillaume rode the top side of the oval around traffic after multiple restarts and passed Nicholas Littlejohn 10 laps into the Stock Car feature.
Kirk Martin restarted at the rear and raced up to second, crossing the stripe five car lengths behind Guillaume. Dan Day, Littlejohn and Caleb Crenshaw were scored next.
"This was the first big special I've won," Guillaume said. "I was pleased we could shine when it counted money-wise."
Fresh off his win the previous weekend at Kennedale, Easterling made it 2-for-2 in his new chassis with a dominating performance in the Southern SportMod show, which ran caution-free following a re-start on lap one.
"The car was super great," said Easterling, who ran right next to the tractor tires and lapped most of the field after drawing the pole. "You had to keep smooth as best you could but we hit the setup perfect."
Completing the top five were Greg Frazier, Wayne Melton, Nick Clinkenbeard and Allen Montgomery.
Ellis worked his way to the front from outside row six on the Hobby Stock starting grid. He passed Tom Earl Jr. on the 10th of 20 laps and never looked back.
""I found a nice groove in the center of the track," said Ellis, describing his 2014 season as a good one despite some motor issues.
Earl, Barrett Hutchison, Dan Van Haitsma and Chase Breese ran second through fifth.
The rookie Bachman started fourth and took over the front spot when leader Brandon Segura was sidelined with a flat.
Danny Sims, David Bachman, Julia Childs and Willard Van Haitsma rounded out the top five.
Feature Results
Modifieds – 1. Fred Wojtek; 2. Charlie Harmon; 3. Justin Radcliff; 4. Mark Patterson; 5. Jason Hunter; 6. Charles Brewer; 7. Michael Lamb; 8. Jamie Campbell; 9. Tom Earl; 10. John Gober; 11. William Gould; 12. Kevin Sustaire; 13. Charlie Smith; 14. Chase Allen; 15. Tommy Fain; 16. Dean Abbey; 17. Matt Martin; 18. Nicholas Littlejohn; 19. Sam Cox; 20. Kevin Rutherford.
Stock Cars – 1. Matt Guillaume; 2. Kirk Martin; 3. Dan Day; 4. Nicholas Littlejohn; 5. Caleb Crenshaw; 6. Michael Kaufold; 7. Randy Martin; 8. Gary Brown; 9. Marty Hicks; 10. Jason Batt; 11. Ryan Powers; 12. Damon Hannond; 13. Mike Childs; 14. David Zelazny; 15. Roman Garcia; 16. Todd Ludwick; 17. Robby Edwards; 18. Mark Adams; 19. Dennis Bissonnette; 20. Pat Wilson.
Southern SportMods – 1. Doug Easterling; 2. Greg Frazier; 3. Wayne Melton; 4. Nick Clinkenbeard; 5. Allen Montgomery; 6. Jeffrey Abbey; 7. Gabe Tucker; 8. Jake Upchurch; 9. Cody Shoemaker; 10. Justin Long; 11. Ronnie Welborn; 12. Jay Coone; 13. David Sanford; 14. Sid Kiphen; 15. Justin Nabors; 16. Garett Rawls; 17. Tyler Fain; 18. Chris Cogburn; 19. John Freeman; 20. Bobby Edwards.
Hobby Stocks – 1. Ronnie Ellis; 2. Tom Earl Jr.; 3. Barrett Hutchison; 4. Dan Van Haitsma; 5. Chase Breese; 6. Jeff Kinnaird; 7. Danny Brown; 8. Jimmy Doremus; 9. Tony Anderson; 10. Jeff Hauser; 11. Grank Hulsinger; 12. Ryan Hopkins; 13. Jon Storm; 14. James Lochabay; 15. Westin Abbey; 16. Chase Neill; 17. Chase Parsons; 18. Chance Hull; 19. Chase Edwards; 20. Andrew Komarek.
Sport Compacts – 1. Brant Bachman; 2. Danny Sims; 3. David Bachman; 4. Julia Childs; 5. Willard Van Haitsma; 6. Ruben Broussard; 7. Michael Burnside; 8. Robert Dery; 9. Richard Cadwallader; 10. Brandon Segura; 11. Danny Baggerly; 12. Aubra Parker.