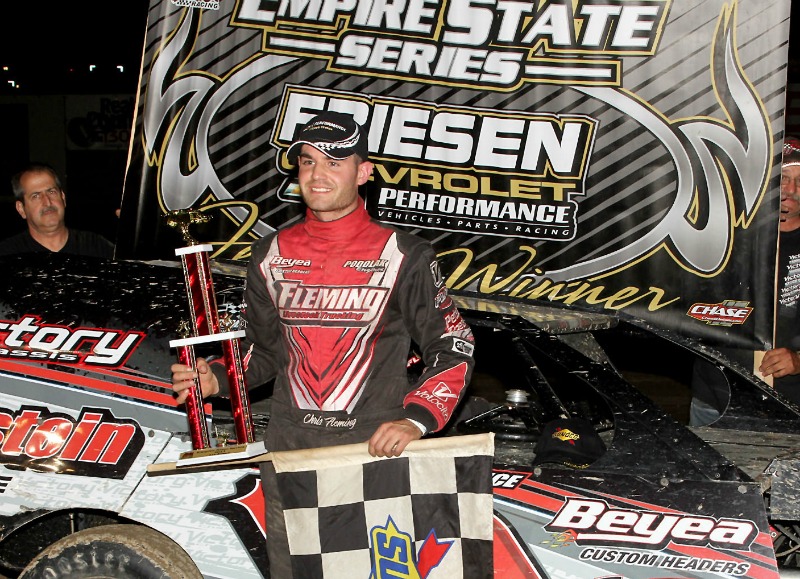 FULTON, N.Y. (Oct. 3) – Chris Fleming became the first repeat winner in the 2014 Friesen Chevrolet Empire State Series, leading all 25 laps of the Friday night main event at Fulton Speedway.
The IMCA Xtreme Motor Sports Modified tour victory paid $400.
Fleming started outside row one in the Outlaw 200 Weekend feature. A long green flag run at the start got Fleming into lapped traffic before a series of cautions. The last restart came with three laps to go.
"The track was really fast," said Fleming. "I just tried to keep my momentum up and was able to pull away some after the final restart."
Keith Lamphere, tour point leader James Cornell, Gary Smith and Gary Roberts rounded out the top five.
Fleming's first Empire State Series win of the season came on Memorial Weekend at Skyline. He was sidelined with early mechanical issues when the series returned to Cortland on Sept. 20.
"We had a really good car at Skyline but broke our driveshaft on a restart," Fleming said. "That was a bummer. I thought we had a good enough car to win."
The Fulton checkers were his tour career fourth.
Five Mile Point Speedway at Kirkwood hosts the next series event this Friday, Oct. 10.
Feature results – 1. Chris Fleming; 2. Keith Lamphere; 3. James Cornell; 4. Gary Smith; 5. Gary Roberts; 6. Craig Ward; 7. Robert Keller Jr.; 8. Brandon Carvey; 9. Tony Harris; 10. Jason Amidon; 11. Richard Keller; 12. Kevin Cole; 13. Dan Ellis; 14. Billy Ward; 15. Andy Kieffer; 16. Kurt Decker; 17. Michael Stoddard; 18. John West; 19. Bradley Smith; 20. Matt Jones; 21. Harry Ely; 22. Bobby Maynard; 23. Jason Benjamin; 24. Tyler Stoddard; 25. Carmen Vona Jr.; 26. James Walsh.