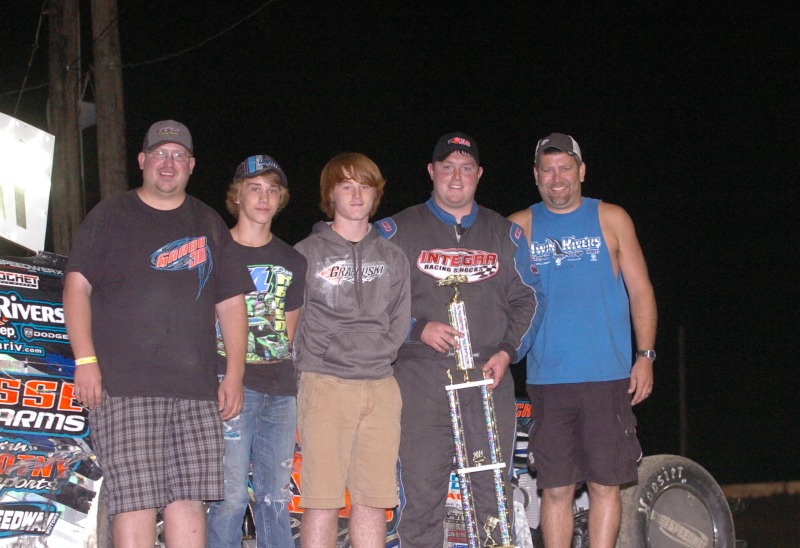 BEATRICE, Neb. (Sept. 26-27) – Two IMCA Xtreme Motor Sports Modified drivers more than a little familiar with victory lane at Beatrice Speedway found their way there again during September Fest.
Jordan Grabouski was the Friday night winner and Johnny Saathoff led the way to the Saturday checkers. Each Fast Shafts All-Star Invitational ballot qualifying win was good for $1,500.
Grabouski had won both the Spring Nationals main event and his career 100th IMCA feature at Beatrice earlier this season; Saathoff's numerous accolades at that venue now include his career eighth victory in the traditional season-ending special.
After starting fourth on opening night, Grabouski passed Cory Wray for the lead on the third of 25 laps. The final caution came near midway and he stayed on the top groove until catching lapped traffic with seven to go.
Dylan Smith, Hunter Marriott, Saathoff and Chris Abelson completed the top five.
Saathoff drew the sixth starting spot on Saturday and needed 22 laps to find his way to the front, sneaking inside leader Lyle Shepard in the first set of turns and getting the win by three car lengths.
Shepard, Smith and Anthony Roth were next across the stripe and Abelson repeated his fifth place showing from Friday.
Kyle Vanover paced both IMCA Sunoco Stock Car features while Karl Chevrolet Northern SportMod winners were Greg Metz on Friday and Tyler Frye on Satur­day. All four of those events paid $500 to win.
Brendon Stigge swept the $300 to win IMCA Sunoco Hobby Stock mains. Ramsey Meyer scored the $200 Saturday Mach-1 Sport Compact victory.
Vanover started fifth, took the lead on lap three and led the rest of the way in a 20-lapper on Fri­day that ran green the last 19 circuits. He built up a big lead running the bottom groove and won ahead of Shane Stutzman and Lance Borgman.
From the ninth starting spot, Vanover was up to third before the halfway mark on Saturday and wound up with the checkers in a photo finish over Brad Derry to complete his second sweep in as many weekends. Completing the top three was Chad Borgman.
The extreme high line took Metz from sixth starting to the front in Friday's SportMod main. Lance Borgman took the lead away following a restart at midway but Metz returned the favor following a caution with three laps left.
Borgman was second and Kyle Prauner ran third.
Saturday's SportMod feature played out much the same way: Frye started sixth and was also in front when the fifth lap was scored. The final caution came with three laps to go.
Frye pulled away following the restart, with Borgman and Prauner repeating their 2-3 finishes.
The opening night Hobby Stock feature ran green to checkered with Stigge in front for the last 12 of 15 circuits. Russ Specht was a close second after Stigge was slowed by a lapped car. Adam Armstrong was third.
Stigge led every lap on Saturday but his margin of victory was just half a car length over Arm­strong. They'd gone side-by-side for most of three laps following a late restart. Next across the stripe was Tejay Mielke.
Meyer won for the third time in as many outings this season at Beatrice, charging from 10th to the lead just after halfway in the 12-lapper for Sport Compacts. Matt Moyer was second and Codie Mielke was third.
Meyer counted wins at eight different tracks in three states in 2014.
Sept. 26 Feature Results
Modifieds – 1. Jordan Grabouski; 2. Dylan Smith; 3. Hunter Marriott; 4. Johnny Saathoff; 5. Chris Abel­son; 6. Jordy Nelson; 7. Travis Hatcher; 8. Scott Smith; 9. Anthony Roth; 10. Mike Dens­berger; 11. Josh Blumer; 12. Kyle Olberding; 13. Jeremy Leiting; 14. Lyle Shepard; 15. Bob Zoubek; 16. Brandon Jessen; 17. Matthew Kiner; 18. Justin Becker; 19. Brian Levander; 20. Cliff Shepard; 21. Cory Wray; 22. Shawn Bearce; 23. Shane Hiatt; 24. Scott Eaton.
Stock Cars – 1. Kyle Vanover; 2. Shane Stutzman; 3. Lance Borgman; 4. Eric Rempel; 5. Kyle Prauner; 6. Chad Borgman; 7. Brandon Conkwright; 8. Todd Gereau; 9. Tyler Phelps; 10. John Meyer; 11. Lisa Wagner; 12. Jed Williams; 13. Jonathon Taper; 14. Gary Laflin; 15. Darin Racek; 16. Robert Hoing.
Northern SportMods – 1. Greg Metz; 2. Lance Borgman; 3. Kyle Prauner; 4. Todd Boulware; 5. Scott Bivens; 6. Zach Schultz; 7. Max Harder; 8. Gary Saathoff; 9. Curtis Dreasher; 10. Kurtis Pihl; 11. Nate Thompson; 12. Adam Vrbka; 13. Rick Dreasher; 14. Mary Lenz; 15. Craig Evers; 16. Karl Brewer; 17. Joe Schidler; 18. Chris Langdale; 19. Taylor Metz; 20. Gary Holthaus; 21. Nathan Kobus; 22. Blain Petersen; 23. Rick Rohr; 24. Tyler Afrank.
Hobby Stocks – 1. Brendon Stigge; 2. Russ Specht; 3. Adam Armstrong; 4. Brian Stich; 5. Mark Sathoff; 6. Jesse VanLaningham; 7. Roy Armstrong; 8. Tejay Mielke; 9. Ben Becher; 10. Tyler Davis; 11. Jacob Harms; 12. Austin Brauner; 13. Tiffany Bittner; 14. Tommy Fose; 15. Mike Han­sen; 16. Troy Paxton; 17. Chad Fegley; 18. Shawn Slezak; 19. Michael Rice; 20. Tyler Saathoff; 21. Nick Lindblad; 22. Don Hall Jr.; 23. James Hadorn; 24. Nick Beckman.
Sept. 27 Feature Results
Modifieds – 1. Saathoff; 2. Lyle Shepard; 3. Dylan Smith; 4. Roth; 5. Abelson; 6. Marriott; 7. Wray; 8. Olberding; 9. Nelson; 10. Brian Foote; 11. Kiner; 12. Jim Mathieson; 13. Jessen; 14. Becker; 15. David Conkwright; 16. Robert Shepard; 17. Adrian Hein Jr.; 18. Zoubek; 19. Scott Smith; 20. Leiting; 21. Grabouski; 22. Levander; 23. Blumer; 24. Densberger.

Stock Cars – 1. Vanover; 2. Brad Derry; 3. Chad Borgman; 4. Prauner; 5. Alvie Christofferson; 6. Phelps; 7. Rempel; 8. Meyer; 9. Taper; 10. Wagner; 11. Laflin; 12. Racek; 13. Lance Borgman; 14. Hoing; 15. Mark Ronnebaum; 16. Williams; 17. Justin Merriman; 18. Conkwright.
Northern SportMods – 1. Tyler Frye; 2. Borgman; 3. Prauner; 4. Greg Metz; 5. Benji Legg; 6. Harder; 7. Nelson Vollbrecht; 8. Bivens; 9. Saathoff; 10. Dusty Blake; 11. Boulware; 12. Horky; 13. Curtis Dreasher; 14. Brewer; 15. Petersen; 16. Cameron Meyer; 17. Holthaus; 18. Langdale; 19. James Roebuck; 20. Trevor Noonan; 21. Stan Tomlinson; 22. Rick Rohr; 23. Schultz; 24. Lenz.
Hobby Stocks – 1. Stigge; 2. Adam Armstrong; 3. Mielke; 4. Roy Armstrong; 5. Harms; 6. Ryan Gilland; 7. Sathoff; 8. Hansen; 9. Becher; 10. VanLaningham; 11. Saathoff; 12. Specht; 13. Austin Brauner; 14. Aaron Shearn; 15. Lindblad; 16. Davis; 17. Stich; 18. Beckman; 19. Jake Waldron; 20. Hall; 21. Bittner; 22. Fegley; 23. Paxton; 24. Fose.
Sport Compacts – 1. Ramsey Meyer; 2. Matt Moyer; 3. Cody Mielke; 4. Cole Krichau; 5. Thomas Powell; 6. Tim Horsham; 7. Allyn Shiveley; 8. Ole Olsen; 9. Lance Mielke; 10. Tucker Goldsberry; 11. Alex Bratt; 12. Tammy Clark; 13. Neal Reynolds; 14. Shannon Pospisil; 15. Larry Cronin; 16. Dillon Richards; 17. R.J. Maas; 18. Brooke Fluckiger; 19. Tyler Fralin; 20. Brad Schreiner.