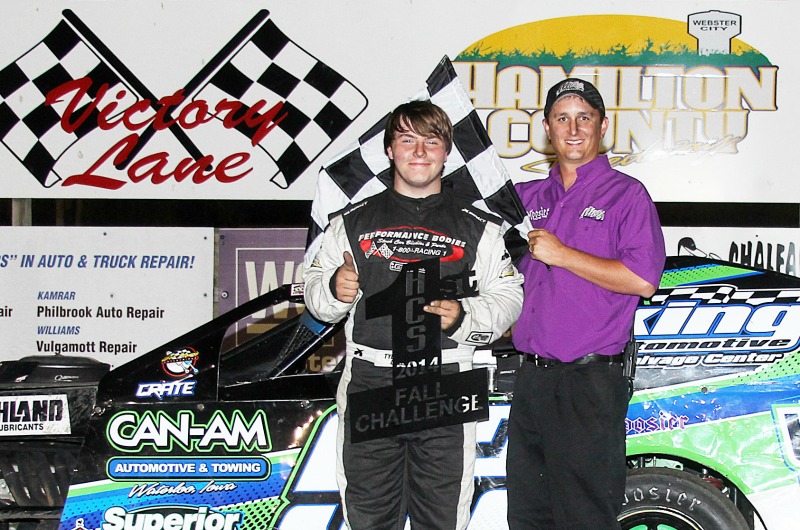 WEBSTER CITY, Iowa (Sept. 27) – It's been a pretty good September for Tyler Droste.
Droste raced all the way from 11th to catch Ryan Ruter on the final circuit and win Saturday's Fall Challenge feature for IMCA Xtreme Motor Sports Modifieds at Hamilton County Speedway.
The $1,000 victory put him on the ballot for next year's Fast Shafts All-Star Invitational.
"We have a new Jet Mod that I'm really still getting used to driving," Droste said. "I think we're getting better and better in this car. It's really fast. We'll try to get a couple more wins before we're done for the year."
Droste had started the month qualifying for both Modified and Late Model main events at the IMCA Speedway Motors Super Nationals fueled by Casey's, then made the starting grid for the Deery Brothers Summer Series feature at Farley Speedway's Yankee Dirt Track Classic.
He followed Richie Gustin into the top five at Webster City and was running third by midway through the 25-lapper.
Droste ran the low line and eventually worked his way past Troy Cordes into second and began the arduous task of tracking down Ruter. He got under the leader coming out of turn two on the white flag lap and won the dash to the checkers.
Ruter, Cordes, Justin Sackett and Scot Olson rounded out the top five.
Taylor Musselman topped the $750 to win Karl Chevrolet Northern SportMod feature ahead of eighth starting Matt Lettow and Ty Griffith.
Craig Graham earned $500 along with the IMCA Sunoco Hobby Stock checkers. Randy Embrey was second and Myles Michehl was third.
Trent Orwig's Mach-1 Sport Compact victory paid $250. Tommy Beekman and Cody Cleghorn were next across the stripe.
Feature Results
Modifieds – 1. Tyler Droste; 2. Ryan Ruter; 3. Troy Cordes; 4. Justin Sackett; 5. Scott Olson; 6. Mark Schulte; 7. Tyler Prochaska; 8. Randy Havlik; 9. Levi Nielsen; 10. Jeff James; 11. Greg Elliott; 12. Joel Rust; 13. Clint Wendel; 14. Todd Van Eaton; 15. Richie Gustin; 16. Jason Snyder; 17. Jesse Hoeft; 18. Brandon Leeman; 19. Steve Meyer; 20. Nate Hughes; 21. Rob Rose; 22. Cole Hall; 23. Mark Elliott; 24. Brandon Kern.
Northern SportMods – 1. Taylor Musselman; 2. Matt Lettow; 3. Ty Griffith; 4. Jared Van Deest; 5. Alex Zwanziger; 6. Jake McBirnie; 7. Jack Housley; 8. Kyle Germundson; 9. Johnathon Logue; 10. Travis Peterson; 11. Brandon Toftee; 12. Bryan Johnson; 13. Kip Siems; 14. Ben Wilson; 15. Zac Smith; 16. Robert Moore; 17. Nate Whitehurst; 18. Neil Follett; 19. Chris Teel; 20. Nate Olmstead; 21. Coby Bangasser; 22. Jeremy Morriss; 23. Paul Price; 24. Mathew Hanson.
Hobby Stocks – 1. Craig Graham; 2. Randy Embrey; 3. Myles Michehl; 4. Jeff Lyon; 5. Bill Richards; 6. Cory Roe; 7. Kevin Berger; 8. Seth Janssen; 9. D.J. Anderson; 10. Nate Bonin; 11. Allen Dixon; 12. Ruben Stanbrough; 13. Jacob Keiser; 14. Tyler Pickett; 15. Matt White; 16. Brian Derry; 17. Wade Gilliland; 18. Danny Ayers; 19. Keaton Graffunder; 20. Kevin Derry.
Sport Compacts – 1. Trent Orwig; 2. Tommy Beekman; 3. Cody Cleghorn; 4. Jacob Reiter; 5. Danny Sassman Jr.; 6. Johnathen Girdley.