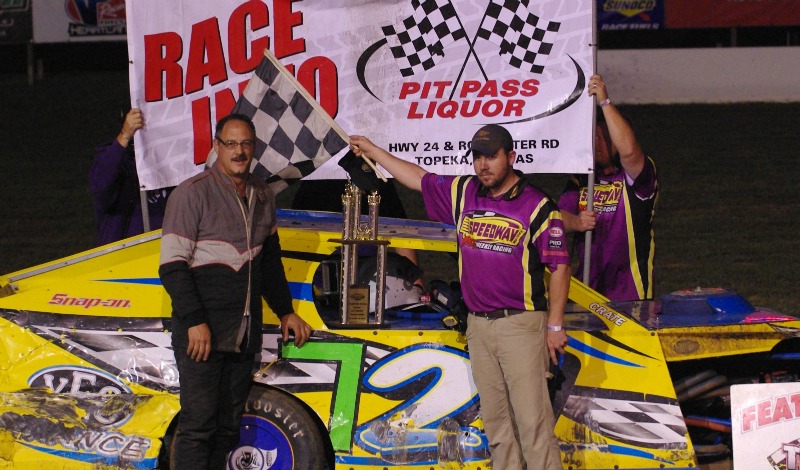 By Larry Lowrey Jr.
MAYETTA, Kan. (Sept. 19) – Troy Gemmill endorsed a check for $2,000 after winning the IMCA Xtreme Motor Sports Modified feature at Thunder Hill Speedway's signature special.
After getting the lead back from 12th starting Jordan Grabouski in traffic, Gemmill stretched the field out as the 30-lapThunder On The Hill main event wound down.
A great battle for top five spots went on behind Gemmill. Cory Wray ended up in the runner-up spot with a solid run while Johnny Saathoff finished third. Scott Drake fell back and then battled his way back up to fourth and rounding out the top five was Clay Hale.
Mike Nichols wrapped up the Dirt Track Central Jax Sports Grille Great Plains Series crown with his fifth IMCA Sunoco Stock Car tour win of the season.
Nichols worked his way to the front of the field and then battled with Jason Rogers to stay there while Lance Borgman continued his advance.
Rogers and Borgman put on a show going back and forth for second. Nichols got the win by a slim margin ahead of Borgman, Rogers, hard charger Marvin Griffith Jr. and Brandon Conkwright.
Griffith had started 18th.
Looking to atone for a missed opportunity at Mayetta last year, Shawn Harker regained the lead on the final lap and beat Chad Shaw to the Karl Chevrolet Northern SportMod checkers.
Heading into turn one on the final circuit, the front pair encountered a car off the pace and directly in the path of Shaw, which forcied him to check up in the center of the turn. That gave Harker the lead back as the two raced down the backstretch.
Harker laid it down low in the final turn and Shaw went to the top. As they exited turn four, contact was made that forced Shaw to go low and Harker high as they drag raced to the checkers.
Harker was first to cross the stripe by only a few feet over Shaw.Lance Borgman, Blaine Walt and Trevor Drake were scored next.
Brian Stich reeled in Ryan Roschewski and then held off Tyler Hintichs to win the IMCA Sunoco Hobby Stock main event.
Roschewski, Tyler Garst and Greg Gilbert rounded out the top five.
Nichols and Harker each earned $700 for their wins. Stich pocketed $400. Lap money was also paid in all divisions.
The Saturday program at Mayetta was rained out.
Feature Results
Modifieds – 1. Troy Gemmill; 2. Cory Wray; Johnny Saathoff; 4. Scott Drake; 5. Clay Hale; 6. Mike Densberger; 7. Mike Van Genderen; 8. Brendon Gemmill; 9. Kyle Stallbaumer; 10. Jeff Jones; 11. Tom Charles; 12. Shawn Walsh; 13. Brandon Blochlinger; 14. Robert Tippery; 15. Kyle Olberding; 16. Bobby Bills; 17. Bobby Eubanks; 18. Allen Halderman; 19. David Solberg; 20. Jim Peeler; 21. Jordan Grabouski; 22. Don Geist Burlington; 23. Tim Watts; 24. Justin Becker.
Stock Cars – 1. Mike Nichols; 2. Lance Borgman; 3. Jason Rogers; 4. Marvin Griffith Jr.; 5. Brandon Conkwright; 6. Arnold Williams; 7. Greg Deters Centralia; 8. Jim Powell Lecompton; 9. Bob Troutwine; 10. Jake Cameron; 11. Jason Davis; 12. Perry Misner; 13. Matt Haid; 14. Michael Pepper; 15. Greg Keuhn; 16. Brian Labonte; 17. Christine Brown; 18. Brad Whitney.
Northern SportMods – 1. Shawn Harker; 2. Chad Shaw; 3. Lance Borgman; 4. Blaine Walt; 5. Trevor Drake; 6. Luke Stallbaumer; 7. Jacob Davis; 8. Daniel Gottschalk; 9. Eddie Schwope; 10. Bryan Rigsby; 11. Brian Murphy; 12. Troy Baumgartner; 13. Brandon Williams; 14. Austin Charles; 15. Brandon Mitchell; 16. Ricky Abrams; 17. Gary Holthaus; 18. Tracy Schaefer; 19. Gene Becker; 20. Aaron Hilderman; 21. Jeremy Pittsenbarger; 22. Tyler Watts; 23. Tim Echevarria; 24. Matthew Crowell.
Hobby Stocks – 1. Brian Stich; 2. Tyler Hinrichs; 3. Ryan Roschewski; 4. Tyler Garst; 5. Greg Gilbert; 6. Raymond Bosch; 7. Jerry Morehead; 8. Patrick Thyfault; 9. Robert Griffith Sr.; 10. Larry Hunter; 11. Mich Ross; 12. Nathan Munhall; 13. Michael Rice; 14. John Bass.