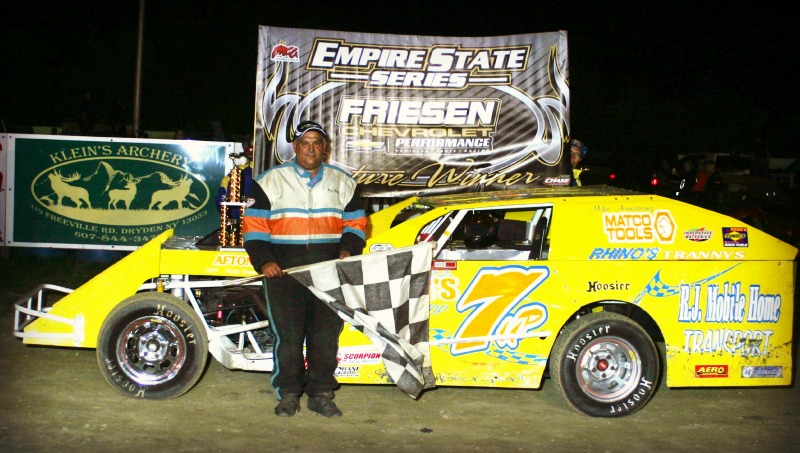 CORTLAND, N.Y. (Sept. 20) – Gary Smith told daughter Danielle before she drew for him that he'd like to start Saturday's Friesen Chevrolet Empire State Series feature on the front row, and preferably on the outside.
Danielle obliged and Smith promptly led all 25 laps in winning for the first time of his career in the IMCA Xtreme Motor Sports Modified tour at Skyline Raceway. The checkers were good for $400.
Keith Lamphere challenged but had to settle for second as Smith stayed strong following a multitude of restarts. Running the high side right to the last lap, Smith switched to the bottom line when the race ended green, white, checkered.
Teammate James Cornell, Jared Spaulding and Gary Roberts completed the top five finishers in the Turbo Blue Championship Weekend show.
Cornell took over the series point lead; Spalding had made a last-minute decision to race at Skyline and ended up fourth.
"I was happy that James finished third," Smith said after becoming the fifth different winner in as many Empire State Series events so far in 2014. "We both had good runs."
Twenty-eight Modifieds were entered at Skyline, the most for a series event this season.
Feature results – 1. Gary Smith; 2. Keith Lamphere; 3. James Cornell; 4. Jared Spaulding; 5. Gary Roberts; 6. Kurt Decker; 7. Dan Ellis; 8. Matt Cole; 9. Rich Keller; 10. Mike Stoddard; 11. Bob Maynard; 12. Josh Ames; 13. Brandon Smith; 14. J.J. Courcy; 15. Ken Buck; 16. Doug McKane; 17. Tyler Stoddard; 18. Jason Amidon; 19. Will Ward; 20. Dan Searls; 21. Bumps Scutt; 22. Bernie Baker; 23. Ray McClure; 24. Chris Fleming.